A lot has been made off Sir Alex's comment that he is happy with the current united squad and that waiting for a host of big name signings would be time wasted. A lot of fans have groaned and moaned especially with the 'noisy neighbors' having a massive summer party with plenty of big names attending. With the likes of Yaya Toure, David Silva and soon to be city player Mario Balotelli already reportedly having turned down the chance to play for Manchester United to be part of the City revolution.
I have found myself in a limbo state. I would love if United went out and spent big on one or two marquee players. Then again I would love if the likes of Macheda, Gibson, Rafael etc got a regular chance in the United team. After watching the 'kids' destroy the All-Stars with the new boy getting off the mark and the likes of Cleverley, Gibson and Macheda scoring some classy goals it has just widened the debate ten-fold.
So lets have a look at some of these youngsters that could well determine the success Old Trafford will have in the foreseeable future.
Federico Macheda – 19
Ever since that April day where it seemed United had blown the title race and handed the title to Liverpool a young boy from Italy would score possibly the most crucial goal of the season and gain the affection of every single Manchester United fan with one strike of a ball, this guy has had the world watching.
His popularity rose even further when he did it again the very next week. Expectations were high last season but unfortunately Federico had an injury ruined season last season although he nearly repeated the trick against Chelsea but alas it wasn't to be! Sir Alex has said he is one of the brightest young stars he's seen at his time at United. I personally think this guy is going to be huge and I hope he gets more games next season. He is a cool finisher has good technique and is a big game player. One for the future no doubt!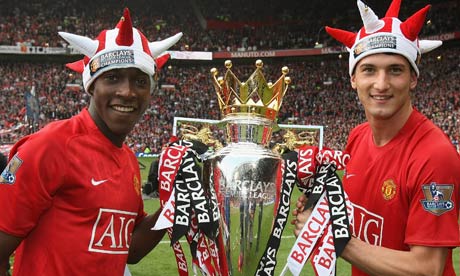 Danny Welbeck – 19
Like his Italian team-mate this guy started with a bang with 'that' cracking goal against Stoke. He has impressed in his recent appearances in the FA and League cup games since. However he will be loaned out to a premiership team this season to get some more first team action. To be honest I don't think he'll make it at Old Trafford. He's quick and tall but I don't believe he has what it takes to make it at Manchester United.
Javier Hernandez  – 22
Well this guy has come out of nowhere. Ever since he was signed up by Manchester United he has since went on to play in the World Cup, win the hearts of all the Irish people (including myself) everywhere by scoring against France, then he went on to score a fantastic goal against Argentina and has already made the 7 million pounds United paid for him look like a bargain.He scored he's first goal the other day against the All-Stars with a beautiful chip over the keeper.
Then he had the cheek to score against his teammates while playing in against in the game Man Utd v Chivas which he played for Chivas in the first half and with United in the latter. He is a very quick player sure to frighten any defenses he'll come across in the United shirt. I think he could be a big success.
Gabriel Obertan – 21
The young French man has certainly caught the eye since his 3 million move from Bordeaux last season. With his pace and flashy skills he has produced some good moments in the red shirt. However the question is can he improve? Can he follow the likes of Ronaldo and Nani by becoming more then a trickster? I like him but I think he has work cut out with him trying to push Antonio Valencia or Nani out of the team.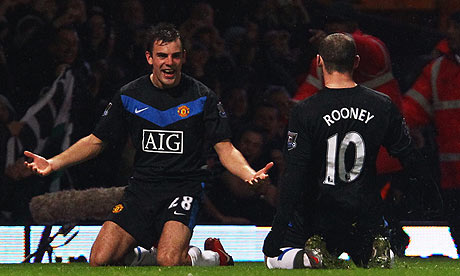 Darron Gibson – 22
The Irishman has been knocking on the door of the United team for a long time now. Has caught the eye with strikes that would rival some of Paul Scholes' efforts. He has impressed when trusted into big games like the Bayern Munich game and Manchester City away. However something does seem to be missing with the lad. Whether or not he will be able to become a big big player for Manchester United is any one's guess. I feel the season coming will be the most important in his short career so far!
Tom Cleverley – 20
The versatile midfielder who spent last season on loan to Watford and won their player of the year award with 11 goals in 33 games. Has scored two goals in pre-season so far this summer and has impressed. I like this boy he seems to have a good footballing brain as anyone who had the privilege to his goal against the All-Stars will know. However he like Welbeck will spend next season on loan so we will have to wait to see how good this player could become. Keep an eye on him next season!
Fabio Da Silva – 20
Unlike his brother we have not seen much of Fabio. Due to two main reasons the constant injuries he has suffered from. Also the fact that the man he has to push out of the team is one of the best in the business. While his brother has had most of his competition in the right back position suffer from recurring injuries, Fabio hasn't got the same luck. This lad has impressed though when given a chance and I do think he will eventual prove a success at United.
Chris Smalling – 20
The new boy has risen from the debts of conference football to play in the Barclays Premiership and then has gone on to be snapped up by one of the biggest clubs in the world all in the space of 2 years. Scored a good header in the game against Chivas. The boy impressed for Fulham early on which led United to sign him. Ever since he signed however he's form has dipped dramatically, he made plenty of mistakes for Fulham last season and gave away a penalty to Celtic in his first game for United. Hopefully he will learn from his mistakes before the season starts because with the fitness of Rio Ferdinand always in doubt this could be a busy year for the young center back.
Rafael, Jonny Evans, Nani –  20,22,23
I've put these players all in one section because there is no doubt in my mind these players will be the future of Manchester United. Rafael and Jonny Evans have grown as players in the past two seasons and have never looked out of place in the United team. Nani after 2 years of frustrating finally came alive in January 2010 and would prove to a key player for the rest of the season. If he continues to do the same this season he will be on his way to fulfilling the frightening potential he possesses.
Personally I think that even while all these youngsters show promise United need to buy a midfielder who can score 10+ goals a season. Someone in the form of Mesut Ozil or Steven Defour would be ideal. However what do you think? Are this kids good enough? Are they being too hyped up based on a few pre-season games? Do United need to sign big? What about the young players like Anderson, Da Laet and Diouf that I left out of this article? Could they be a success?