It was announced earlier this week that Gary Neville would no longer be United's captain on the field, due to the fact that Sir Alex wants someone who is going to play week in week out. He will however, remain official club captain off it.
So who will be United's next full-time captain on the field? Man Utd aren't short of leaders, but who will get the prestigious honour of being United's next captain?
Lets have a look at the candidates:
RIO FERDINAND
Rio has had previous experience as captain of Manchester United, he captained them in the Champions League Final in 2008 and World Club Championship in December the same year, he is also the current England captain, well unless Steven Gerrard fights to keep the armband. Rio is a natural born leader and hiss presence on the field is vital as him and Vidic are a defensive rock as a pair. However, ever since Rio was left out of the team against Stoke in December 2008 he has suffered from constant injuries, so would it be a wise choice? He was captain last night against Rangers, but will he keep the armband on Sunday?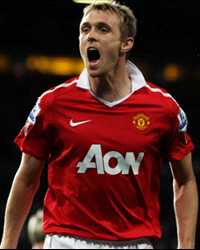 Darren Fletcher
Once a player every Man United fan was quick to scrutinise when things were going wrong, Darren has proved his doubters wrong and is one of the first names on the team sheet, loves the big games and has become a leader in the United camp. Like Rio is also captain for his country and although he hasn't started this season in the best of form, he would be a decent choice to become captain.
Patrice Evra
The outspoken French man has been one of United's most players in the last three or four seasons, he has been crucial in United's success and is a fan favourite among the United faithful. Former French captain Pat isn't afraid to speak out when things aren't right, which is what a captain should be like in my opinion. Captained United admirably in last seasons Carling Cup in 2009 and was the only United player to feature in every Premier League game last season, starting 37 of them. Would be a great choice.
Nemanja Vidic
"He comes from Serbia, He'll fucking murder ya" – Perfect chant for the big Serbian. Nemanja captained United for most of United's game this season, he strikes fear in attackers hearts and is the kind of defender to inspire the rest of the team. He for me would be a great choice, he has captained Serbia in the past and even played peace maker for Serbia to calm down there fans.
You might read through this and think, what about Rooney and Giggs. Well with all the stuff about Rooney's personal life, making him captain wouldn't be the smartest move, also Fergie likes his captains to be playing either in the defence or midfield. With Ryan, I personally think we should be looking at players who will be here for seasons to come and not a player who is on the verge of retiring and won't play ever game.
So personally my choice of captain would be…..drum roll please…… Patrice Evra. Mainly because he is a born leader, he's not afraid to speak out, he is a true United player and because he is always available and is very rarely injured. If Rio could stay fit I would pick Rio, but he is always injured. With Nemanja I do think he would be a very good captain, but I just feel Evra is more of a leader and is more outspoken. Fletcher would be the dark horse to become captain.
So what do you think? Do you agree with me or do you think I'm talking nonsense and Patrice Evra shouldn't be captain? Do you think none of these players should be captain and it should be someone I haven't mentioned?
I guess we'll find out who is the official captain on Sunday when we should have all our leaders on the field against Liverpool. Feel free to comment!
Also see: Read the latest Manchester United vs Liverpool Match Preview.