Marseille continued to pick up pace under their firebrand coach Marcelo Bielsa with another convincing win in Ligue 1, this time, away at Reims.
After a stuttering start and behind the scenes squabbles, Marseille have now won their last 5 games scoring 16 goals and conceding just 1 sending them top of the Ligue 1 standings. Led by a resurgent Andre Pierre Gignac, Marseille crushed Reims 5-0 with 'Le Big Mac' helping himself to a brace taking the burly striker's tally to 8 already this season. Flanked by pacey tricksters such as Dimitri Payet and Andre Ayew, Marseille's attack is proving to have a potent blend as the season unfolds.
With Giannelli Imbula and Alaixys Romao minding the shop, Florian Thauvin is given free reign to agitate defences from a deeper role that the talented young Frenchman is normally used to. Something he is doing thus far with devastating effect. Cynics may argue that Marseille are yet to face truly top opposition to test their credentials but the team appear to now be adjusting well to Bielsa's tactical and physical demands and look more comfortable with their roles.
The irony is that this dazzling football has been played in spite of major divisions arising between Bielsa and Marseille President, Vincent Labrune. The main crux of the dispute being that Bielsa felt that Labrune did not make enough effort to pursue targets identified by the Argentinian and instead sought his own targets – such as highly rate Brazilian defender Doria – without Bielsa's approval.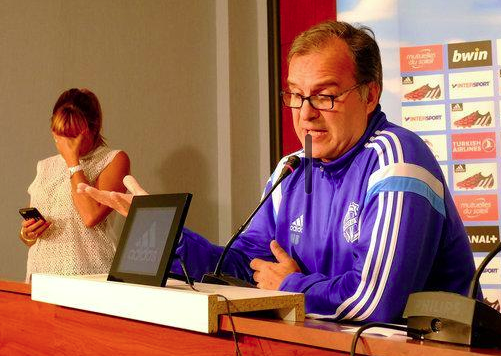 Given Bielsa's nickname – 'El Loco' or 'The Crazy One' – it came with little surprise that he chose to vent his frustrations, without warning, in a post match press conference – much to the chagrin of Marseille's press officer. This led to 'showdown talks' between the two men but with the Marseille support firmly backing Bielsa, and results going well, it would seem that some form of agreement appears to have been reached.
Tougher tests await Marseille, starting this week at home to 70's icon's AS St. Etienne (who lie 3pts adrift of the summit with a game in hand) but the with the season only 7 games old, it still looks to be an exciting one ahead for the Marseille fans…and with El Loco at the helm, you can be guaranteed that both on and off the pitch, another drama is bubbling beneath the surface waiting to pop…