Chelsea and Manchester City face off in a top-of-the-table blockbuster on Saturday, in a game that will go a long way to deciding where the Premier League trophy will end up in May. Defending champions City trail the Blues by 5 points going into this game and Stamford Bridge, and Manuel Pellegrini will know that losing is not an option.
Both side have looked vulnerable in recent weeks, and there are weaknesses to exploits on either side. Jose Mourinho and Pellegrini will both not be happy with the number of goals that their defences have let in in the past month. With the vast attacking talent on display in this game, they will known that even the slightest mistake may not go unpunished by the opposition.
Here are 3 key battles which we think could determine the outcome of the game:
1) Gary Cahill vs Sergio Aguero:
There is little doubt that on his day, Sergio Aguero is the best striker in the league. Despite missing a large portion of the current campaign due to injury, the Argentine has score 14 goals in the league, second only to Diego Costa's 17. He will be up against an extremely out-of-form Gary Cahill, whose poor performances saw him dropped in midweek for the Capital One Cup semi-final against Liverpool. Kurt Zouma replaced him that day, but the Englishman is expected to be reinstated alongside John Terry for this one. After being one of the best defenders in the league in the last couple of years, Cahill has looked shaky and uncomfortable this time around.
Chelsea's defensive record at home though, is near impeccable. The Blues have only conceded 3 goals at Stamford Bridge in the 10 matches they have played there, and have kept clean sheets in the last 5 outings at home. Aguero though, has a good record against Chelsea, and will be looking to change that against a vulnerable backline.
2) Nemanja Matic vs David Silva:
One of the main reasons why Arsenal were able to deal with David Silva so effectively two weeks ago was the performance of Francis Coquelin. The young Frenchman put in a fantastically composed and mature display and stopped the Spanish playmaker from getting into his groove as the Gunners came away from Manchester with a 2-0 victory. This time, Silva faces arguably the best defensive midfielder in the league in Nemanja Matic. The Serbian has been outstanding all season, but will know that he has to be at the top of his game against Silva, who has a knack of finding little pockets of spaces between the midfielder and defence. It is in these areas that he weaves his magic from, threading through some immaculate through-balls to the forwards. This will be a very interesting battle to follow, and Mourinho will know that is his side are able to stop Silva from playing, their job will be half done.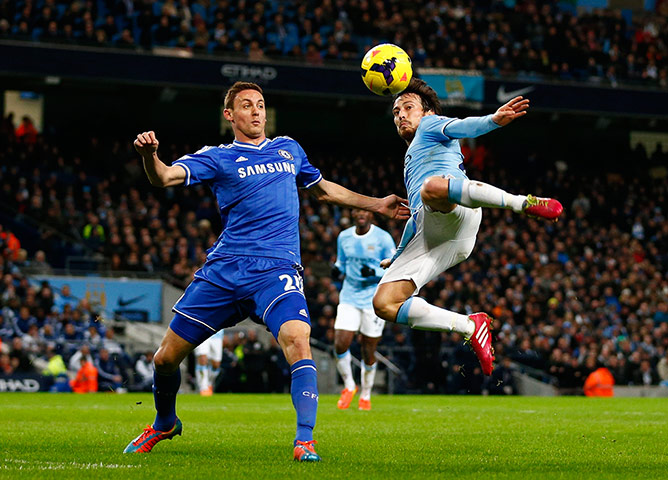 3) Eden Hazard vs Paulo Zabaleta:
This is always an intriguing battle to watch in this fixture as it pits one of the best wingers in the league against one of the best full-backs. It has been Hazard though, who has had the upper hand in this feud in the last year or so. The Belgian will have have a big say in this game, with striker Diego Costa suspended. Hazard has been accused of not being at his best in the big games when it matters most, but he has the perfect opportunity to put in a match-winning effort for his side. While providing attacking thrust, Hazard must also make sure he performs his defensive duties against Zabaleta, who is very adept at bombing forward as well.
All in all, this game promises to be a fantastic display of attacking football. It will also see Frank Lampard coming up against his old side at Stamford Bridge for the first time. The central midfield battle between him and Cesc Fabregas, one that always boiled over in the past, will be very interesting to see.