Following Valencia Club de Futbol has always been a rollercoaster ride. Crazy managers, amazing strikers, bad players being paid too much, good players being paid too little, shock wins and unexpected losses are all part of being a fan of Los Che.
However the last season has been even worse, leading me to wonder, is my beloved Los Che really a football club, or infact just a really bad TV show.
Hey if we don't pay them, they'll play better
Some of you may know that Valencia is a club riddled with debt. Unfortunately for them, they were in the middle of building a new stadium, the Nuevo Mestalla (a very nice stadium by the looks of it, I must add), when the global financial crisis hit. The buyer for their old stadium suddenly offered a much lower sum, and the deal collapsed. From here things only got worse. A debt of almost 400 million Euros, which was to be mostly paid off by the sale of the stadium, was now sitting on the books, looking pretty ugly.
Eventually things got so bad that Valencia had to stop paying their players, and a very promising start to the season descended into chaos, with a loss, and another, and another… Finally, after almost giving up hope of a Champions League spot, money appeared and the players could be paid again. And guess what? They started winning, unfortunately narrowly missing out on the CL sports. But it does prove that footballers are just like normal people, they don't like working for free either.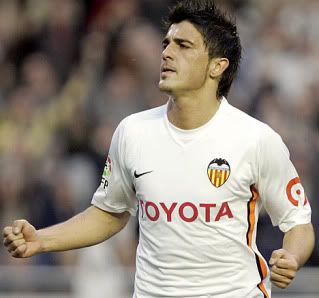 Pornstars and player movement
So after another rollercoaster season, Valencia fans thought they could finally relax. And then…the transfer window opened. David's Villa and Silva were names on every bad English newspaper headlines (and Marca, can't forget Madrid Mail can we). Villa had signed for Barcelona, Villa had signed for Madrid, Villa was wanted by every man and his dog, Silva was wanted by Manchester United, Silva was wanted by… etc etc etc. And it went on, and on.
But guess what? They're still here (well, as I write the transfer window hasn't yet closed, but it looks likely they'll be staying). However, the more surprising transfer rumour of the summer wasn't about any of our stars. Infact, it was about none other than our resident porn star, Ever Banega. For those of you who don't know, Banega was a promising young Boca star, who then signed for Valencia, and promptly took his pants off on the internet (or, as Roy Meredith from Championship Manager said on Chappers podcast the other day, "concerned about his off field antics").
But enough about his porn star antics, for some reason, various British football publications got it in there heads that Banega was off to Everton on a season long loan. Even Everton Gaffer David Moyes claimed that he thought the move would go through. However, their was a slight problem for the Scotsman, neither Valencia nor Banega had heard about the move. Valencia denied having any contact with Everton, and Banega said he wanted to stay at Valencia (only to be promptly mistranslated to "I want to leave" by some new sources). So yes, a case of lost in translation for Everton.
The curious case of Inversiones Dalport and Victor Bravo, or of dodgy South American companies and seedy men with moustaches
Another amusing development of the summer was the birth and death of Inversiones Dalport, or Dalport Investments, a dodgy South American country. As I told you earlier, Valencia doesn't have much cash at the moment, and suddenly, out of the blue, a rich Uruguayan company called Inversiones Dalport came along, fronted by a Victor Bravo, aka seedy man with porn star moustache. Dalport promised to invest 500 million euros into the club. Yes that's right, 500 million!
So unsurprisingly, Valencia weren't going to argue, and promptly sold majority control to them. But then, just when Los Che fans were jumping for joy, bad things tarted to happen. Firstly, it turned out Dalport's website only had a few lines of text on it, and its logo was stolen from a children's book. Not exactly promising for a rich company.
Then, rumours about the company started to circulate. Organisations, both in Spain and Uruguay couldn't verify that the Dalport had any money. They had never paid taxes in Spain or Uruguay, and a Uruguayan official claimed that he had never heard of them and that he didn't know of anyone in Uruguay with that sort of money spare. Then Google searches promptly revealed people who claimed Victor Bravo was a scam artist. And then, a new Dalport website appeared. A new website…which happened to sell lingerie. Hmm…
Finally, they didn't cough up the money (surprise, surprise) and Valencia is still in financial trouble. However, the good news is Valencia has been brought by Valencia Foundation, who will sell the shares to small owners. So no rich billionaire owners for a while, but no lingerie salesmen either…
And Finally…
The biggest news for Valencia: Soap Opera (I mean Valencia CF, oops…), of the summer, however, has to be that the only sold one notable players (sorry Moretti), after all the doom and gloom of mass sales before the window started. Even more suprising was…this player, Raul Albiol, a defender, was sold to… Read Madrid. What is this, Madrid signing a defender? What has the world come to?
So that's all for this episode of Neighbours: Valencia, or Baywatch: Valencia. But hopefully at the end of this coming season I will be able to tell you how Valencia has a new stadium, lots of money and has won the league and Europa league. Hopefully…
AMUNT!!