According to a poll conducted by one of Spain's leading newspapers, AS, 32 per cent of the respondents stated that Cristiano Ronaldo should be dropped by Carlo Ancelotti in the Real Madrid starting line-up.
Following a turbulent couple of months which has seen the Galacticos relinquish a seemingly-unassailable lead at the top of the La Liga table, a poll was carried out to see what fans believed was the problem. To the question, "Should Carlo Ancelotti return to a 4-4-2?", a staggering 92.1% answered 'yes'. If the Italian were the revert to that system, of course, one of either Ronaldo, Karim Bezema or Gareth Bale will have to be benched. The trio, collectively known as the 'BBC', have been misfiring of late and there is a wide belief that the team could be better off without all of them playing.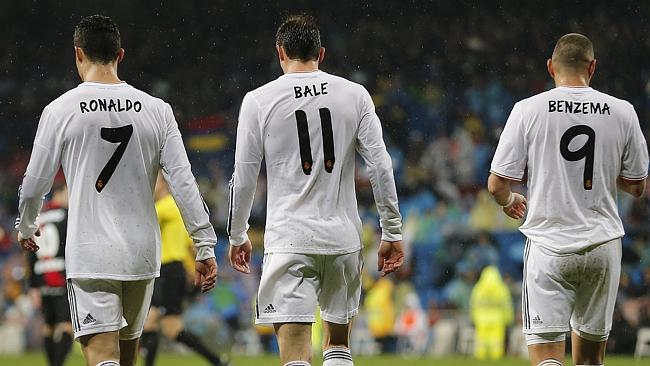 According to the poll results, 46.1% of the fans believe that Bale, the world's costliest player, should be dropped. The Welshman's performances have been hot and cold since his move from Tottenham Hotspur last summer, and the fans are still divided in their opinions on him.
Ronaldo, surprisingly, came in second with 32.2% votes, while Benzema was third with 21.7%.
Real have lost their lead at the summit in La Liga for the first time since November. Following their weekend's 1-0 defeat away at Athletic Bilbao, Barcelona took full advantage to go top with a 6-1 thrashing of Rayo Vallecano.
The second El Clasico of the season, which will play a major role in deciding the whereabouts of the title at the end of the season, takes place at the Nou Camp in two weeks' time. Ancelotti has till then to regroup and refocus his group of players.
The Meringues went on an incredible 22-match winning streak in the earlier part of the season, but from being the most-feared side in Europe, they have been a shadow of themselves since the turn of the year.  Along with the defeat to Bilbao, disappointing recent results include a 1-1 draw against Villareal at the Santiago Bernabeu and a 4-0 defeat at the hands of fierce city-rivals Atletico Madrid.