The hottest property on the transfer market this summer is undoubtedly Juventus midfielder Paul Pogba. Despite repeated comments by the club that the Frenchman will stay in Italy next season, talks of a move just won't go away. After all, there is huge money involved, with the price tag of €100 million set to make him one of the costliest transfers in the history of the game.
There are only a handful of clubs in Europe who can pay that kind of money, and almost every one of them has been linked with the player. Manchester United, Chelsea, Real Madrid, Barcelona and Paris Saint-Germain have all shown interest, but now a new player has entered the fray.
Gianluca Di Marzio reports that Manchester City have entered entered negotiations with Mino Raiola, the player's agent. The two parties have met twice thus far, in London and in Torino. The latter of those meetings happened only last week.
City are looking to rebuild their squad after a disappointing season this time around that could see them miss out on the top 2 for the first time in 4 years. They have been blamed for having a lack of desire and hunger, and manager Manuel Pellegrini's job is very much hanging in the balance.
It is also reported that Yaya Toure will most probably leave the club in the summer, thereby leaving a void in the centre of midfield which City seek to fill by signing Pogba. They are looking to revitalise the group by bringing in some young and talented players, who also have considerable experience under their belt. The squad that won the Premier League title in 2012 is very similar to the squad today and hence the average age has gone up considerably. Pogba fits the bill perfectly.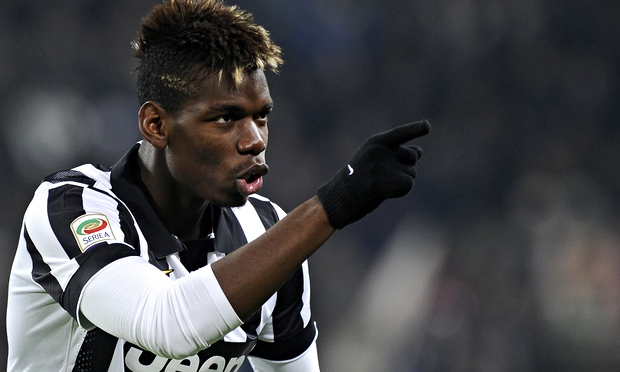 Chelsea are also looking for a partner for Nemanja Matic in central midfield, while Louis Van Gaal is looking to spend big and make United title challengers again. The Dutchman agreed a deal to sign Memphis Depay a couple of days ago, and is reportedly being given around £200 million to spend in the summer.
The 22 year-old Pogba graduated from the youth academy at United, before being sold to Juventus in 2012. This was after Sir Alex Ferguson deemed him not good enough and accused him of being disrespectful to the club. Today, his successor is willing to break the bank to bring Pogba back to Old Trafford. Oh, the irony…