Only a few months ago, the Scottish Premier League appointed Neil Doncaster as the Chief Executive to replace Lex Gold who was a long-serving member.
With numerous call-offs in the last few weeks and a dire standard of football in Scotland's top flight, Doncaster has come in for tough criticism by journalists and managers that are eager to see the SPL and its clubs become more respected in World Football.
The known fact that Scottish Football is in a dying state has been the catalyst for debates and discussions on radio programmes, not surprisingly mainly coming up with the same ideas. Lets be honest, we will never be as good as the top three leagues in the world – The EPL, La Liga and Bundesliga.
So how can Scottish Football become as good as say Holland or France?
Rangers Slumped To A Thumping From Unirea Urziceni
I honestly can't see any negative reasons for having a complete reformation of the Scottish Premier League. Over the last few weeks games have been piled up for clubs due the inconvenient call-offs because of the winter weather, so surely a winter break is a sensible idea to go for.
It doesn't have to be 5 weeks like Holland, or 4 weeks like Germany but realistically, a week or two is a sensible idea that would prevent clubs having to lose out on money for undersoil heating and fans braving the worst conditions for the game.
To accompany a winter break, the SPL has to change format. The current one which sees the 12 SPL clubs playing each other 4 times with a split is really poor in terms of varying the opposition and making it more interesting for the paying public.
I propose the idea of a 16-team SPL which would see 30 SPL games to accompany the winter break with the use of European place play-offs and relegation play-offs.
Lee Wallace Now On Verges Of National Side
The Scottish Premier League is currently littered with too many veteran, journeymen type players, especially in the lower clubs like Hamilton, Kilmarnock and St Mirren. Recently though, we have been encouraged by a number of youth players coming into the first-team and producing refreshing displays that is most certainly welcome in Scottish Football.
There haven't been many at the Old Firm, but most notably, Danny Wilson of Rangers looks a very classy defender playing his stuff like a young Frank De Boer, John Fleck also had a spell in the side and looks a decent player who could play a "No.10" role and there has also been a few chances for youngsters like Gregg Wylde, Jamie Ness and Paul Caddis of Celtic. Great to see, but still not enough.
Hibernian have been at the fore-front of producing talented youngsters over the past few years including Scott Brown, Kevin Thomson and Garry O'Connor. In present times under John Hughes, David Wotherspoon, Paul Hanlon, Kurtis Byrne and Lewis Stevenson have came into the first-team spotlight in a very creative and ambitious Hibs team.
Across the city at Hearts, we've seen the introductions of Craig Thomson, David Templeton, Gordon Smith and Lee Wallace plus the few Aberdeen youngsters making the step up like Fraser Fyvie, Peter Pawlett and Michael Paton backs the idea that there are clubs starting to produce more and more youngsters.
By 2012, there has to be more and more youngsters being blooded into the top tier of Scottish Football which gives Craig Levein the same talented options as a Wales or Serbia who have adopted models that Scotland needs to follow.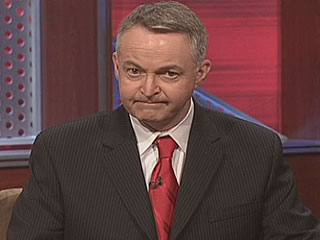 Derek Rae of ESPN has been a fresh introduction into the SPL media
After the demise of Irish broadcasters Setanta Sports, the SPL signed deals with broadcasters Sky Sports and ESPN who now share the SPL rights and usually rotate games between each other.
In terms of finances for the Scottish clubs, we have seen with the problems at Rangers that any financial guarantees are most welcome by the clubs. Sadly, its an embarrassing deal which completely under values the Scottish game and its supporters with fans being forced to pay up nearly £40 on subscription fees.
The clubs in the SPL roughly make about a £1m in television money with English clubs reeling in £10m and some instances maybe more. In the year of 2008, Rangers made only £1.5m on TV money compared with Portsmouth who made nearly £30m. Its a sad state of affairs and this investment by Sky should be increased for clubs who really need the money.
With the mediocrity of 2009 now gone and very poor European performances from clubs, there is no doubt the SPL will provide the same excitement between the top two clubs for the title, but on a level up in the Champions League, our representatives will be unable to even compete with lowly Eastern-European clubs who once cringed at the thought of a trip to Ibrox or Celtic Park.
Will we ever see these days again?
Celtic and Rangers fans show their size with almost 80,000 in Seville 2003 and 120,000 in Manchester for Rangers fans.