Having reinforced Manchester United's defense by signing two U21 players, defender Phil Jones and Keeper David De Gea as a replacement of retired Edvin Van der Sar. Moreover having increased the depth at wide position by adding quality winger Ashley Young, Sir Alex Ferguson has yet to decide on perhaps the most important signing of summer for the club that is finding a replacement for Paul Scholes. Over the years United's center midfield has been influenced by Roy Keane and Paul Scholes, two of the best center midfielders of premier league era. However since Keane's departure in 2005, Scholes mastered the midfield. Now that he has retired, United need someone with quality and creativity to replace him. Surely with all clubs strengthening their squads, they cannot just rely on Carrick and Anderson.
Luka Modric:
Modric does not score many goals nor provide many assists as well. If you analyze his stats in the premier league, you'll know that in the past two seasons he only provided 5 assists and scored only 4 goals last year where as Alberto Aquilani with his injury disappointed season in 2010 provided one less i.e. 4 assists for Liverpool and scored 2 goals. Then why is his price tag so high. Modric is often the one who provides the pass before the ASSIST pass that leads to goal or the one who initiates the move that leads to goal. Keeping Individual efforts aside, he is integral part of almost every attacking move for Tottenham. His creativity in the middle of the park is a major threat and rarely will you see him losing the ball cheaply as he completed 85 percent of passes last year.
Obstacle: £50m price tag, Interested in joining Chelsea
Bastian Schweinsteiger:
Not many people believed that Bastian Schweinsteiger would be able to fill the boots of Michael Ballack who had been number one in Germany and leading their midfield since 2002. However he proved everyone wrong by not only being a success at club Bayern Munich, but also when got the responsibility of leading the young midfield in the absence of injured captain Ballack during the World Cup 2010, he lead by example. Brilliant vision, holds and distributes well and capable of striking long range goals. The task of filling Scholes boots if not bigger then is as big as replacing Ballack.
Obstacle: Might look for a move abroad but insists he is happy at Munich.
Samir Nasri:
Manchester United has made their interest very clear in Samir Nasri, over the few weeks reports have been suggesting that Nasri is not happy with his situation at the club. He wants his salary to be equal to that of club captain Fabregas i.e. £110,000 a week and in my opinion rightly so as Nasri was their player of the season and is as important to the side as Fabregas. If Cesc is sold to Barcelona then he might get his wish fulfilled or perhaps not but only time will tell. Nasri is mostly utilized at wide positions for Arsenal; however he is a natural attacking midfielder who is always changing positions from wide to center so as to provide the best. Media suggests that United are about to launch £20m bid for him.
Obstacle: Rivalry with Arsenal, Man City are interested, can bid higher and offer more wages
Wesley Sneijder: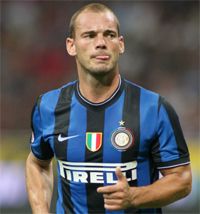 Although his last season was not as shining as 2009/2010 still Wesley Sneijder is currently one of best midfielders. He was the heart of the side that lifted the Champions League providing 6 assists and scoring 3 goals in 11 appearances for which he was awarded as the best club midfielder by UEFA. Not only that, he was the joint top scorer in the World Cup 2010, scoring 5 goals leading Netherlands to the final. Sublime passer and striker of the ball plus a dead ball specialist and can score long range free kicks that have been missing since Cristiano Ronaldo left. Alex Ferguson is an admirer of the Dutch talent who has got it all to replace Scholes.
Obstacle: 40m price tag, Happy at Inter Milan.
Which player in your opinion should replace Scholes at United?
Also Read: Liverpool Angle – Crowded Center Midfield – Wingers Required