There are times when a team goes into a season with a supreme air of confidence and optimism. The players are raring to go, and as are the fans, knowing that they are on the verge of something special. Arsenal have not been that team over the last decade or so, but they are certainly are ahead of the 2015/16 campaign. In this section, we preview the Gunners and analyse whether they are good enough to go the distance in the Premier League.
Last season's finish: 3rd
Following a mixed start to the season, Arsenal pulled it back in the second half and finished ahead of Manchester United. They were in with an outside shout of catching eventual Champions Chelsea even with 5-6 games left, but it proved to be a step too far.
SUMMER ACTIVITY
Arsenal moved early to complete one of the signings of the summer, capturing one of the Premier League's best ever goalkeepers in Petr Cech from Chelsea. The 33 year-old was brought in for £11 million, and looks like the perfect solution to the Gunners' woes in that department over the last few years. Several youngsters were brought in as well, but the best prospect is Jeff Rene-Adelaide, the 17 year-old signed from Lens. He has been included in the first-team squad after mightily impressing in pre-season.
In terms of departures, striker Lukas Podolski was sold to Galatasaray for £1.8 million, while there have been loan deals for Wojciech Szczesny, Carl Jenkinson and Yaya Sanogo.
PRE-SEASON
Arsenal have had a perfect pre-season, winning 3 trophies ahead of the season proper. They beat a Singapore Select XI and Everton to win the Barclays Asia Trophy, before trouncing Lyon and Wolfsburg in the Emirates Cup.
The highlight though, came on Sunday, when the beat Chelsea 1-0 to win the Community Shield for the second season running. This was the first time Arsenal had ever beaten a team managed by Jose Mourinho.
In all, they scored 15 goals and conceded just 1 in these 5 games, and are very much the side to beat at the start of the campaign.
KEY PLAYERS
Alexis Sanchez
The Chilean needed no time to settled into life in the Premier League after his big-money move from Barcelona last summer. He was one of the standout players in the division, scoring 16 goals in the league and 25 in all competitions. He brought flair, energy and confidence to the side with his arrival, and his individual performances gave the whole dressing room a lift. He will look to further improve this season and fire Arsenal to the title.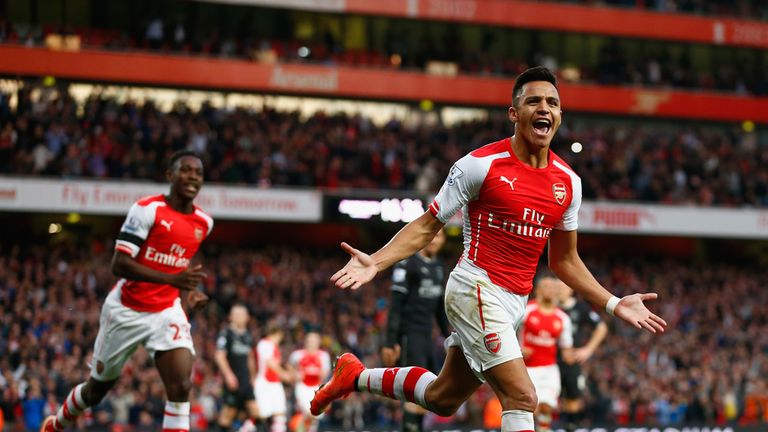 Santi Cazorla
The midfielder has slowly but surely grown into one of the most consistent performers for Arsenal. The diminutive Spaniard is technically brilliant, and his vision of passing is second to none in the whole of the Premier League. He is equally adept with either foot, and is set to assume a slightly deeper role in the middle of the park to try and establish himself in games even more. He will be a key figure for Arsenal, and if he can maintain his consistency, he will surely emerge as one of the best players in the league.
Francis Coquelin
The French defensive midfielder was one of the major reasons for Arsenal's turnaround last season. His introduction to the first team over the New Year period added bite and fight to the Gunners, and his wide array of passing helped open up defences from deep. He will once again be an integral figure in the side.
Theo Walcott
The fact remains that Arsenal do not have a world-class striker capable of firing them to the title. Olivier Giroud still has more doubters than believers, while Danny Welbeck has never been the most prolific. Walcott's role therefore, will be very important in the team. Originally a winger, the Englishman was used up front against Chelsea on Sunday, and this could be something we see regularly from Arsene Wenger in the season. A major concern will be his fitness though, as injuries have cut short his playing time in the past few seasons.
STRENGTHS
Form second to none: Arsenal go into the season as undoubtedly the most in-form team, and that's not a reference just to their pre-season campaign. They won 10 and lost just 1 of their 14 fixtures towards the end of last season, a rally that saw them sitting in 2nd spot briefly. Even though they could only finish 3rd in the end, they have several reasons to believe that they will do better this time around.
Self-doubt has reduced: Arsenal beat Manchester City 2-0 away from home last year in the league, before beating Man United at Old Trafford in the FA Cup. This was a far cry from their performances against the big teams in the 2013/14 season, when they conceded 17 goals in just three games against City, Liverpool and Chelsea – the top 3. Sunday's victory against Chelsea has further added to their self-belief, and they will take on the big boys heads-on next season, without any trace of fear or doubt.
Goals all over the pitch: Arsenal's midfield consists of Mesut Ozil, Aaron Ramsey, Sanchez, Walcott and Cazorla. Every one of these players is capable of delivering 10-15 goals per season, which totals up to a very healthy tally indeed. Add to that Giroud, who despite his critics, managed 19 in all competitions and Welbeck, who scored 8, and you have a team laden with goals.
WEAKNESSES
Still a lack of leaders: Arsenal have always been a very good side when riding high on confidence. A slight blip though, has seen them fall apart. Cech's presence will certainly be a great confidence-booster, as the goalkeeper has the experience of winning 4 league titles. But there is still a lack of leaders in defence and midfield, something that Wenger was expected to address in the summer but hasn't. The Gunners' true character and title credentials will show through only when they suffer their first setback of the season.
No world-class striker: If one names the strikers likely to win the league on their own, Giroud will certainly not be on that list. Even though Sanchez and Walcott are capable of doing the job when required, they do not have a big centre-forward who is feared by defences and can deliver when it matters most. Giroud manages to notch up a good number of goals, but has a tendency to go missing at regular intervals as well. Only time will tell if Wenger will regret not spending big and getting in someone like Karim Benzema or Edinson Cavani.
THE FIXTURE LIST
Arsenal have a mixed bag early on, kicking off their campaign at the Emirates on Sunday against West Ham United, now managed by Slavan Bilic. They host Liverpool and Man United in their first 8 games, while their away trips include Chelsea and Newcastle United. They also face Crystal Palace, Stoke City and Leicester City, matches they should be good enough to win.
Their end to the season is pretty straightforward, with Man City being the only side from the top 4 last season that they face in all of March, April and May.
A solid start early on and positive results against Liverpool, Chelsea and United will really establish Arsenal as a real force to be reckoned with. With relatively winnable games in the second part of the season, they will fancy their chances to put another good run together like last year.
PREDICTION: 2nd
Arsenal are certainly much more improved than they were last season, and even though Man United and Man City have brought in some good players, they do not look as balanced as the Gunners.
Still, Wenger hasn't won the title in 11 years now and going the distance will therefore be a challenge too big for them this season. Their first run of bad games will determine where they end up in May, but they look good enough to finish in the top 2 for the first time since 2005.