Join our Telegram channel to stay up to date on the latest in marketing
"Italian football has always been different, special," John Foot wrote in an addendum to Calcio, his history of the beautiful game in the peninsula. "The term 'calcio' immediately conjures up a game fired by a ruthless culture: winners are always right, losers always wrong, and sportsmanship a sweet anachronism."
Even the recent history of the Italian game is littered with examples that substantiate such a claim. Contentiousness exists everywhere in football, but in Italy there's a particular brand of vitriol attached to controversies. Sure, over on English shores last season Jose Mourinho and Arsene Wenger were engaging in their usual verbal slugfest, in which the outspoken Portuguese landed a particularly blistering haymaker that will be remember for years.
Don't forget, however, that Mourinho was in part forged in the fires of Italian football, particularly a post-Calciopoli era dominated by suspicion and questions over the future. Carlo Ancelotti, Luciano Spalletti and Claudio Ranieri found themselves in Mourinho's crosshairs, even as longtime veterans of calcio, their native football brand. The former Inter boss gleefully waltzed into the fencing hall that is Italy, relishing the century-old swashbuckling that provides the character backdrop described by Foot.
Mourinho, like so many other figures in football, came and went. His departure from Inter in some ways signaled the end of an era. Since, the fortunes of Italian clubs in Europe have declined. The financial situation has decayed. The same colourfulness that previously drew so many to Serie A as played a crucial role in holding it back. Calcio's marketability continues to suffer, with negative stereotype becoming an all too common and depressing norm.
A Slide Tackle and a Selfie Lead to Wars of Words

Pettiness spills into the public sphere. Rivalry, through a variety of channels, is most often what incites it. A shining example came about in the wake of a heated edition of the Derby della Mole in September 2013. Ciro Immobile, co-owned by the Old Lady at the time but never intending to return, buried his studs into Carlos Tevez during the encounter. The Argentine took to Twitter to post a photo of his bloodied ankle after a 1-0 win, having been noticeably offside in the build-up to Paul Pogba's winner. Meanwhile, Antonio Conte defended his side's controversial win by thundering that Juventus had held the initiative for 70 minutes. Torino took issue, and it all kicked off.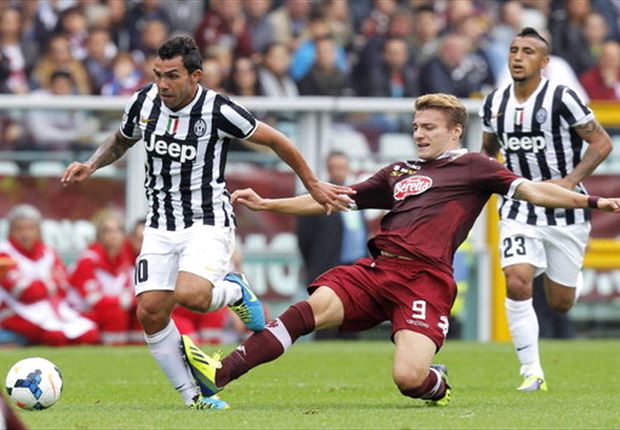 A strongly worded statement in which the Granata questioned Conte's mathematical capacities gave way to a row between the clubs' official Twitter accounts. Torino got the last laugh with a witticism referring to Juventus' continued recognition of the two Scudetti stripped during Calciopoli. As two age-old rivals fired shots in the same manner that prepubescent keyboard warriors with a mind to prove their online prowess do, Italian football was brought to its darkest place – a nod to its darkest hour the final volley lobbed in attack.
But for the childish ugliness of it all, there was something so richly engaging about the exchange. A pair of sandbox enemies, one the former grand pillar of Italian football and the other the hegemonic power convicted of corruption less than a decade earlier, firing quips at each other from either side of the Turin playground. A pair of social media managers with a mind to get one over on each other sat in direct competition. Real people with real allegiances were expressing passion unbridled by the usual constraints set in place in football clubs elsewhere in Europe. Public relations types everywhere put their heads in their hands and chalked up another tally for Serie A's backwardness. They would have been right to do so – but on the other side of the coin, what had transpired was raw entertainment fueled by the recklessness that makes calcio unique.
Between that day and the present, similar events have happened countless times, ranging from the relatively lighthearted to the downright distasteful. The aftermath of the Derby della Capitale at the weekend produced the latest public spat to divide opinion, witnessing a direct faceoff between the presidents of Roma and Lazio.
Francesco Totti's now-famous celebratory 'selfie' in front of the Curva Sud was first targeted by Biancocelesti supremo Claudio Lotito. Lotito went on to bet his position as the head of Lazio that Roma won't win the league title by season's end. The Giallorossi hit back by alluding to Lazio captain Stefano Mauri's previous ban as part of the 2012 Calcioscommesse scandal. Lotito and Roma president James Pallotta then went head-to-head via official statements, the former calling into question the Giallorossi's financial management and the latter directly insulting his counterpart's intelligence. It was a grudge match, a personal showdown. Sections of fans were richly entertained, while swaths of media figures openly criticized Lotito and Pallotta for fanning the flames of a bitter inferno. The latter group were in the right – what could've been a clever swap of jibes became grotesque.
The Good, Bad and Ugly of Calcio Culture
Yet, at the heart of sport, football in particular, is spectacle. Both off and on the pitch, Italian football is never short of it. Smoke bombs explode in the stands at every ground, while Atalanta ultras have been known to build impromptu newspaper blazes to keep warm in the Curva in the winter months. Palermo owner Maurizio Zamparini is a one-man show with his penchant for axing managers and quoting his players at astronomical prices. Aurelio Di Laurentiis pressed his Napoli squad into photo shoots to produce a ludicrous team calendar complete with gladiator Rafael Benitez displaying tactics on a sheet of parchment. Silvio Berlusconi requires no introduction. Sampdoria president Massimo Ferrero prefers to be regarded as bonkers, routinely tying his scarf around his head during matches to resemble some sort of football club-owning Rambo up in the stands.
Italian football has marketability, in this respect in a way that other leagues don't. They key for Serie A is to unlock the potential in this area while mitigating the negative aspects of it. Chiefly, what ends up in the spotlight of Italy's madness are the most damning parts – the calling of attention to past scandals and ad hominem attacks. It stretches beyond the examples of sparring between Torino and Juventus, Roma and Lazio.
Ferrero, for all the alluringly refreshing enthusiasm he provides, is guilty of stepping far out of bounds, in a recent, relevant case. A racist comment with regards to Inter's Indonesian owner Erick Thohir earlier this season garnered deservedly negative press. Despite the potential for Ferrero to be a tool calcio could use to prove its draw to an international audience, a lack of tact and provincial attitude on his part instead left Italy with yet another black eye.
Toeing the Line Between the Endearing and the Offensive
It's an issue that can't be understated in a system such as the Italian one that constantly is toeing the line between endearing and downright offensive. The culture of calcio is a ruthless one, as Foot points out, bringing into existence a sharpened double-edged sword. The sights, sounds, and absurdity of the Italian game that have before made it great also have caused it to become woefully out of touch down the years. While the likes of the Premier League have struck a chord with families and worldwide markets, Serie A is often met with sceptical glances. Cultural attitudes matter in the modern day and age, and the unpleasant side of calcio's mentality hinders its ability to progress and make good on the offbeat flavour it has to offer.
Can controversy be marketed? Sure, but only under the right circumstances. It's not entirely certain that Italian football knows anymore what it can give to its potential audience, with the focus so narrow and guided along self-interested lines so often. In so many ways, calcio is a reflection of Italian society – the issue of a lack of modernisation is an underlying theme in the downturn of economic fortunes and overall productivity in the bel paese since better days of the not too distant past. For Italian football, the heart is certainly there to turn out a product distinct from all others, but the mind is still yet to follow. Passion that stirs excitement is perfect, but accompanying tribalism, pithiness and parochialism sullies potential brilliance. The fight to change rolls on, a fascinating process that still looks in the mould of moving mountains – and where it ends, nobody knows.