Paris Saint-Germain and Chelsea played out a 1-1 draw at the Parc des Princes in the first-leg of their UEFA Champions League last 16 tie. In an exciting affair which saw both team have their spells of possession, it was the home side that dominated in terms of chances.
The Blues took the lead through Branislav Ivanovic 10 minuted before half-time, while PSG responded with a goal 10 minutes after the break by Edinson Cavani. Chelsea had their goalkeeper Thibaut Courtois to thank for the draw as the Belgian pulled off some fantastic saves to keep PSG at bay.
The tie is delicately poised going into the second leg at Stamford Bridge.
Here are some major talking points from last night's game:
1) Advantage Chelsea:
Getting an away goal and avoiding defeat is something Chelsea were looking to do, and that is exactly what they did do. It may not have been the most convincing of performances, but going into the second leg with the tie at 1-1 means that the Blues are overwhelming favourites in this one. Last year, they overturned a 3-1 deficit against PSG at home. This year, all they need to do to qualify is keep a clean sheet.
2) Courtois justifies Mourinho's selection with superb showing:
Jose Mourinho has stated that he has two of the best three goalkeepers in the world in his squad. And the way Petr Cech and Thibaut Courtois are performing, there is hardly much doubting that. The former put in a man-of-the-match performance against Everton in the Premier League last Thursday, while the latter did the same last night. After a string of impressive saves throughout the match, Courtois pulled of his best one in stoppage-time to prevent Zlatan Ibrahimovic giving PSG the win. Mourinho may have been slated for picking Courtois on the back of such a great Cech-performance, but the Belgian more than justified the selection.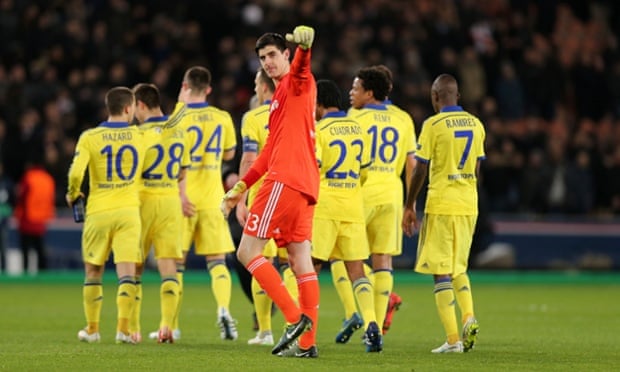 3) Hazard targeted once more:
Eden Hazard was subject to some physical treatment by PSG last night, to say the least. The winger was fouled a total of 9 times during the match, the most by quite some distance. Mourinho, obviously, wasn't too happy, especially with the way the referee was dealing with the players. The official seemed to be extremely lenient with regards to bookings, not dishing out a single yellow card in the first half despite some constant fouling by the likes of Marco Verratti and David Luiz. Verratti was arguably lucky to stay on the pitch in the second half after a lunge on Hazard only earned him a yellow. Replays show that both his feet were off the ground when he flew into the tackle.