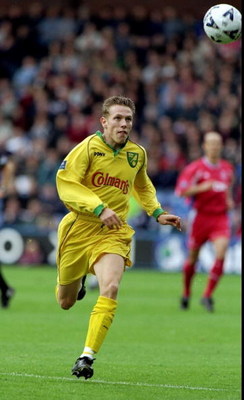 Chris Sutton, Craig Bellamy and Dean Ashton. The list could go on. These are just a few of the players who have made their name at Norwich City before moving on to careers further up the rankings of English league football. Carrow Road has been the development centre for a wide range of footballing talent, but sooner or later, their calling card has come in. Despite a disastrous start to the season, the Canaries appear on cruise control to bounce back to the Championship and manager Paul Lambert has moulded a team who are playing attractive football, scoring lots of goals and most importantly, winning.
Winning is an infectious formula
Whether you're in League One or the F.A Premier League, if you winning games consistently, then you're going to attract interest from elsewhere…usually places that are above you. From the 20-goal-a-season striker and the crafty playmaker to the no-nonsense left back, everyone is automatically in the shop window. Norwich City have always had the few rare breeds who have always seemed likely to fly the nest. The problem for City fans is that whenever they seem to have something good going, it's brought to an abrupt end by a big money offer prizing their crown jewel away. Unfortunately for City, it always seems to come at the worst time, but then again, is there ever a good time? Dean Ashton and Robert Earnshaw are the most recent examples of players who were on course to fire the Norfolk side back to Premiership, but who were sold on for financial gain.

Who could be next in line?
As hard as it may be for City fans to hear, if you're offered 5 million for a youth product turned first team regular, you can't turn it down. The question is, who will it be next? There's been three names that have stood out most for City this season. Hoolahan, Holt and Martin. If anyone of these players were to be sold, Norwich would more than likely struggle to maintain their form coming into the 'business' end of the season.

Wes Hoolahan

Hoolahan has craft, intelligence and natural gift and it isn't suprising to hear that teams in the Championship have shown interest. Although small in stature and light in weight, he does have that eye catching ability to weave in and out of players that you just can't teach. It's natural ability and god given talent. You watch other players of his kind who play higher up the leagues such as Andy Reid and struggle to identify how they're better. Hoolahan has always been one of those players with a question mark over his head. Does he have as much influence on a game as his ability merits? Can flashes of brilliance be turned into outstanding performances, week in, week out. If he can turn flashes into consistency, and he wants to go, it's very likely to happen. The main point to consider with Hoolahan is that he has more chance than most in the Canaries squad to become an international footballer. And that's something which may lure him to try to prove himself away from Carrow Road.

Grant Holt
Grant Holt has scored goals, and lots of them. Headers, volleys, long range efforts and delicate chips. You name it, he's scored it.  Holt's really shown a versatile range for a striker who's appearance is incredibly deceiving. However, something tells you Norwich need not worry about Holt. Never will he be able to play in the Premiership, and he's had his crack at some big clubs e.g. Nottingham Forest and not proven himself. Similar to the situation of Darren Huckerby, who came to Norwich and found that the love and appreciation of supporters was enough to make him want to stay for a prolonged period, Holt seems to be liking the hero status he's recieving at Carrow Road and is probably wise to the phrase that it might not be greener on the other side.

Chris Martin
That leaves Chris Martin. He's endeared himself to Norwich fans this season and is in great form. Strong, good technically and an astute finisher. He lacks pace, but Lambert appears to have got him playing the right way within the his system. He could be an attractive prospect to supposed 'bigger clubs'if he continues to perform like he has been, iand especially if Norwich are promoted to the Championship.  Norwich is his home and he appears to like playing for them, but it was also Chris Sutton's boyhood home. It's unfair on Sutton to rate Martin in the same bracket at this moment in time, because he's quite simply not. But if the 21-year-old keeps scoring goals, people will start noticing him more. No matter what level you play at, if you score goals, you'll get noticed. Martin is certainly the best thing to come out the academy set up in the past seven or eight years and this with him no undoubtedly recognising this, might spur him on to stay and try to become a Canary's legend.
City held onto Huckerby didn't they?
Huckerby has his crack at the big time. He performed especially well at Coventry in the mid 1990's but found that as the Premier League progressed, he could no longer keep up with it. When City went in for him, he had come out of his first big break with Leeds having failed to live up to his £6 million pound price tag and his Manchester City career didn't end on a high note either. Of course, he was a very good player, but when he came to City, being the best in the team and the pinical point of the whole club was enough to never make him want to leave. He was God. Who'd want to give that up? Huckerby was perhaps too good for the Championship, but not good enough for the Premiership and so reaching hero status at a club was a nice way of consolling himself for his career not turning out the way he would have hoped.
The difference between Holt, Hoolahan and Martin is that none of them have ever reached the promised land of the Premier League and at some stage, the lure may be too great to turn down.