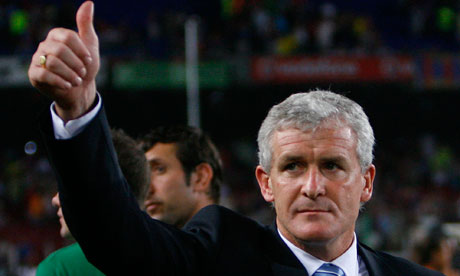 So, Mark Hughes has returned from his premature managerial wilderness to take over from Roy Hodgson at Fulham. If this career move had happened eighteen months ago, it would not have been nearly as interesting a choice of club as it is now.
Following the growth of Fulham to that of Europa League finalists, replacing Hodgson is an exceptionally hard act to follow. Aston Villa manager Martin O'Neill follows a rule that Brian Clough followed (apart from his disastrous forty-four day spell in charge of Leeds United); always take a club that is struggling.
O'Neill has done this successfully at Leicester, Celtic and now Villa.  With no disrespect towards Fulham, unless they were to receive 'Abramovichesque' funding from elsewhere, are as good as they are ever going to be. Sadly, I worry for Hughes that at Fulham, the only way is down.
I could be wrong of course; Hughes has in the past done well when he has had he opportunity to build a squad from roughly scratch, for instance his successful spell at Blackburn Rovers. At the same time, he has also done well where his resources are not as vast as preferred, which is what happened when he almost took Wales to the brink of major tournaments. Perhaps the situation at Fulham well suit him more than that of Manchester City, where he had player egos as well as a big budget to deal with at Eastlands.
British managers are often criticized for their lack of experience away from these shores and for Hughes to become a better manager, a stint with a team in Europe could of been a good route to follow. This cultured route has been taken by a surprisingly few coaches, and it should be further explored. It has done wonders for Steve MacLaren's career and in the past Bobby Robson and, ironically, Roy Hodgson.