Join our Telegram channel to stay up to date on the latest in marketing
Gareth Bale's agent has stated that the Welshman will stay at Real Madrid next season, thereby refuting claims that the player is set for a return to the Premier League. Bale has not had a great season at the Santiago Bernabeu, and his reputation has taken a slight hit in the Spanish capital.
The Madrid fans have expressed their displeasure at every opportunity possible, and the heat on Bale is at an all-time high after an extremely poor performance against Juventus in the Champions League semi-final earlier this week.
It could be argued that some of this criticism is harsh, seeing that the incredible £86 million fee that the club paid to Tottenham Hotspur to land him was inflated in the first place. This made him the costliest transfer in football history, even surpassing the £80 million Cristiano Ronaldo was bought for. Also, one cannot argue that he has settled in well at such a big club, scoring once in every two games in his La Liga career thus far. He has scored some extremely important goals too, notably the astonishing winner against Barcelona in the Copa Del Rey final last year, and the decisive goal in the Champions League final against Atletico Madrid. Despite this, there are signs that he has not really endeared himself to the faithful.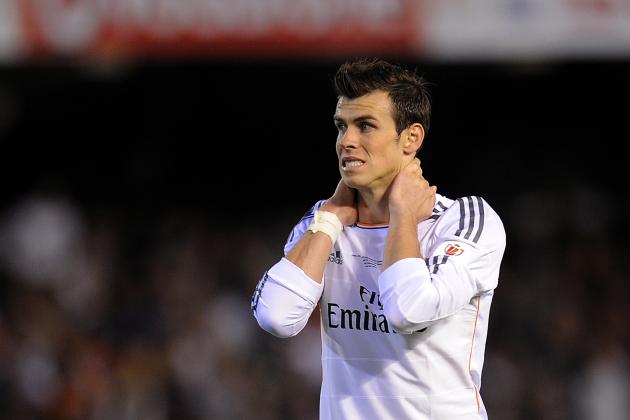 Manchester United and Chelsea were rumoured to be targeting Bale, to offer him an escape route back to the league where he made his name. But now, they have been dealt a blow by a statement by his agent Jonathan Barnett, who has quashed all these claims of him wanting a move back to England.
Barnett said, "Why would he look to go elsewhere?
"Real Madrid are the number one club in the world. There's always interest in him – but as far as we are concerned he'll be at Real Madrid next summer."
Even though his reputation has taken a slight hit, his market value certainly hasn't dropped, as both United and Chelsea would have had to pay at least £80 million to sign Gareth Bale. But for now, they needn't bother, as it looks like the 25 year-old is staying put.