Peter Schmeichel, arguably Manchester United's greatest ever goalkeeper, has backed his former club to move on without any problems if David De Gea were to join Real Madrid in the summer. It was reported last week that De Gea had agreed to join the Spanish giants, and he seemed to say goodbye to the home fans while being substituted at the weekend.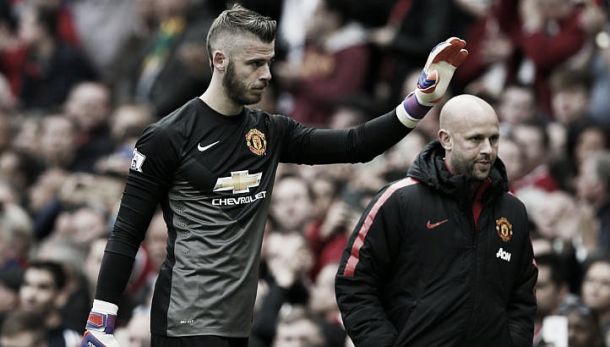 But Schmeichel, in comments made to magazine Four Four Two, relayed here by Diarioas AS, has stated that no individual is bigger than the club.
"Manchester United will never be about one player. Clearly there is an issue where either himself or his girlfriend want to go back to Madrid and you can't argue that Real Madrid isn't as big a place as Manchester United, some would say bigger. If he wants to go he's done fantastically well for Manchester United. We should be thanking him and we of course will move on", he said.
De Gea has been outstanding for the Red Devils this season, and picked up both the Fans' Player of the Year and Players' Player of the Year awards at the club's annual awards on Tuesday. Signed from Atletico Madrid in 2011, the Spaniard has transformed from a nervous, error-prone youngster into one of the best goalkeepers in the Premier League. Now 24, De Gea is looking to return to his home country and replace Iker Casillas at the Santiago Bernabeu.
A very big THANKS everyone! Muchísimas GRACIAS a todos! #mufcpoty pic.twitter.com/7F600FC2dw

— David De Gea (@D_DeGea) May 19, 2015
United are no strangers to selling their big players to Real Madrid. They have sold the likes of David Beckham, Ruud van Nistelrooy and Cristiano Ronaldo all traded Old Trafford for the Spanish capital. Yet, the Red Devils have never caused too much fuss and have continued in the same vein every time.
It will be vital though, for the club to replace a player as influential as De Gea, who has single handedly won many points for them this season. Names like Petr Cech and Hugo Lloris have been mentioned, while the club already has the experienced Victor Valdes on its books.