Join our Telegram channel to stay up to date on the latest in marketing
While Manchester United fans around the globe grew elated at the impact Javier "Chicharito" Hernandez had on the club in his debut season, another man's contributions were forgotten just as rapidly. Dimitar Berbatov's 21 goal haul last season was usurped in our minds by the sharpshooting Mexican. Despite playing a significant role in Manchester United's record 19th league title, Dimitar Berbatov's future at the club is under intense scrutiny. With 12 months to go on his contract, our record £30.75 million signing could find himself unemployed in June 2012 and what a mistake that would be by the English champions.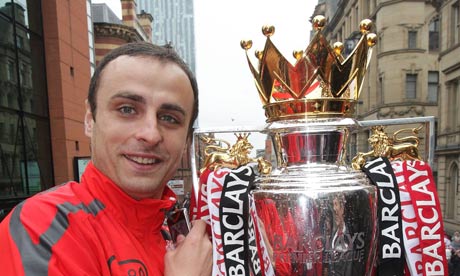 The Bulgarian striker arrived in Manchester at the last minute to complete his transfer from Tottenham Hotspur. With a star-studded forward line of Carlos Tevez, Wayne Rooney and Cristiano Ronaldo, he was seen as the final piece of the puzzle as Sir Alex Ferguson looked to consolidate his side's position as the top team in Europe. And just three minutes into his debut for the club, he looked like he could prove to be the buy of the season. His intelligent pull-back was met by Tevez' who smashed the ball into the top corner of Liverpool's net to give United a 1-0 lead. However the manner in which our performance fizzled out in that game (we lost 2-1 and were outfought by Liverpool) after such a promising start was akin to the style in how Berbatov's season smouldered into distant, unclear memories.
A brace against Aalborg BK in the Champions League saw him open his account for the club and this was shortly followed by another goal against West Bromwich Albion for his first league goal for the club. His next meaningful contribution was against West Ham when an outrageous spin on the endline fooled James Collins and he teed up Ronaldo to add his second in a simple 2-0 victory. A brilliant assist for a late Tevez winner at Stoke, a solitary goal against Middlesborough to take all three points, a 90th minute winner against Bolton and another match-winning strike at Newcastle ensured that when he did score, they were instrumental for us to win the league. However a lame penalty attempt against Everton in the FA Cup semi-final against Everton made him feel the wrath of the fans as he was blamed for our elimination in the competition despite others missing in the shoot-out also. Two assists in the Manchester derby, the second being a sublime piece of control, made up slightly for his much-maligned performance at Wembley a few days earlier. However with 43 appearances in his debut season with United, the man they call Mitko back in his homeland, only managed a disappointing return of 14 goals and nine assists. In addition, in comparison to the hard working Tevez who never ceased running up front, his languid style made the Old Trafford faithful even more restless as Berbatov struggled to cope with his new surroundings and mammoth price tag.
In spite of Tevez and Ronaldo leaving in the summer of 2009, Berbatov's next campaign was even worse. A majestic goal against Wigan early in the season proved another false dawn for the Bulgarian. Many weeks later he added another magnificent goal to his collection with an acrobatic bicycle kick against Sunderland and a short few weeks later, he controlled a wayward Patrice Evra shot, swivelled and thumped it into the bottom left corner past Paul Robinson of Blackburn, as United cruised to a 2-0 win. But they were to be the only highlights of his season as he mustered a miserable 12 goals and six assists in 43 appearances. Although he contributed some astonishing goals and pieces of skill in his two years so far at the club, they were far too sporadic for the supporters. The unlucky elimination from the Champions League at the quarter-final stage at the hands of Bayern Munich and the incredible 1-0 defeat to Leeds in the 3rd round of the FA Cup hardly endeared the number nine any further to our fans as many questioned Sir Alex Ferguson's judgement and whether Berbatov could go down as his worst buy of all-time.
But with a full pre-season behind him, which he began with a stunning goal against Celtic, Berbatov set the tone for his greatest season yet at the club. This was aided further by netting a clinical third goal against Chelsea in the Community Shield which saw him lob Hilario on the edge of the box to wrap up a 3-1 win. The 30-year-old opened the scoring against Newcastle in our first Premier League encounter of the 2010-11 season with a decisive finish. His finest match of his career was about to arrive though as he netted an amazing hat-trick against Liverpool in a high-octane encounter. Fresh from a mundane 0-0 draw with Rangers in a Champions League group stage clash, Ferguson put Berbatov back into the starting 11 and he was rewarded for this fine decision.
An accurate header in the first-half gave us the lead before the Bulgarian managed to control a Nani cross on his thigh and bicycle the ball in off Pepe Reina's cross to send the Stretford end into raptures. He even had one more goal to spare as he netted an 88th minute winner to illustrate he has as much grit and determination in his play as he does class and skill. His season improved further with an incredible five goal contribution against Blackburn Rovers in a 7-1 thumping at Old Trafford. The third goal rivals his bicycle against Liverpool as goal of the season. Collecting the ball deep inside his own half after successfully defending a corner, he instigates an attack with a clever backheel to Evra, collects the return from Evra, sprays the ball out wide to Nani with a powerful outside of the boot pass and arrives in time at the edge of the box to sweep the ball into Robinson's top left corner. His first hat-trick of 2011 came against Birmingham but after this game, he fell out of favour with Ferguson and Javier Hernandez was the preferred option to partner Rooney up front. Berbatov was not finished for the season though as he scored an 88th minute winner against Bolton to keep our title bid on track. He was rarely seen between then and the trophy celebrations when we had secured the title and serious questions marks over his future were raised when the Manchester United team and bench were named for the Champions League final against Barcelona. It has become a well-known fact that Berbatov cried in the dressing room on learning of the manager's decision to drop him entirely from the squad, such was his anguish and trauma at not being able to try and contribute to his team's effort. However the Bulgarian remains adamant he will not leave the club that he has always referred to as the "pinnacle."
There is also the theory going around that Berbatov is not consistent or a match-winner. This can be partially true if you consider 11 of his 20 Premier League goals came in just three games. However if you wanted a match-winner in England's top flight, look no further than Dimitar. He has been the difference between Manchester United and the opposition on seven occasions in the league last season. In tied second place was Carlos Tevez along with Chelsea's Florent Malouda, both players with six winners each.
There is no doubt in my mind that United should do everything we can to retain his services at the club. Not only would we be committing a terrible financial error by allowing him to leave for free next summer after spending big bucks to bring him to the club in 2008, it would reek of betrayal and especially a lowering of quality of football at the Thetatre of Dreams. He may not be the hardest working individual in the world nor is he a match-winner week in, week out. But he wears his heart on his sleeve, he understands the privilege of playing for our massive club and he has arguably the best attitude in the game. Couple that with his raw ability and talent, why would anyone want to see him ply his trade anywhere else when he can play in a mesmeric style that not even Lionel Messi or Cristiano Ronaldo could reproduce? Forget about any bid from Paris Saint-Germain, the man wants to play at Old Trafford for the rest of his life and as he said himself, "Where can you go from here? Only down."