At school, we all had that one friend who used to wreak havoc at every possible opportunity and yet get away without any sort of reprimand or punishment. It used to be irritating to the hilt when it happened, but at the back of our minds, we couldn't help but feel a sense of admiration for his cunningness.
In football, Diego Costa is exactly that mischievous kid. Except of course, the authorities have the luxury of action replays, which means that everything the Spaniard gets upto during a match is captured on a camera and can be watched and analysed again and again.
The Chelsea striker has been the subject of a lot of controversy recently after the weekend's game against Arsenal, in which he got away with slapping Laurent Koscielny in the face before provoking Gabriel Paulista enough to get him sent off. Costa has been charged for 'violent conduct' by the FA and is set to be given a retrospective three-match ban for his actions.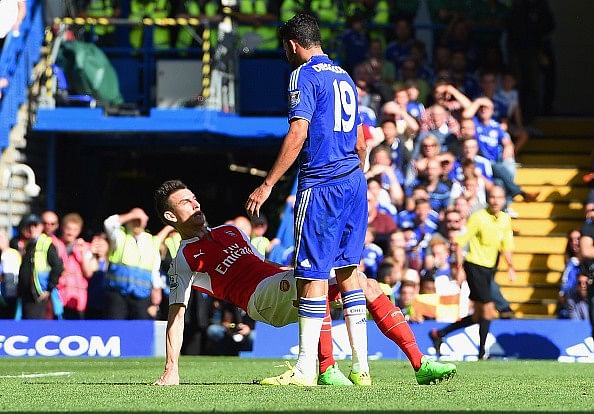 A smartness to the violence
Costa has been using these tactics since as long as one can remember. He did it during his days at Atletico Madrid, and is now continuing in the same vein in the Premier League. He doesn't pass up a single opportunity to heckle the opposition defenders, and more often than not gets the reaction he wants.
The 26 year-old hasn't been sent off since 2012, which may be startling to hear at first, but is understandable on analysis. There is a pattern to his antics, which are aimed to get into the mind of the opponent. He does things carefully, stealthily, when no one is watching. The incident involving Koscielny on Saturday was a clear illustration of that.
The ball was in open play when he got his hands on the Frenchman, and referee Mike Dean was preoccupied with the action. Moreover, the way in which players scuffle in the box nowadays when a cross comes in made the linesman wave it away as normalcy as well. In the end, Gabriel reacted, naively one might say, and Costa made the most of it.
The Arsenal players were incensed, and Arsene Wenger screamed 'Blue Murder', but there wasn't a single piece of evidence upon which Dean could take action against the Chelsea man. This isn't the first time this has happened, and despite the retrospective action by the FA, most certainly won't be the last.
Why he won't change
Essentially, if Diego Costa changes his style of play, he won't be Diego Costa anymore. It's an simple as that. That's the way he goes about his football, and teams are going to have to deal with it when they come up against him. Some will call it bad sportmanship, while some, like Jose Mourinho, will call it passion for the game.
The Koscielny incident was a one-off, and Costa doesn't go around slapping players in every game. He is usually much more subtle, and gives the officials no reason to take action. After all, you can't really book someone for getting on an opponent's nerves. He didn't commit a single foul in the game against Arsenal, and has only committed 6 all season.
In the end, the fans of the club he plays for are going to love him, and the opposition fans are going to absolutely despise him. But, as Harry Redknapp writes here in his column in the Telegraph, every manager would love him to be the centre-forward in his team.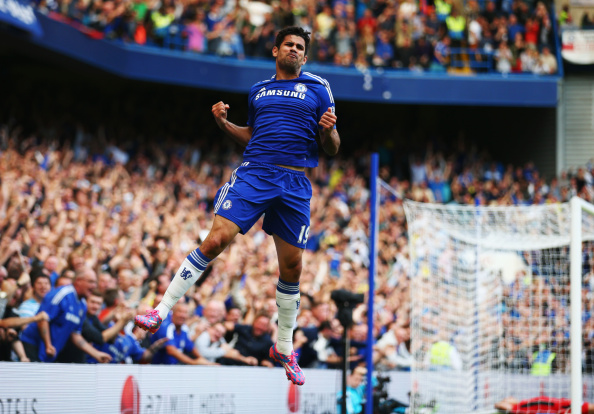 The media loves to slate a Chelsea player at every whiff of an opening anyway, and Costa's actions have given them several field days. After all, the likes of Marouane Fellaini, Fernandinho and Sergio Aguero have all gotten away with elbows and stamps in recent years without punishment, and without the newspapers making a big issue out of it. And who can forget Ashley Barnes last year at Stamford Bridge, nearly smashing Branislav Ivanovic's face before almost putting Nemanja Matic on the sidelines with a broken foot?
Mourinho won't care though, and as long as Costa is scoring goals on a regular basis and contributing to his side's progress, it won't make too much of a difference to the larger picture.