Join our Telegram channel to stay up to date on the latest in marketing
Tottenham Hotspur and Chelsea played out a 0-0 draw at White Hart Lane, in a game that can largely be described as uneventful. Spurs stretched their unbeaten run to 13 games in the Barclays Premier League, but were unable to force the winner against the defending champions. The Blues, on the other hand, got their first clean sheet of the season away from home.
The two big chances for the home side fell to Son Heung-Min, but the South Korean saw his efforts in either half saved by Asmir Begovic in the Chelsea goal. Eden Hazard played as the centre forward for the visitors and was at the end of two of their best opportunities. He should have arguably done better with a free header in the first half that sailed over, but forced a world-class save out of Hugo Lloris with a left-footed volley in the second period.
Here are three major talking points to come out of the game:
1) Formation change due to Mourinho-Costa rift?
Jose Mourinho named all of Oscar, Pedro, Willian and Hazard in the starting line-up, with Diego Costa conspicuously left out. The Spanish striker was lambasted publicly by his manager in midweek against Maccabi Tel Aviv for his lack of anticipation and his snub today could have been down to that. There is no doubt that his physical presence up front would have made a difference in Chelsea's counter-attacking setup.
Costa was seen warming up in the second half, but Mourinho chose not to bring him on. His reaction was to throw away his bib (seemingly targeted at his manager) while sitting back down on the bench and even though it did not find its desired target, it underlines the tension between the two parties.
Jose insists there is no problem between him and @diegocosta, despite the striker throwing his bib… #TOTCHEhttps://t.co/QrYVruIrEE

— BT Sport Football (@btsportfootball) November 29, 2015
2) Defensive soldarity seems to have returned at Chelsea
The Blues were without their captain John Terry for this one, and it was therefore Kurt Zouma and Gary Cahill who played at the heart of the defence. They remained miserly throughout, and didn't give a Spurs side known for their attacking prowess too many openings. A lot of the home side's efforts were restricted to shots from outside the box. After conceding 23 goals in their first 12 league games, Chelsea have now kept two clean sheets on the bounce. With Branislav Ivanovic showing a marked improvement, and the likes of Willian and Hazard tracking back expertly, the defensive discipline and solidarity which defined their title-winning campaign last year seems to have finally come back.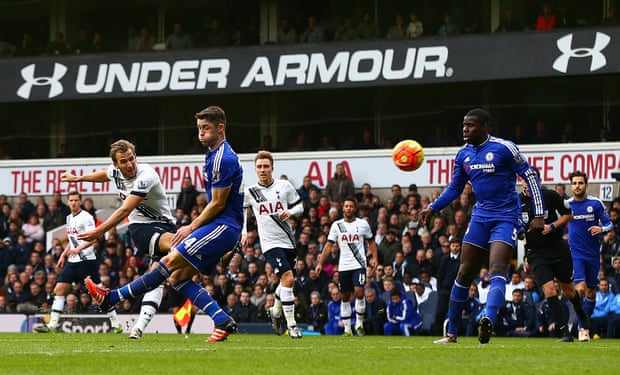 3) A favourable result for both sides
At the end of the day, both Mauricio Pochettino and Mourinho will both go home satisfied with their respective team's showing. Spurs travelled to Azerbaijan on Thursday for their Europa League match and the fatigue was well on show in the second half. They didn't gave anything away to Chelsea and registered yet another clean sheet.
For the Blues, their march up the table may not have continued, but the performance certainly threw up a lot of positives. Hazard had yet another good outing, while the backline stood firm. The tactic to thwart Spurs' forward play with disciplined positioning worked perfectly. In their next 5 fixtures, Chelsea play 3 sides in the bottom half at home while also travelling to high-flying Leicester City and Manchester United. A run of strong performances and results will see them back to their best before the turn of the year.