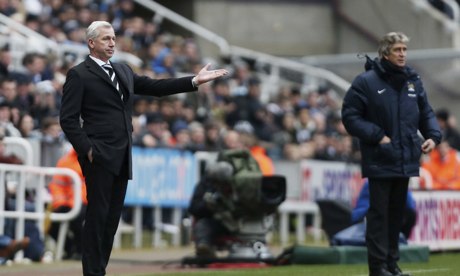 The cold, creeping sensation that lies in the depth of your empty gut, as the floor falls away from beneath you, the blind sense of panic that comes with an unknown tomorrow. We all know that monstrous feeling that accompanies a sacking. Well, almost all of us. As is often the way in a cold and unjust world, those who most deserve to feel that cold, steely dread are the ones who never know it. Embezzlers, tyrants, mass murderers, Newcastle manager Alan Pardew – no matter what they say or do, no matter how many people call for their head, they all seem somehow untouchable, regardless of their crimes against humanity.
Why is it then, that I can face the sack for "not seeming like I want to be" serving coffee to the nearly dead in a deserted coffee shop, but Alan Pardew can call one of the league's most respected managers an "old c***", head-butt an opposition player, and turn the 5th best club in England into a perpetual relegation candidate overnight, and still expect to go to work on Monday morning? Money talks. The ties to the club's owner seem to be all that has kept Pardew in office for the past two seasons, meaning while we, the hoi polloi, may face the axe on a daily basis, 'Pards' evades justice by virtue of his rich friend.
The 2011/12 season when he looked so… competent… seems like little more than a pleasant dream now, and Magpie fans instead find themselves living a waking nightmare thanks to the insipid cronyism currently crippling the club. The players that carried the Magpies to the brink of Champions League qualification have either been auctioned off at embarrassingly low prices (Demba Ba, Yohan Cabaye) or isolated and bullied into obscurity (Hatem Ben Arfa, Papis Cisse). While the last heir to the Hutt Empire, owner Mike Ashley, might take credit for the former; the latter falls squarely on the shoulders of the hapless Pardew.
The Newcastle boss took two of his most exciting players, and ruined them with a subtle blend of public humiliation (Ben Arfa was relegated to the reserve squad before his acrimonious loan exit to Hull) and religious intolerance (Cisse, a Muslim, was excluded from team training for refusing to wear a strip sponsored by loan-sharks Wonga which conflicted with his beliefs). His tactics are almost as ill-judged as his man-management techniques; but that's not what is really driving the calls for Pardew's scalp – it's his links to the owner. Midway through last season, he dedicated the team's unexpected victory over title-contenders Chelsea to Newcastle's despised owner Ashley – as the Toon faithful, who deserve so much better, continued to bay for the Cockney Mafioso's head on a stick.
The writing would have been on the wall at St James' Park for a long time now, but for the giant "SPORTS DIRECT" signs that would no doubt have been plastered over it – and as pressure mounts, including stern words from Geordie immortal Alan Shearer, the end would surely be nigh for any of us. But Pardew isn't any of us. He is Ashley's man. Both fans and owner seem to see that makes Ashley's position vulnerable should Pardew be driven out. So the farcical dance continues, as Newcastle languish at the foot of the Premier League – and it's looking like this time, if it is not resolved quickly, the biggest club in the North-East could be heading for a return to England's second tier. The club could make no better start to putting that right than the dismissal of Pardew.