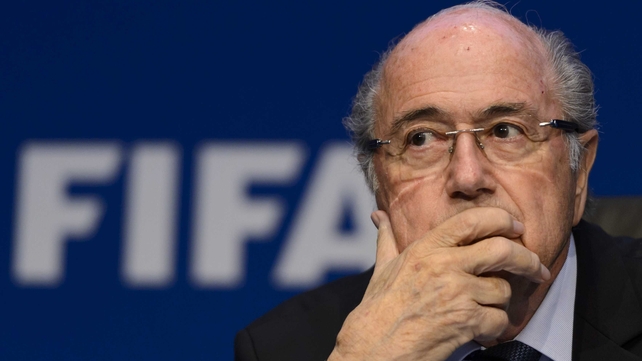 Sepp Blatter's reputation has just taken another big hit, with the FIFA President facing criminal charges over allegations of illegal payments and financial mismanagement. The Swiss federal police searched Blatter's office and seized documents supporting their claim, while also interrogating the 79 year-old ahead of pressing full charges.
The Swiss football administrator has been at the helm at FIFA since 1998, and was re-elected earlier this year for a fifth consecutive term despite widespread suspicions of money laundering and corruption. He did though, announce his resignation from the post at the end of the current term.
Michel Platini, the UEFA President who is tipped to replace Blatter in February next year, was also questioned as a witness by the Swiss police in this case. The Frenchman received 2 million francs from Blatter in 2011, for work performed between 1999 and 2002. These payments were debited in FIFA's books and under the Swiss law, any such outflows against the best interest of the employer (in this case FIFA) are classified as 'disloyal payments'.
Further allegations of misappropriation of funds were made, with Blatter said to have sold the World Cup's broadcasting rights in the Caribbean to Jack Warner at discounted prices. Warner, formerly the Vice President of FIFA and President of CONCACAF (the Confederation of North, Central American and Caribbean Association Foootball), was suspended from these roles in 2011 over numerous allegations of corruption. He has a history of buying broadcasting rights for World Cups at subsidised rates, having claimed to have purchased the ones for the 1998 edition in France for $1.
As reported here by Swiss television channel SRF yesterday, Blatter sold the rights for the 2010 and 2014 World Cups to Warner for just $600,000, which turns out to be a mere 5% of their actual market value.
A statement issue by the Swiss attorney-general Michael Lauber on this issue, as relayed here by the Guardian, read, "On the one hand, the OAG suspects that on 12 September 2005 Mr. Joseph Blatter has signed a contract with the Caribbean Football Union [with Jack Warner as the President at this time]; this contract was unfavourable for Fifa. On the other hand, there is as suspicion that, in the implementation of this agreement, Joseph Blatter also violated his fiduciary duties and acted against the interest of Fifa and/or Fifa Marketing & TV AG."
"Additionally, Mr. Joseph Blatter is suspected of a disloyal payment of 2m Swiss francs to Michel Platini, president of Union of European Football Associations (UEFA), at the expense of Fifa, which was allegedly made for work performed between January 1999 and June 2002 ; this payment was executed in February 2011."
A total of 14 FIFA officials were indicted in May this year after investigations by the Federal Bureau of Investigation (FBI) found cases of illegal collusions, mismanagement of funds, racketeering and fraud. 13 of these officials have already been arrested.
A probe is also ongoing on the allegedly rigged bidding processes for the 2018 and 2022 editions of the FIFA World Cup, won by Russia and Qatar respectively.
All this drama has taken place under the purview of Blatter, and he has now become the first man to be officially and formally questioned in this case, which began in November last year. He will leave his office next year a shamed man amidst all this controversy, but it remains to be seen if any action is taken against him before that.