Is Luke Shaw, Manchester United's new recruit at left-back, realistically worth the £30 million price tag the club paid for him? We're about to assess just that. Tipped as the best teenage left-back in the world, Shaw has certainly amassed a large fan base over the last year or two. However, thirty million pounds is a lot of money for any defender, let alone one that is just nineteen years of age and has played only two seasons of professional football. Whether he becomes a true global star is something we will not find out for a few years, but we will not let that stop us from debating his chances right now. Let the pros and cons commence.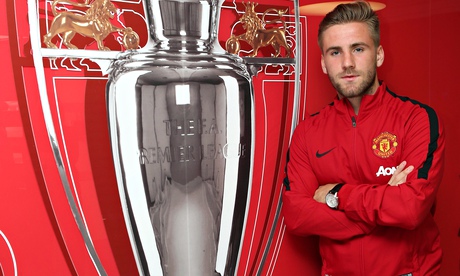 Cons
1. There were cheaper, more proven alternatives
So Luke Shaw looks great, we get it. But do Manchester United really need him specifically? It has been well documented that Louis Van Gaal's compatriot and star turnout at the World Cup, Daley Blind, would have cost the club just £10m. At a third of the cost of Shaw, Blind is arguably more proven – having been capped 19 times for his country and played an impressive 99 games for Ajax – and is also still young.
Indeed, at just 24 years of age and having won the Dutch Footballer of the Year last term, Blind would have likely been a fine left-back for United. What's more, his relationship with Van Gaal has already been built-up, so what's not to like?
2. It's not like the money wasn't needed for other positions
Though Manchester United have certainly got a huge amount of cash to spend this summer, they shouldn't necessarily be throwing it around so easily. After all, a huge overhaul is needed at the Northern club. Dwight Yorke – the Man Utd legend himself – even said that seven new additions are needed on top of the already bought Shaw and Herrera. And to be honest, he's right.
With the loss of Nemanja Vidić and Rio Ferdinand, another two if not three centre-backs are needed to fill up the cracks that an ageing and quite abysmal defence proved to be last time out. In addition to this, a plethora of midfielders are needed with Carrick, Fletcher, Nani, Young and Anderson (was he ever good?) all looking past their best.
The young members of the United midfield (bar Januzaj) hardly look set to replace the old either, with Tom Cleverley being perhaps the clubs best young hopes of a central midfielder; which let's face it, gives them no hope at all.
Though Patrice Evra certainly needs some young competition at left-back, the club desperately need reinforcements in other areas more. Quality players cost big-bucks nowadays, and United will need every penny of that summer transfer budget if they want to compete next season. The clubs new left-back cost quite a lot of those pennies.
3. Shaw will now be under heavy pressure
With Southampton themselves proudly naming Luke Shaw as the most expensive teenage footballer in history, the man (or adolescent?) must now cope with the media twenty-four, seven. Though he looked assured enough when playing against Costa Rica at the World Cup, by that point England were out of the tournament and no one really cared.
After all, Shaw may have come up against some top-quality wingers last season, but he has never competed in the Champions League on a cold, wet Tuesday evening with 78,000 United supporters waiting to criticise any defensive relapses he has.
Furthermore, while the Premier League may have had some good wide-men last season – Hazard, Jesús Navas and Sterling being the best of the bunch – none of them were as consistent and ruthless as Ronaldo, Di María, Bale, Alexis Sánchez, Messi, Lavezzi, Robben, Ribéry, Reus, or Neymar. These are the types of players Shaw must cope with when Man United likely return to the Champions League. If he can't deal with them, suddenly that £30m price tag becomes a very easy target for the media to jump on to, crushing the young full-back in any way they see fit.
Pros
1. If he performs this well at nineteen, imagine what he'll be like at twenty-five
Though we can debate about the quality of opponent he has already come up against and the difference in pressure he'll face at United, the truth is that Luke Shaw was voted the best left-back in the league last year; ahead of proven players such as Patrice Evra, Gaël Clichy and Leighton Baines. That is no small honour. And even if he isn't ready to play against the very best right this moment, we must remind ourselves that the man is only nineteen, about to enter one the best training facilities in the world with a world-class manager to guide him.
By twenty-five, he should be unstoppable. His tender age also means that the £30m price-tag could end up costing United less than £3m a year; that is if he fulfils his potential and plays as first-choice left back for the club until he's 30, anyway.
2. Sometimes a gamble pays off
I remember when I was young and read in a newspaper that Rio Ferdinand had signed for Manchester United for around £30m too. 'Unbelievable', I thought, 'A defender for that price? In the year 2002!' And yet, who complains about that fee now? No one, that's who. The best managers of this world take gambles; it's what makes them the very best. Ferguson wasn't afraid too, and neither is Van Gaal.
While Paul Scholes says the long-term impact of signing Luke Shaw will be negative, the truth is we just cannot be sure of that. Ferdinand went on to make over three-hundred appearances for the club, earning the captaincy and becoming a global star. Luke Shaw has the potential to do the same, and we all know it.
3. There is value in beating your rivals to a player
Though it cannot ever be seen as the sole reason to sign a player, there is advantages in signing someone that one of your rivals would have bought otherwise. In Shaw's case, it was Chelsea who openly wanted him. If Luke is now successful at United, Chelsea will have regretted not securing his signature. One player can be the difference between winning a title or not, and that is certainly what Manchester United hope the signing of Luke Shaw will bring them.
In conclusion, it is probably best if we don't criticise Manchester United's decision to splash out £30m on Shaw just yet. Sure, it may be a lot of money and they do need players in other positions more, but this is United we are talking about, a club who need the very best players in order to sustain their legacy – no matter the cost.
Spending big money in the past has made them what they are today. And who can blame them? Their new £75m-a-year kit deal has completely blasted the next closest Premier League deal – Arsenal who receive £30m a year – to shreds. On top of that, their new sponsorship with Chevrolet will be raking in massive cash too.
Us football supporters may not like or understand it, but £30m for the next teenage prodigy will likely be the type of cash the very best clubs now need to spend. If the gamble pays off, Manchester United will be laughing. If it doesn't, they'll still be able to spend multi-million pounds on a replacement anyway…