Jose Mourinho has opened Pandora's box again with former Liverpool manager Rafael Benitez. Chelsea fans have never been on good terms with the Spaniard,  despite him managing them for a brief period in the 2012/13 season. Now, Mourinho has made sure that that relationship will go further downhill.
The two of them were fierce rivals between 2004 and 2007 in the Premier League, facing each other in some extremely memorable and controversial encounters. They may now be managing in different leagues but the feistiness still remains.
Benitez has taken up the job as Real Madrid manager, a position Mourinho held for 3 years between 2010 and 2013. He has also followed the Portuguese to Inter Milan and later on, to Stamford Bridge.
The 55 year-old's wife, Montserrat Seara said in an interview to newspaper La Region that this is the third time her husband would 'tidy the mess' Mourinho created.
"Real are the third of Jose Mourinho's old teams [that] Rafa has coached," she said. "We tidy up his messes! If you think about it, of course you end up crossing paths. There are only a few world-class clubs out there."
Mourinho though, is not one to lie down lightly, even though Seara's comments were meant to be a joke. Following Chelsea's penalty shootout win over Barcelona today, the Portuguese has let rip at Benitez and his wife in an incredible rant, as a response to the above statement.
"The lady is a bit confused, with all respect. I'm not laughing, because her husband went to Chelsea to replace Roberto Di Matteo and he went to Real Madrid and replaced Carlo Ancelotti", Mourinho said.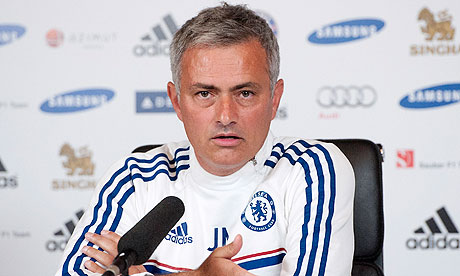 "The only club where her husband replaced me was at Inter Milan, where in six months he destroyed the best team in Europe at the time.
"And for her also to think about me and to speak about me, I think she needs to occupy her time, and if she takes care of her husband's diet she will have less time to speak about me."
It remains to be seen whether Benitez takes the bait and responds, but he would be better advised not to get into a war of words with Mourinho. The Real Madrid job is one of the toughest in the world, and the Spaniard hasn't won a league title in any of the clubs he has managed since 2004. So, it will be best for him to concentrate on the job on hand rather than get stuck into this meaningless battle.