Join our Telegram channel to stay up to date on the latest in marketing
Jose Mourinho is not a man who is used to losing. Winning is a habit, as the saying goes, and the Portuguese's phenomenal record over the past decade clearly shows that he is a Champion through and through. So, he is walked on unchartered ground this season, with Chelsea floundering in 17th place 5 games into the season. The Blues dominated the Premier League from start to finish last year, being top of the table from Gameweek 3 to the very end.
There are problems in every area of the pitch, right from the back to the front. The morale in the dressing room going into Saturday's blockbuster clash against Arsenal can't be all that good, despite Chelsea's 4-0 thumping of Maccabi Tel-Aviv in their Champions League opener on Wednesday. The Israeli champions were simply no match for the Blues, but Arsenal will come to Stamford Bridge knowing that they can win.
Chelsea already find themselves 11 points adrift of Manchester City at the top and for them to have any chance of retaining their title, things need to change right here, right now. Here are five things that Mourinho needs to fix immediately:
1) Under-performing stars
The players most instrumental to Chelsea's title win last season have all been below-par this season. Diego Costa, Cesc Fabregas, Nemanja Matic, Branislav Ivanovic and John Terry have all been shadows of their former selves, and this has left the entire backbone of the team teetering. The only player who has maintained his level is Cesar Azpilicueta, who has been as solid as ever.
It seems very much like laziness and complacency has crept into the above-mentioned individuals, and they have just not got going yet. Mourinho needs to sort this out right away, and he has dropped a couple of them in recent games to ensure they realise that no one is indispensable. The talent is still very much there, but these stars need a slap in the face to wake up and start performing again.
2) The hesitance to drop Ivanovic
The backline looked good last season, but it was evident that the right-hand side was a weakness. Ivanovic was getting out of position far too often, and most of the goals Chelsea were conceding were coming from that area of the pitch. But as the Blues were managing to win games and stay comfortable at the top, nobody noticed too much. This year though, the Serbian has hit a new low, performing miserably in every game so far. Even then, he has kept his place. Abdul Baba Rahman was signed from Augsburg in the summer, but is yet to play in the Premier League. This needs to change now, as Ivanovic has clearly become a liability for Chelsea Football Club.
3) Eden's no hazard
Teams have come ready to nullify Eden Hazard this season, and have done so successfully. The Belgian was voted the Premier League Player of the Year last season, but hasn't had any impact whatsoever this season. This was the campaign in which he was expected to make the jump to being one of the best players in the world, but at the moment, he has been one big disappointment. He is yet to score a single goal, and his penalty into the top tier in midweek reflected how low on confidence he is. Hazard won games single-handedly for Chelsea last season, and played well even when the team didn't. Mourinho has nurtured him like a son, and must make sure he gets back to his best in the next couple of weeks.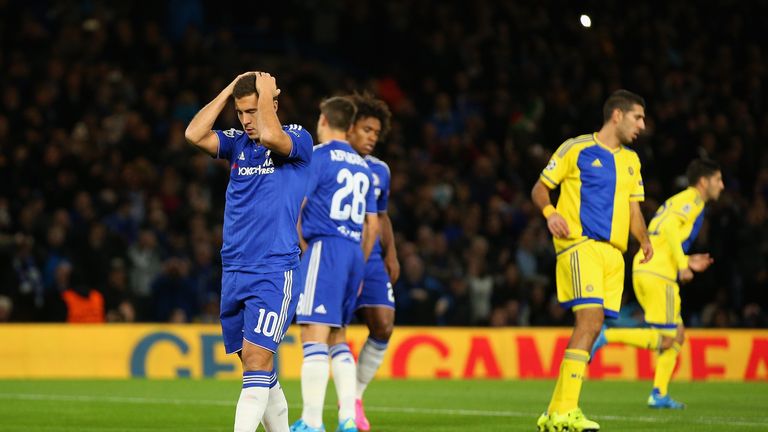 4) Internal problems
There was the whole Eva Carneiro saga, before talks of a bust-up between Terry and Costa. Whether the latter is completely true or not, we don't know, but it's a clear indication of unrest in the camp. These kind of rumours only break when a team isn't playing well. Mourinho can bring back the calm in the dressing room only by inspiring a turnaround on the pitch. There are some very big names in this squad, and along with that come massive egos as well.
5) Opportunities for the youngsters
There can't be too much of an excuse now for not giving the host of talented youngsters at Chelsea a fair chance. Last season, it was understandable that none of them could get much a look-in, with the way the senior side was playing. This year though, things are different, and Mourinho must make the most of the opportunity to find a couple of future superstars. The likes of Kurt Zouma, Ruben Loftus-Cheek and Kenedy have all featured in big games this season, and should be gradually incorporated into the first-team on a regular basis. In midweek against Tel-Aviv, when Willian got injured, Mourinho had the chance to bring on youngster Bertrand Traore. Instead, he opted to bring on Costa and shift Loic Remy out to the right. He needs to stop playing it safe in games like these, and allow his young lads to prove their worth.
This is where a manager earns his money. It is simple enough when everything is going the right way, but in difficult times such as these, the gaffer needs to take the situation by the scruff of the neck and get his team back on the right track. His man management skills and tactical acumen are all tested to the limit. Mourinho is a man who has been lauded for both these qualities throughout his career, and now he must prove himself once again, in what is surely the biggest test of his professional life thus far.