The final of the Capital One Cup is upon us. The first trophy up for grabs is set to be decided by what promises to be a fierce contest between London rivals Chelsea and Tottenham Hotspur.
As the two teams take to the pitch at Wembley, it will be very apparent to the viewer that there are individuals on both sides that can decide the outcome of the game single-handedly. It will, therefore, be very interesting to see what the managers, Jose Mourinho and Mauricio Pochettino, do to nullify these threats.
We pick out three fascinating head-to-head battles to look forward to in this game, which could go a long way to determining who lifts the cup at the end of the day:
1) Harry Kane vs Kurt Zouma:
All eyes will undoubtedly be on Spurs striker Harry Kane. He is young, prolific and most importantly, English, and therefore has gained most of the media attention in the pre-match stories. The 21 year-old has 24 goals to his name in all competitions this season, and Chelsea know very well how dangerous he is. Exactly two months ago at White Hart Lane, Kane put in a heroic performance against the Blues, scoring a brace as his side won by an incredible scoreline of 5-3.
While it is not apparent who Jose Mourinho will play alongside John Terry in the heart of the defence, I personally think it should be Kurt Zouma, rather than Gary Cahill. The French youngster has been very calm and sound when called upon, while Cahill has struggled and has made far too many mistakes. It was the Englishman who was culpable more than once in that defeat by Spurs at White Hart Lane, and will therefore have the ghosts of that evening well-etched in his mind. He is the unquestionably the more experienced of the two, but the last time that excuse was used to pick him, Zlatan Ibrahimovic and Co. owned him. It will therefore, be a good choice to give Zouma a chance to prove himself at the highest stage of all.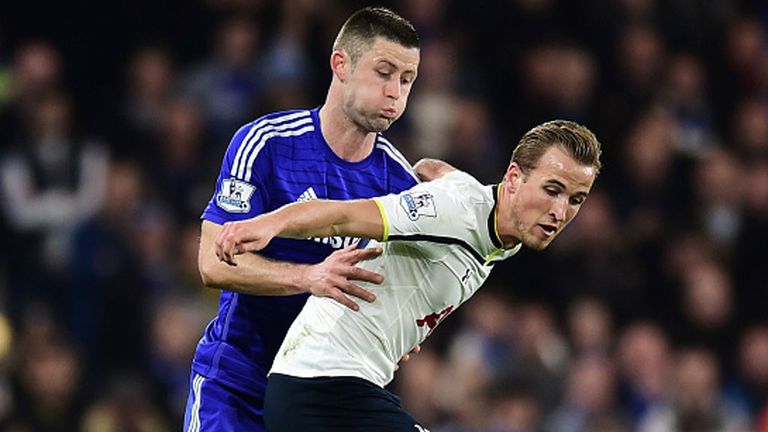 Whoever is selected though, will have their task cut out. Kane is the most in-form striker in England at the moment and will have his tails-up. It is imperative that the Chelsea defenders keep him quiet if they are to go back to Stamford Bridge as League Cup winners.
2) Cesc Fabregas vs Ryan Mason; Ramires vs Cristian Eriksen:
The midfield battle will be key as ever, and there are two sub-plots here that we feel are extremely vital.
Another Spurs youth product who has burst into the scene this season is midfielder Ryan Mason. The 23 year-old has been a mainstay in the centre of the park, and will play a key role in the final. His task is by no means an easy one, as he takes on one of the most accomplished ball-players in the league in Cesc Fabregas. The Spanish midfielder has the highest number of assists to his name in the league, but has been nullified in the past by being man-marked out of the game. That is precisely what Mason's job is expected to be.
At the other end, with Nemanja Matic controversially suspended and John Obi Mikel injured for this one, it will Ramires trying to stop Cristian Eriksen. The Spurs man is one of the best attacking midfielders there is at the moment, and giving him too much time and space could lead to goal in the blink of an eye. The Brazilian therefore, has his work cut out, and will need to be extremely disciplined in his game.
3) Eden Hazard vs Kyle Walker:
If ever there was an opportunity for Eden Hazard to do it in a big game for Chelsea, then this is it. He has been brilliant against the big sides in the past, but all his contributions haven't necessarily been evident on paper. His duel with Kyle Walker, the right-back who does have a tendency to bomb on forward, will be a very important aspect of this match. Hazard was the only Chelsea player who can say he performed well in the 5-3 defeat against Spurs in January. His consistency this season has been fantastic, and there will be nothing better for him than to cap a great year off with a match-winning performance at Wembley.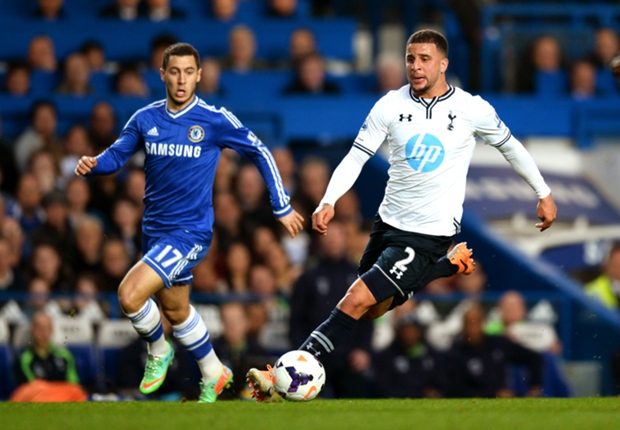 While some may say that Chelsea are favourites for this one, it really is a 50-50 battle. Nemanja Matic's absence, coupled with Harry Kane's seemingly-unstoppable form, means that this final could go either way. In 2008, when these two sides met at the same stage, in the same competition, it was Spurs who ran out 2-1 winners. Both Kane and Ryan Mason were in the crowd that day, supporting the Lilywhites. On Sunday, they will want to repeat their side's feat first-hand. 
Follow this weekend's matches with Soccerlens & INPLAY
Whether you're following this weekend's match live in the stadium, watching it in the pub or following it on your phone, one of the best new is INPLAY.
INPLAY is a fantastic new social messaging app with a unique football twist – think WhatsApp for football – that allows fans like you to interact with friends and like-minded supporters (with private chats and open groups) and the option to share images and videos via your phone.
You also get access to the last football stories that is filtered and personalised based on your preferences (favourite team, location, interests) right at your fingertips.
There's a lot more to the app that's best experienced rather than explained, so go ahead and click here to download the app for FREE on iPhone or Android.
Join Soccerlens @ INPLAY
Scoreless will be covering this weekend's games through live blogs on Saturday and Sunday, so you will able to follow all of the weekend's Premier League games plus the League Cup final from right here on Soccerlens.
Make sure to download and sign up to the INPLAY app and the join the 'Soccerlens Club' on the 'Discover' tab in the app and get involved with this weekend chat in there. We will have all the stats, news updates and much more for you through INPLAY and here on Soccerlens.
Click here to download the app for FREE on iPhone or Android.
Get started now and don't forget to launch the app for in-match discussion during this weekend's games!