Join our Telegram channel to stay up to date on the latest in marketing
After a poor start to the 2015/16 season, Chelsea have finally gotten back to their winning ways. Chelsea extended their unbeaten run under Guus Hiddink to 9 games after a convincing 5-1 win against MK Dons in the FA Cup fourth round. 
Confidence had been running low at Chelsea, but every win has been helping them get back on track. The players at Chelsea have shown massive signs of improvement since the arrival of Guus Hiddink and The Blues have started to climb up the Premier League table. After this important FA Cup win over MK Dons, the confidence of the Chelsea players is surely higher than it has been in quite some time.
Chelsea played with a purpose against MK Dons. It seemed as though every attack could end up in a goal. They were extremely creative and dynamic going forward, which is something that they have lacked all season, scoring just 32 goals in the Premier League. Chelsea were also very solid at the back, not allowing any easy opportunities for MK Dons to score. Their one goal in the match came from a heavy deflection off of Nemanja Matic. The Blues showed character to fight back after MK Dons equalized and maintained control of the game. Chelsea's passing helped them keep control of the game up until the final whistle.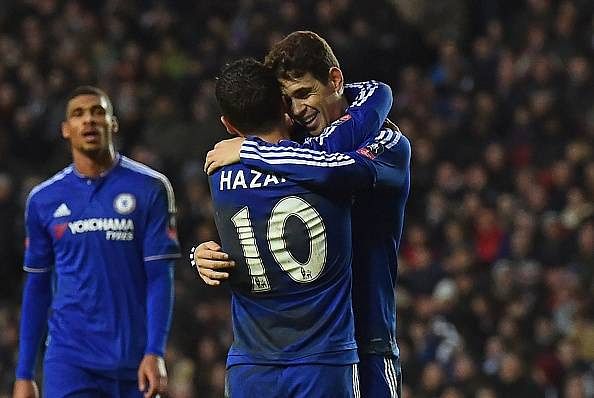 There were many standout players in Chelsea's victory over MK Dons. Oscar has not been a consistent starter for Chelsea this season, starting 14 games and scoring three goals for them in the Premier League. He surely showed the coach what he was capable of as he scored a first half hat-trick. Another Chelsea player who is yet to make a big impact this season is Eden Hazard. The Belgian left midfielder was the best player in the Premier League last season, winning the PFA player of the year award. Hazard provided an assist and a goal in Chelsea's victory over MK Dons, which was his first goal for Chelsea in 273 days. Ruben Loftus-Cheek is a future star for Chelsea at only 20 years of age. The English central midfielder has made sporadic starts for The Blues this season, but started this FA Cup game and contributed an assist.
Chelsea certainly do not have time to celebrate after defeating MK Dons. The Blues have numerous tougher fixtures rapidly approaching. Chelsea play against Manchester United in the Premier League on February 7, followed by an away game against PSG in the Champions League on February 16. Just four days after they play PSG, The Blues face Manchester City in the fifth round of the FA Cup on February 20. Chelsea may be facing tough competition in the near future, but they have certainly shown recently that they are capable of winning every one of these games.
Guus Hiddink has proven to be a great manager for Chelsea this season and after going 9 games unbeaten, Chelsea's confidence is starting to grow. It may be too late to win the Premier League this season, but the FA Cup and Champions League are two competitions that they can certainly win. Chelsea have certainly shown improvement in recent games, but they will need to keep up this run of good form if they have any hope of a winning a trophy this season.