It's been quite the turnaround at Chelsea Football Club under Antonio Conte this season. The Blues followed up their title-winning 2014/15 campaign with a 10th-placed finish last year, in a series of events which included the sacking of Jose Mourinho. The Portuguese seemed very well settled at Stamford Bridge when in season started in August 2015, and looked to be in it for the long haul for the first time in his career. Sixteen games and nine defeats later though, he was gone. Chelsea were languishing above the relegation zone (incredibly), but managed to salvage a bit of pride by entering the top half as the season wore on.
With no Champions League football to attract the best of the best around Europe, it was expected to be a long hard road back to the glory days. The story though, has been completely different. Chelsea are currently eight points clear at the top of the Premier League table with 16 games left to play, and are looking by far the most complete team in England.
This is very surprising, considering that most of their slump last season was down to individuals letting themselves down. Several big names, rather than upping their games during the crisis, let their heads drop. Matters weren't helped with some of the backroom shenanigans during the Mourinho era.
Under Conte, things are very different. Problems like the Diego Costa fallout a couple of weeks ago are being dealt in a very professional and private manner. As a result, most of the importance and emphasis has been placed on the on-field performances of the team. The Italian manager seems to have knit a real family atmosphere around the club, and everyone is responding by giving their absolute best for one another.
Here are 5 of the most improved Chelsea players from last season:
1) Thibaut Courtois
The goalkeeper tops the list because the changes in both his game and his attitude have been very drastic. The Belgian was coming under a  lot of criticism last season, including some severe flak from his own fans. Chelsea conceded a total of 53 goals last season, and kept only 9 clean sheets. Courtois' performances were sub-par, and he also received 2 red cards. Matters weren't helped by news of a possible move to Real Madrid, and the player's coy interviews on the same.
This year, he has been fantastic. While not called upon too many times in every game, he has been alert and aware whenever he's needed to make a save. The Blues kept 10 clean sheets en route to their 13-match winning streak recently, and there were several games won by narrow margins. Courtois' made some crucial saves during this run, most prominently against Sunderland, when he denied Patrick Van Aanholt at full stretch to keep the 3 points safe.
2) Victor Moses
It seemed like Victor Moses' Chelsea career was over before it even got started. The Nigerian featured regularly in the 2012/13 campaign before being loaned out by Jose Mourinho to Stoke City, Liverpool and West Ham United in the next two seasons. Despite playing important roles in pre-season, he would never be given a chance in the first team.
Conte's change of system to 3-4-3 this season has seen Moses become a perfect fit at right wing-back. The 26 year-old is probably one of the first names on the team sheet, and has scored 3 goals thus far. This is quite a turnaround for a player whose future seemed destined well away from Stamford Bridge.
3) Eden Hazard
Chelsea's biggest superstar was a shell of a man last season. After winning the PFA Player of the Year award in the title-winning season the year prior, Eden Hazard didn't score a single goal for the rest of 2015. The Belgian looked tired, jaded and even disinterested at times. Some cited the added defensive responsibility as a possible reason, while others simply questioned his character during tough times. The real reason for his slump may forever remain a mystery.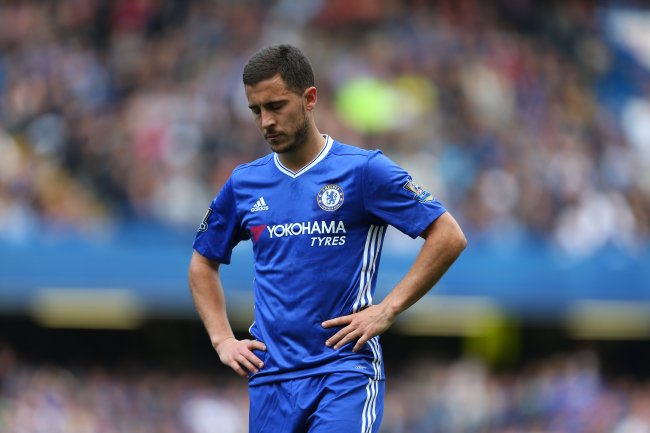 Hazard may not be back to his absolute best this season, but has improved by leaps and bounds. He already has twice the number of league goals he did in the whole of last season. The winger is still the go-to man for Chelsea when it comes to inspiration to break down dogged defences, and thus far, he has delivered more often than not.
4) Pedro
Pedro seemed a little lost at Chelsea last season. Having just arrived from the mighty Barcelona, the Spaniard was obviously going to take some to get used to the English league. It was made a whole lot difficult with the Blues losing nearly every game they played at the time. He was in and out of the side, and didn't look all that comfortable.
This year though, he has been brilliant. His pace and skill has been in full display, and he is a constant threat every time he plays. He has displaced Willian in the first XI, and has already matched his goal tally from last season in 16 fewer games. A lot of good things can be expected from Pedro at Chelsea in the future, and he truly is one of the club's shining lights.
5) Diego Costa
What can we say about Diego Costa? He was not all that bad last season, scoring 11 goals and showing some fight when Chelsea had their back to the wall. But there was still something missing. The bully of a striker who terrorised opposition defences was replaced by a complaining, bickering, child-like and frustrated man.
The beast is well and truly back this year, and he currently leads the race to the Golden Boot with 15 goals. It's not just the number of goals he has scored, but their importance as well. The Spaniard has been the match-winner on several occasions for the Blues this season, including in 1-0 wins against West Brom, Middlesbrough and Crystal Palace in the last couple of months. If he continues in this rich vein of form for the rest of the season, it will take something extraordinary to stop Chelsea from winning the league.