Fame, wealth, respect and status – the modern day footballer has it all. However some things are pre-set, like a person's appearance. Liposuction, plastic surgery and beauty enhancing treatments are all the rage in Hollywood, and it appears that the footballing world is following suit, with a number of players spending their mega-wages on making themselves more attractive.
The beautiful game has never been so beautiful…
Sasa Curcic
Former Aston Villa, Bolton and Crystal Palace midfielder Sasa Curcic was an astute and creative attacking midfielder, in a ten-year career from 1991 to 2001. However, the Belgrade-born playmaker was born with a rather large nose, leading to his decision to undergo cosmetic surgery, as his wife Lisa revealed.
She stated back in 1998:
"I think it was more to do with vanity because he was always telling me he'd like to have a nose like mine. He got into trouble with Villa because he didn't tell them he was having the surgery and it meant he couldn't play until it had healed."
Villa secretary-director Steve Stride was more than happy to give more information on Curcic's treatments once the eastern European left the Midlands club.
The official commented:
"While [Curcic] was with us he had his hair dyed, his teeth capped and underwent plastic surgery on his nose. I think he was trying to make himself more attractive to women but I suspect it had the opposite effect."
René Higuita
Famed for his scorpion kick against England and his catastrophic error to allow Roger Milla to score at the 1990 World Cup, Rene Higuita was nothing if not a controversial character.
However this went to extremes in 2005, when the Colombian goalkeeper underwent surgery on a reality television show, all to improve his appearance.
He declared:
"I am tired of being ugly René, I want to be handsome René."
The Observer reported at the time of the surgery:
"Higuita had televised nose surgery, a silicon chin implant, skin peel, eyelid skin cut away, 'aggressive' liposuction and abdominal muscle enhancement after being voted Colombia's 'ugliest icon'. After a month in isolation Higuita revealed his brand new look. 'Bodily, I am perfect,' he said."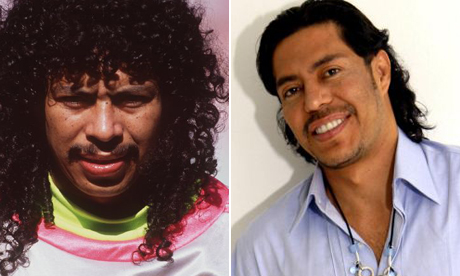 Wayne Rooney
Wayne Rooney has unashamedly admitted to having a hair transplant in the summer of 2011, as the Manchester United striker was starting to look a bit thin on top.
Male pattern baldness is a common problem amongst young men, but the England international was happy to pay the money to ensure he didn't end up looking like Bobby Charlton.
Rooney wrote on Twitter after the procedure:
"I was going bald at 25 why not. I'm delighted with the result."
The Red Devils' forward has copped some stick from visiting supporters, but is seemingly content with his artificial surface.
Jermaine Pennant
Whilst Curcic, Higuita and Rooney all admitted their vanity, one player denying seeing the surgeon is Jermaine Pennant. The ex-England under-21 winger claimed to have 'hit his head' after being spotted leaving a Harley Street clinic, but the British media was convinced that he had undergone surgery on his Star Trek-like ears. You decide for yourself:
Didier Drogba / James Vaughan
On occasion footballers have legitimate reasons for going under the knife. Both Didier Drogba and James Vaughan were forced to utilise surgery after collisions on the pitch led to facial injuries.
The Ivory Coast international was knocked out after going head-to-fist with Norwich goalkeeper John Ruddy, and required cosmetic dentistry treatments to repair damaged teeth.
Vaughan meanwhile also had to seek professional help after West Brom's Gabriel Tamas elbowed him in the face, causing the forward's tooth to go through his lip. Ouch.
So there you have it, footballers are strange creatures; whether it is to get more confidence, medically assist them or merely to look a bit prettier, the players of today are embracing cosmetic surgery so maybe so should we. That said, there are a few other candidates for surgery, with a portion of Premier League footballers blessed with a face only a mother could love – click here to find out who.