It's a daft isn't it, thinking Arsenal can go all the way in the league? They play well in a couple of games and we build them up but in the end it all comes crashing down. For over a decade now, the Gunners haven't won the title, and their lack of consistency and bottle is the major reason. Manager Arsene Wenger hasn't been able to see his troops over the line even when they have started well.
But this year, the Premier League as a whole is slightly different. You just don't know what to expect from any fixture. Eight games in, the defending champions are in 16th and Leicester City, Everton and Tottenham Hotspur are the only teams to have lost less than twice. There are twists and turns every week, and it is almost impossible to predict at the moment what the table will look like come the end of the season.
Arsenal legend Thierry Henry said on Sky Sports after the Gunners' 3-0 thrashing of Manchester United on Sunday that they won't get a better chance to win the title than this season. Here are 3 reasons why the Frenchman is right, and why Wenger's men can finally break their long duck:
1) No one is playing well
One of the attributes that has characterised Arsenal over the last few years is their lack of consistency. This year though, each and every team is facing the same problem as well. Manchester City looked unstoppable in the first 5 games but then slipped to back-to-back defeats against West Ham and Spurs. United haven't looked at their best, with their new signings still acclimatising in England. Chelsea, on the other hand, are nowhere to be seen in the title picture.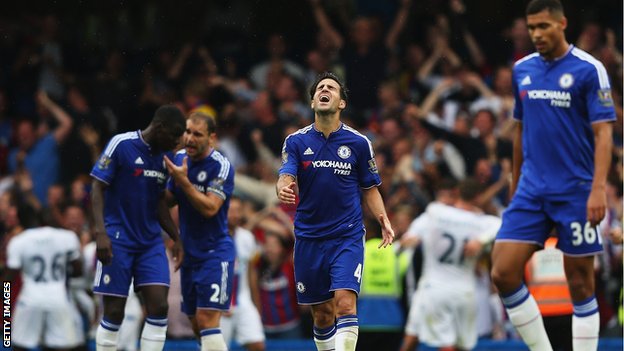 Therefore, if Arsenal can get in a good run of games and accumulate a half-decent points total (say 80), they have a great chance of winning their first title since 2004. In the end, it's going to come down to who wants it most, because there is no team that looks like an outright favourite.
2) The stars are performing
Alexis Sanchez started slowly this season, but has rediscovered his touch big-time, scoring 5 goals in his last 2 games. His brace against Manchester United capped off a man-of-the-match performance, and the Chilean will only get better as the season progresses. Mesut Ozil, so often criticised for not turning up in big games, was brilliant as well on Sunday. Theo Walcott has been a revelation up front, providing Wenger with a ready answer to his striker woes.
The only summer signing made was goalkeeper Petr Cech, and the former Chelsea man has been a big reason for Arsenal's good form in the league this season. He made a couple of very important saves against United to keep the lead secure and seal another clean-sheet for himself. Gabriel Paulista has been a beast at centre-half, while left-back Nacho Monreal is one of the most improved players in the league.
As a whole, the system is clicking really well.
3) European exit could actually be a boon
In all likeliness, after their terrible start in the Champions League, Arsenal will not make it into the last 16. They will need to at least win one and draw one of their games against Bayern Munich to stand a realistic chance. Having lost to both Dinamo Zagreb and Olympiakos, they are very much on the brink.
But, if you look at it differently, an exit from Europe could actually turn out to be a blessing in disguise, as they will be able to concentrate solely on their title challenge back home. Liverpool's run in the 2013/14 campaign is a classic example, as the Reds nearly managed to win the league while having no continental commitments. They finished ahead of Chelsea, who reached the semi-finals in the Champions League.
Arsenal have also had their fair share of injury problems in the last few years, so not having to travel to a far-off land in midweek to face some of the best sides in Europe can only do good.
Finishing 3rd in their group and ending up in the Europa League though, will be the worst thing that could happen.