Oh, how Liverpool miss Alonso. Before he left, Liverpool were looking champions elect for 09-10. Afterwards, Liverpool fell spectacularly from grace as they paid the price for blooding Lucas Levia into the squad in his place, when Aquilani was blighted by injury.
Such is the way of a playmaker – he is a key foundation block in a good team, an utterly vital cog, perhaps more so then any other type of midfielder.
When Alonso was absent for Real Madrid last weekend against a side near the relegation zone, Jose Mourinho lost his 9 year unbeaten home record, and probably lost any chance of taking La Liga from Catalonia too. Just as a great playmaker can make great foundations, he can break them too.
This series of articles are going to look at certain passes that define a playmaker – analysing what is required of a playmaker and how the best ones operate. How the team moves around them, how a playmaker tricks the defenders with the killer balls he plays. How any certain football match can be seen as the playmaker against the defence, and how he can find a way past them.
Playmakers love good teamwork – Xavi versus Sevilla
To kick us off we begin with an absolute gem of a goal, but one that couldn't happen without the work of Messi and Pedro in the middle. You might call me crazy for suggesting this goal is anything other then Xavi's work, but observe how Messi (centre) moves compared to Pedro, the final receiver of the ball. Whilst Pedro strikes forward into that central area, Messi drops off, taking a defender with him, at least partially.
It may not look like it, but that defender within the split seconds of Xavi making the pass is in fact moving forward, a yard or maybe two beyond the defensive line as he keeps tabs on Messi. This defender isn't reacting to Pedro's run behind him, he is reacting, for a few fractions of a second, to Messi's movement. That is all Xavi needs in this case. Not to take away from the pass, but the movement in that case makes an important point – team movement is crucial to a playmaker's success.
Just as playmakers can make or break teams, teams can make or break playmakers. Before Alonso's last season with Liverpool, Liverpool were a little mired, making the champions league but not really threatening to cause a stir in the title race. Alonso was mediocre to the point that he was nearly transferred to Juventus, only for them to reject him. But in 08-09 Liverpool began to really move on and off the ball, and Alonso was given the bases for his best season with Liverpool, and the catalyst to a move to Real Madrid.
Scratch my back and I'll scratch yours
More then for any other player, for a playmaker to work the team around him has to scratch his back as much as they scratch his. His teammates not only have to trust in their playmaker to make the kinds of passes they want but they also have to create the space for the playmaker to make those passes. The playmaker must not only be able to make those passes, but he must also be able to know what space his teammates are trying to open up before  they actually do. And he has to do this in a matter of a few seconds, possibly less in the premier league environment.
Neither can flourish without the other – hell, if the team around the playmaker isn't up to standard, there is little the playmaker can do. Consider  Alonso, playing for Real Madrid, against Xavi of Barcelona. Xavi has consistently gotten the better of the Basque midfielder not just because he is the slightly better of the two but also simply because Barcelona are simply a much better team. When two playmakers are evenly matched, the better team should win out, simply.
On the other hand if your playmaker isn't good enough in a team of quality you are liable to get burned, because first said playmaker will struggle, then players will simply stop making the runs that would have before proved effective because the playmaker simply isn't finding them. Instead those players will be sucked back down the pitch,  making them less able to crack open the opposition defence.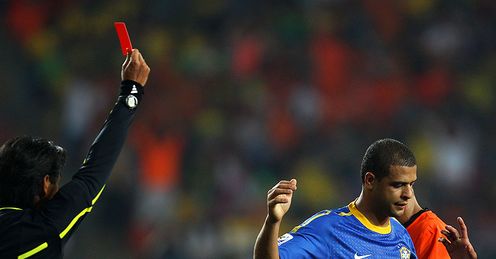 Arguably, this is what cost Brazil the World Cup. A team with sensational movement on the break, it was based around a solid defence from which the attack could be sprung – and there was no real playmaker in the team. Gilberto Silva and Felipe Melo took up the midfield positions, and arguably they lack creativity, but that wasn't evident when Robinho scored to put Brazil 1-0 up against Holland. Although Holland's defending was poor in failing to pick up Robinho, you can see the same teamwork here as you can for Pedro's goal. Luis Fabiano breaks from his striking position to draw a defender just a little bit too far forward, Melo plays Robinho in, simple goal, but one that's only possible because of excellent movement and players able to see what this movement is doing.
On the other hand, Melo is not a playmaker. As a team Brazil were close to perfect in what they did, but once Holland got back into the game and exploited Brazil's weaknesses they slowly fell apart. Brazil simply needed a deeper playmaker they didn't have.
The Balance
Simply, the the first rule of playmaking and thus great passes is that team and playmaker need to be in tune. Blackpool based their somewhat inexplicably rise upon Charlie Adam's head – something Holloway intended all along when he demanded that Charlie Adam be signed for five hundred thousands pounds, the most Blackpool have ever spent on a player.
Once that flow is disrupted however, suddenly it can all disappear again, as demonstrated by Blackpools recent poor form and Charlie Adam's passing success rate against Arsenal, a mere 54% – simply teams have sussed Blackpool out, and Charlie Adam finds it harder to dictate as a result – certainly, Blackpool need to change things up. But will that destroy the foundations upon which Blackpool make their football? Perhaps. Because rule number one is also the most important. To get the best out of your playmaker, your team must, must have chemistry. No two ways about it.