On 3rd December 1981, a child was born. But he made himself a star. His father Jose Manuel Villa was a miner and his mother was a housewife. He was to follow in his father's footsteps in also becoming a miner. He can recall the many nights which his mother had to spend in casualty with his frequently injured father such was the danger of his profession. But it was visible from an early age from all who knew him that football was to be his life and his passion.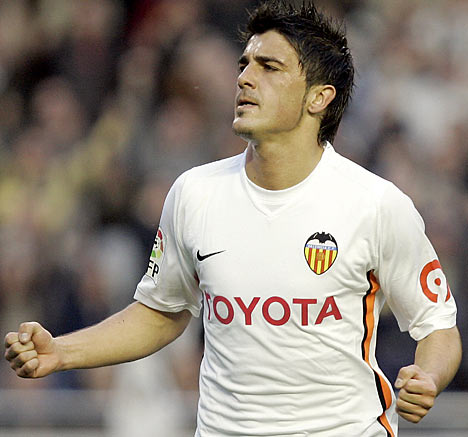 Jose Manuel remembers his son as a restless child who wasn't happy unless he had a ball. Aged 4, David's dream was almost destroyed in an instant. He suffered an horrific break to his femur in his right leg, which the doctor feared that it may have to be amputated. But it was during that recovery time his father helped his practice every evening after work for 2 hours to improve kicking with his left foot. His father was amazingly supportive throughout his entire life and David has looked upon him as his hero and role model.
"He would be there throwing me the ball over and over, making me kick it with my left leg when my right was in plaster after breaking it, I was four. I can barely remember a single training session when my dad wasn't there. I have never been alone on a football pitch."
As his gift for football was apparent from a young age to his father, he was always encouraging him. However, David almost quit football at the age of 14 which is almost unimaginable now considering his success in the game. He became disillusioned with the game as he spent a lot of time on the bench for his local team and fell out with his coach. But thanks to his parents undying support and persistance he stuck with it as he realised he could make a living from playing football.
"In those days I was a nobody, not earning a penny and after being made to sit on the bench all season I just wanted to get away and play with my friends. But my dad always supported me and cheered me up until my career turned round."
El Guaje, as he was affectionately known in his locality went on to begin his football career at UP Langreo and when he was only 17 he joined the famous Mareo football academy. It was from that his profession went from strength to strength and he launched his soon-to-be glittering career. One of his province's bigger club's though, Real Oviedo, though David was too short and lacked the sufficient potential!
How wrong were they? It was Sporting Gijon, another local club of Villa, where he made his professional breakthrough. After scoring a prolific goal a second game nearly, Real Zaragoza were convinced of his qualities and snapped him up for €3m. He got his chance in one of the best leagues in the world and rewarded Zaragoza by scoring 32 goals in 73 appearances for them. Villa then joined Valencia for €12m.
The Mestalla was where Villa would porve himself over the coming seasons to be a football superstar. Regularly and ruthlessly finding the net, not only has he decimated the smaller teams in La Liga, but he has littered his career with big games goals against the likes of Real Madrid and Barcelona. 
He has scored many memorbale strikers including one on the turn from the halfway line against Deportivo la Coruna where he lobbed the 'keeper to score the only goal of the game. During his tenure at Valencia, he would go on to score 129 goals in 225 appearances, also boasting 53 assists to his impressive goalscoring exploits.
He was always quietly destorying teams in Spain, but it was during Euro 2008 where he came to prominence to the footballing world after winning Golden Boot in that tournament as well as winning Euro itself with Spain. His amazing scoring record for Spain which leaves him a solitary goal behind all-time top scorer Raul of 43 goals in 64 games shows his ease of adjusting from the club scene to the international games as well as reinforcing his reputation as a deadly finisher.
To Real Madrid and Barcelona his brilliance was always known and many times they were on the receiving end of his goals. He was destined to end up at either of this giants. And he was purchased for €40m by Barcelona before the World Cup. With 5 goals in the tournament and being joint-top scorer with Wesley Sneijder, Thomas Muller and Diego Forlan, he is proving to be worth every euro. His mesmerising dribbling, searing pace and lethal finishing makes him the most feared player in the world at the moment.
Couple that with playing with Messi at Barcelona next season, that combination will annihilate everyone they meet as they seek to reclaim the treble they won so stunningly in 2009.
So from humble beginnnings in his little mining village of Tuilla to the lively surroundings of Barcelona, David Villa will walk out of the dressing room on August 28th (when La Liga resumes) knowing the the trust of the Catalan fans will be on his shoulders.