Join our Telegram channel to stay up to date on the latest in marketing
It's over – silly season has come and gone once again. Soon enough, it will be back. Then again, it never really leaves in the modern day and age, with fresh rounds of rumours already cropping up less than 48 hours after the transfer window slammed shut.
For now, however, there's plenty to take stock of. With each passing window, the dynamic becomes different based on power shifts mainly in the form of financial muscle. In Italy, recent rule changes also played a role in how things transpired. The impending death of the long-standing co-ownership system in the peninsula saw a bit of a scramble ensue in January and saw a distinct shift in the way certain deals are done.
As always, haves and have nots emerged as Serie A sides looked to reinforce while staving off the circling vultures. Ahead of the season's second act set to get under way with new faces in the ranks, let's take a look at who came off the better and who came off the worse after the trials and tribulations of January.
Damage Control Emilia-Romagna and Tuscany
Of any club in all of Europe, the most disastrous mercato was undoubtedly had by Parma. And it requires a bit of context.
Last season, the proud Emilia-Romagna club was soaring. Antonio Cassano and Amauri were in fine form up front, while Jonathan Biabiany was a wizard out wide. Gabriel Paletta and Alessandro Lucarelli were superb at the back and Marco Parolo held things down in midfield.
Qualifying for the Europa League, Parma would face the ultimate humiliation in being disqualified due to a clerical error. It was the beginning of the end. Amauri and Parolo left in the summer. Biabiany was diagnosed with a heart condition that has kept him sidelined. Paletta hardly turned out for the Ducali this term due to injury.
As Roberto Donadoni's side imploded, a one-point penalty was imposed due to unpaid wages. Tommaso Ghirardi then sold the club to a Russian-Cypriot-Albanian consortium last month. The problem? The new owners have yet to even reveal themselves and didn't even take up the common courtesy of paying their employees, which Ghirardi hadn't done himself since June.
Hence, the disastrous market campaign in January. Cassano and Dias Felipe terminated their contracts as the situation turned desperate. Andrea Rispoli, Afriyie Acquah, Andrea Rispoli and Gabriel Paletta all left as well. Donadoni is now left with a bare bones squad for the remainder of the term, which with the Ducali propping up the table and 10 points from safety will almost certainly end in relegation.
Beyond this, the exodus may not even be over yet. Drastic action will be taken if players aren't paid by mid-February, meaning more contract terminations could be on the way – even a mass walk-out by the squad. After the Parmalat scandal that brought Parma to its knees just over a decade ago, the Ducali look in the process of being reduced to ashes once more.
On the less dramatic front, Fiorentina also find themselves on the wrong side of the tracks in the wake of the January transfer window. The Viola waved goodbye to their best and most marketable player in Juan Cuadrado, dealing a psychological and logistical blow to the side. The Viola struggled to hit top form even with the electric Colombian still in the camp, and now boss Vincenzo Montella will be tasked with putting it all together sans his top man.
If a club like Chelsea are in the market for a player like Cuadrado, it's nearly a foregone conclusion that they'll end up with what they came for. The 27-year-old's new contract gave Fiorentina increased power to negotiate, but also left the Viola in a position to relinquish Cuadrado as soon as a certain offer was put on the table. Sure, the Blues paid a fair price, but it's almost maddening for Fiorentina that Chelsea could pick up a premium cheque from Wolfsburg for an unwanted Andre Schurrle in order to fund the move.
The fact is, however, that Cuadrado is gone. Fiorentina had a duty to make sure the squad stayed whole. What is trouble is that the signings made in his wake look somewhat inadequate, partly a function of the moment's notice they had to cover their loss.
Bringing in Alessandro Diamanti and Alberto Gilardino smacks of nostalgia and an attempt to garner name recognition, something that is all too common in Italy now. Milan made these types of signings with Kaka and Fernando Torres in successive years. Gilardino had some of his best years as a professional in a Fiorentina shirt, but gave up on life in Europe over the summer for an alternative adventure and pay day in China. Diamanti left Italy for Guangzhou some months earlier with Bologna desperate for cash, turning down the chance to join Juventus in the process. He spent six months on loan in Florence as a youngster.
The question is how much Gilardino and Diamanti have in the tank, how motivated they are to push Fiorentina on.  The former has a relatively low buy option as part of the loan deal that saw him land at Fiorentina, as does the latter. While this makes them available to take on permanently at the end of the campaign, they're not the type of players Fiorentina needs to be counting on for the future.
Younger, promising signings would be more refreshing. Yes, at 22, Mohamed Salah is young and has plenty to prove after moving in the opposite direction to Cuadrado. There's a distinct issue with his arrival, however. Salah is not necessarily a player that Fiorentina wanted. Instead, he was a convenient pick up, an unwanted, devalued winger Chelsea would happily discard in order to soften the blow for Fiorentina. Montella himself even lamented the fact that Salah wasn't a selected target – albeit indirectly – in a strong indication of just how disappointing the Viola's recruitment was. Sporting director Daniele Prade will have the spotlight on him in the summer to make a splash and sign a new star.
Mixed Reviews at the Top of the Table
Flash, that's what the transfer window is all about, right? Not always. Sometimes, it's those understated deals that can make the difference down the line. In Juventus' case, they made two – even as the club hierarchy didn't do anything to grab the headlines, which these days involves spunking an irresponsible amount of money on players.
The coming death of co-ownerships means that Juventus have had plenty of work to do since it was announced they would be abolished effective summer 2015. The Bianconeri have long placed one hand on coveted talents with the intention of either bringing them into the camp one day, or turning a profit later on without doing much of the development work.
Daniele Rugani was a player Juventus duly noted could be headed for a bright future and first got involved with in 2012. A series of transactions with Empoli led to a co-ownership as the central defender continued to come along over the past few years – and Rugani showed himself to be a stud.
Others noticed too. In January, Arsenal began sniffing around the 20-year-old, who has shone at the Stadio Castellani in his first top flight term. Juventus weren't taking any risks with the Gunners reportedly lurking. Beppe Marotta and company secured the remaining 50 per cent of his rights from Empoli, leaving Rugani on loan there until the end of the campaign. The talented youngster is a potential star of the future, and focusing on making sure that future is with Juventus was an excellent move.
Stefano Sturaro, out on loan at Genoa, was recalled directly to home base. Like Rugani, the 21-year-old is seen as an up and coming Italian who could one day make the grade. He didn't light the world on fire at Genoa – even as the Marassi outfit impressed – though got the experience of being a consistent starter in the port city and now can learn from his highly experienced Juventus team-mates back in Turin. Adding extra cover for the time being, the question now is whether Sturaro has been brought back in order to be groomed to eventually take over for one of the Bianconeri's current top men in the centre of the park.
It wasn't all rosy for Juventus, however. Seeing Sebastian Giovinco off to Toronto wasn't a poor choice, given his lack of impact and expiring contract. But it does point to a systematic failure of the Bianconeri to get the best out of a player who did have talent and a desperate desire to succeed with his boyhood club – only to never really be put in a position to succeed.
His replacement until the end of the campaign, Alessandro Matri, knows all about what it is like to be squeezed out at Juventus. With Sassuolo unwilling to send over Simone Zaza prematurely and another option being, well, Pablo Osvaldo, the Bianconeri turned to the 30-year-old to beef up the forward line. But why? Juventus let Matri go once before because he wasn't up to snuff. He finally found some form at Genoa on loan from Milan this term, but what's to say he'll be effective at Juventus, too? Beyond this, signing Matri will only limit opportunities for Kingsley Coman, a player who offers a change of pace from Carlos Tevez, Alvaro Morata and Fernando Llorente. Matri doesn't.
For Juventus' chasers, Roma, the story is also somewhat the same. The Giallorossi did some decent business, but there are nonetheless some questions that need to be asked. And it all starts with Nicolas Spolli.
Over the past few months, Rudi Garcia's defence has been something of a mess. Kostas Manolas hasn't been as focused as he was at the outset of the campaign. Davide Astori has been nothing short of questionable, but continues to be picked regularly. Mapou Yanga-Mbiwa has probably been the best of the bunch at a bad time, while Leo Castan continues to fight to return from brain surgery.
Yanga-Mbiwa was purchased permanently in January as stipulated in the terms of agreement from his transfer from Newcastle – after making 20 appearances for Roma. Manolas is clearly the future given his age, and his summer price-tag will dictate that the Giallorossi stick with him long term, and rightly so – the Greek has the talent to succeed. Astori, meanwhile, is on loan from Cagliari with the option to buy already set. It remains to be seen what will become of his career in Rome. However, Castan's continued unavailability mandated that Roma pick up another central defender in the winter window.
The man who eventually arrived, Nicolas Spolli, came from a Catania side sitting in the relegation zone in Serie B. That's not exactly inspiring. Spolli has a wealth of experience in the Italian top flight – 132 career appearances to be exact – but at 31 and having dropped down a division, his ability at this point to step in and do a job for Roma when the Giallorossi are floundering is uncertain.
Spolli has come to the Stadio Olimpico at a time when Tin Jedvaj was sold off permanently to Bayer Leverkusen, having requested to stay given a lack of perceived opportunity at Roma. Elsewhere, 20-year-old homegrown talent Alessio Romagnoli is on loan at Sampdoria, where he's greatly impressed. Signing Spolli when the latter could have been recalled was an odd choice, an unimaginative one.
On to the attack, the much talked about Mattia Destro saga reached a turning point with his loan to Milan. Destro divided opinion. To some, the young Italian was a prolific scorer waiting to happen who was unfairly treated by Garcia and boxed out by Francesco Totti. To others in the Italian capital, Destro was a striker ill-equipped for Garcia's system, lacking in commitment and in possession of a poor attitude. In the end, director of sport Walter Sabatini and his cohort moved Destro on – likely for good as Milan have the option to buy – with Sabatini admitting the striker was unhappy.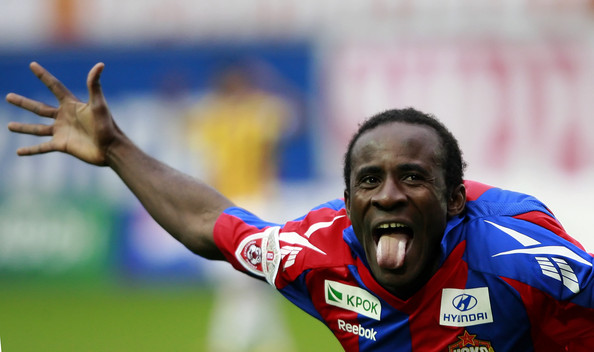 In his place, Seydou Doumbia arrived for €14.4 million. Well, not quite. The Ivorian remains in Equitorial Guinea on Africa Cup of Nations duty, bound for the final. When he does land in the Italian capital, what Doumbia in theory will provide is a better fitting piece to spearhead Roma's recently blunt attack than Destro did. The 27-year-old is a proven commodity in Europe and has the dynamism outside the box that his predecessor lacked, and at last has a chance to prove himself in one of Europe's top five leagues.
While Doumbia must wait to settle in in the Eternal City, Victor Ibarbo has already made his way there. The pacy Colombian was brought in to supplement the faltering attack, preferring to ply his trade out wide but also offering the potential to play through the middle. The Colombian's future at the Stadio Olimpico isn't entirely certain – he arrived from Cagliari on an expensive €2.5 million loan with at €12.5 option to buy in the summer – though may run deeper than the idea of simply acquiring him. Roma still need to purchase the second half of Radja Nainggolan's rights from Cagliari, and paying a substantial amount for Ibarbo is likely to improve relations between the clubs and ensure a better price for Roma in signing Nainggolan outright.
Honourable – And Dishonourable – Mention
The title for most acquisitions in the winter window in Serie A went to Genoa this term, who signed up no less than eight new players to bolster their ranks.
The losses of Matri and Mauricio Pinilla were covered by the signings of Marco Borriello – whose massive wages Roma were happy to at last be rid of – and M'Baye Niang. The two stand in contrast. Borriello is something of an old war horse at this point in his career who at last needed to give up on his Giallorossi career, while Niang is a sprightly youngster starved for chances with parent club Milan. The two are an unlikely couple – but should have a point to prove and aren't a step down in quality.
Perhaps the most eclectic mercato was had by Inter, Roberto Mancini's side in desperate need of a facelift after a poor first stanza of the season, part of which was spent under the thumb of Walter Mazzarri.
Xherdan Shaqiri and Marcelo Brozovic were two of the most intriguing gets in all of Serie A, boasting youth and promise for a Nerazzurri iteration requiring fresh blood. The former made his way to San Siro from Bayern Munich on the back of long-running speculation about his future. The Swiss international was never granted regular minutes at the Allianz Arena, much to his frustration. That Mancini was able to convince him to join an Inter in turmoil speaks to both the Italian's influence and the club's enduring appeal, despite a downturn in fortunes – there was no shortage of suitors for Shaqiri. The same rings true in the case of Brozovic, who was wanted in the Premier League.
As for Lukas Podolski and Davide Santon, the view is a bit different. The German can be counted on for veteran know-how, and at 29 isn't ready to be put out to pasture. That being said, it's unlikely he'll be at Inter for too long. He's simply not a viable long-term option once Mancini gets the house in order in Milan, on loan at the moment and valued with high wages. As for Santon, his loan with obligation to buy move is a return – the 24-year-old grew up in the Inter academy and broke into the first team before being shipped out to Newcastle in 2011. Interestingly enough, Santon has conceded that he never expected to be back. There's unfinished business for him in Milan in some regard, and there he'll have to find the proper motivation to hit the highs he was tipped to as a youngster.
On Rossonero side of the Italian fashion capital, there was also plenty of movement. There was hardly a fan or pundit unhappy to see the back of Fernando Torres after just a few months, though more that a few would be displeased by the club giving up on yet another young player in attacking midfielder Riccardo Saponara, having sold Bryan Cristante in the summer.
Coming the other way to shore up the attack were Alessio Cerci, Suso and of course Destro from Roma. The first of the trio was phenomenal last term at Torino, but flopped mightily with Atletico Madrid and now must restore his stock. Suso was a controversial choice, given that he struggled to produce anything of note at Liverpool and only adds to a squad already laden with wingers. Expectations around Destro, meanwhile, must be tempered. Much has been made of his arrival, his signing considered something of a coup by Milan transfer guru Adriano Galliani. But one thing Milan have struggled with mightily this term is chance creation, and without adequate service, the presence of a hungry young striker with still do little to help Pippo Inzaghi's misfiring side back onto the right track.
It must be asked, then, why Milan did nothing to upgrade a midfield that is desperately short on quality aside from Nigel de Jong. There's little creative capacity in the centre of the park; the current midfield is often uncomfortable in possession and doesn't facilitate the flow of the game well. It's a problem that has left the defence largely exposed, but instead of fixing it, Milan sought to add defenders themselves.
Gabriel Paletta was picked up in the midst of Parma's melt down, a player who enjoyed a superb campaign last term but is lacking in fitness at present. So too is Salvatore Bochetti, making his return to his homeland from Russia after developing a reputation for being injury prone during his time at Rubin Kazan and Spartak Moscow. Left back Luca Antonelli is also undergoing a reunion of sorts at Milan, the club having cast him aside after he came up through the academy in his formative years. His signing begs the question as to why Milan are paying for the pleasure of having back players they once sacrificed.
Napoli can be happy enough with their limited efforts on the market in landing Ivan Strinic and Manolo Gabbiadini. The Partenopei have developed a reputation for relying almost exclusively on foreign talent in the latter part of the Aurelio De Laurentiis era, and signing Gabbiadini stands as something of a victory of Italian football. Seeing Ciro Immobile poached away by Borussia Dortmund over the summer had a profound effect on calcio. Keeping a young striker being eyed abroad in the peninsula – Gabbiadini – has served as something of a vote of confidence in the crop of Italian striking talents looking to make a name for themselves at the moment.