When every World Cup comes around, everyone places an outside bet on Holland. Based on their qualifying campaign, it seems a very safe bet. Their football is certainly entertaining and at times, dazzling for the spectator. But when it comes to tournaments, the Dutch will often begin with performances full of flair and vigour, but then collapse in the late stages. So can this crop of flying Dutchmen eradicate the memories of old?
For so many years, Holland have been the nearly men of international football. In the 1970's, they were the creators of Total Football and had the maestro, Johan Cruyff as the master of that system. The 1980's saw other great players emerge. Rijkaard, Gullit, Van Basten. All superb footballers who each had a hand in Holland's only tournament victory, Euro 1988.
The 1990's saw Dutch club football reach its heights, with the Ajax youth system reaping dividends. Bergkamp, the De Boer brothers, Kluivert, Davids, Overmars. I could go on. But they didn't win anything internationally either.
The point is Holland produces some of the best footballers of their respective generations. But they've never won the big one. The question is why?
This decade has seen the Dutch decline set in, after failing to make the World Cup in 2002 (under arguably their most successful manager Louis Van Gaal). They were arguably the most fluid side at Euro 2008, dismantling World champs and runner-ups Italy and France. The second goal against Italy showed the pure tactical class of the Dutch passing system and also their ability to counter attack like no other side.
But once again, Holland fell short after they were undone by their former manager and national team specialist, Guus Hiddink.
Attacking prowess
This time round, Holland possess arguably the most dynamic frontline out the European teams. Wesley Sneijder has had a sensational season at newly crowned Champions League winners Inter Milan, and was in my opinion, the best footballer in Europe this year. He was the creative engine behind that side and similarly here, he will look to link up with Robin Van Persie. Van Persie, by his own admission has had a injury-plagued season, but there's no denying what he brings to the side: an accomplished striker. If he reaches peak fitness in time, then he can be deadly.
The wingers in the 4-2-3-1 formation will often blaze forward in an aid to help Van Persie. Arjen Robben, like Wesley Sneijder, has excelled after leaving Real Madrid, scoring some outrageous solo efforts. His form could well be key to Dutch success in South Africa but if reports are to be believed, he's suffered a hamstring tear. On the right should be Rafael Van Der Vaart, who chose to stay in Madrid. He offers many options as well, and could also cut inside with devastating effect.
The holding role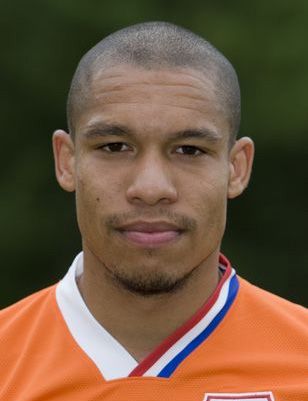 Bert van Marwijk has balanced his side well. The glamour up front is well supported by bruising determinism and experience behind. Mark Van Bommel and Nigel De Jong will likely be the holding midfielders, each bringing different aspects. De Jong has proved at Manchester City that he's a superb no-nonsense tackler, which City really needed. Van Bommel is an enforcer but also a great passer as well. Tackling isn't exactly his strongest attribute and he has a short fuse.
The subs bench also looks good as well. Ibrahim Affelay has been a revelation for PSV, and will be a useful impact sub when called upon. Dirk Kuyt's work ethic is often underrated and he would also easily slot into Van Marwijk's system.
Defensive frailties
The weakest part of the side. Some players are way past their prime, particularly captain Giovanni Van Bronckhorst, a superb servant over the years, but I doubt he could cope with particularly fast wingers at left back. Andre Ooijer also falls into this category, and both him and Gio are 35. They both provide vital experience and composure to the defence, but speed is lacking at the back. This could see Johnny Heitinga partnering Joris Mathijsen in the heart of defense.
If the Netherlands had a world-class center back, like so many other nations, then they would be classed as one of the favourites. Brazil has Lucio, Spain has Gerard Pique and England has John Terry (the non-erratic version before this season). All 3 are great center-backs, although I'll gladly except one has been haphazard at times this year.
Holland need a defensive rock similar to Jaap Stam, a player who would instil fear into who he was marking. They don't have that.
The goalkeeper situation is also problematic. Since Edwin Van Der Sar retired from international football, Holland have struggled to find a replacement. Maarten Stekelenburg lacks the leadership qualities of predecessor and he often looks shaky at times. This could prove to be disastrous, but he's the best option viable to Van Marwijk.
Verdict
If Holland's defence perform as well as they did in a easy qualifying group, then there won't be a problem. Unfortunately, for them as they well know, this stage is much tougher. Injuries will be a factor as well, the side is ridden with players prone to injuries.
Van Bronckhorst admitted that losing Robben would be a blow but he also talked up their chances of winning the World Cup.
He said:
"It is normal that everyone is affected if you see how close this team is. But it can also make us stronger.That is something we have been working on, the mental part, for two years now."
So, is the future bright for Holland? Certainly, but they'll need a lot more luck on and off the field, if they are to make the final in Johannesburg on July 11th. I think they'll fall just short, making the semi finals.
Ones to watch
Goes without saying: Wesley Snejder
Keep an eye out for Eljero Elia. The Hamburg winger scored in the friendly against Hungary after a blistering run. If Robben's missing, this guy could shine. Winner of the prestigious Johan Cruyff Award for "Young Player of the Year"
Also see: Holland 2010 World Cup Squad | Group E Preview | World Cup Preview.