Join our Telegram channel to stay up to date on the latest in marketing
2010 brought a lot of ups and downs for a football fan with Spain seeing World Cup glory, Wayne Rooney going from a special bloke from the streets to a normal bloke from the streets who wants sex and more money. Cristiano Ronaldo suddenly became a father, Barcelona was caught in debt and was forced to make way for their first ever shirt sponsor while Real Madrid struggled to get a nil out of the fifth straight El Clasico loss.
Because of that, Soccerlens managed to generate some bookmark-worthy content for our readers. Some recorded the joys and sorrows of football across the globe, others reminisced moments of the past which may remain in our memories as long as we live.
Here, we list the best of 2010 on Soccerlens in our opinion:
It's a well-known moniker in football that "goals change games". But the impact can be cataclysmic when the goal should never have been allowed to stand.
Here are ten goals that will give players and supporters a legitimate reason to bleat "if only!" for decades to come.
Read the complete article: 10 Famous Debatable Goals
In the world of sport, sometimes athletes let their emotions get the best of them. When this happens, it can produce some shocking, violent, or even hilarious results. Athletes are a volatile bunch, so I'm sure there are many meltdowns we've forgotten.
Read the complete article: The 12 Craziest on Field Meltdowns of All Time.
With the amount of simulation in the modern game, one would think that many footballers would do quite well as actors. But as the following list shows, very few have made the transition into film and the results, to be generous, have been mixed. From Pele to David Beckham, we profile some of the more memorable moments when footballers have featured on the silver screen.
Real the complete article: 11 Footballers on Film.
At the highest levels of sport competition is intense and a tiny advantage can often times be the difference between winning and losing … not to mention the difference between being back home working construction or making millions of dollars a year playing a game. With that in mind it's no surprise that athletes are more than willing to bend the rules when the opportunity presents itself. Here are nine athletes who might not have technically been crossing the line … but they were certainly going right up to the edge, often resulting in rule changes for their sport.
Read the complete article: 9 Sportsmen Who Bent The Rules And Got Away With It.
The 2010 World Cup is the first FIFA World Cup to be played in Africa – and the second World Cup being covered by Soccerlens.
We've come a long way since those early days of 2006 – hopefully that will show in our coverage of the event.
Read the complete article: World Cup 2010 Coverage on Soccerlens.
The 2009/2010 football season has been a rollercoaster ride of thrills, spills and tragi-comic falls as it builds up to the summer's main event, the World Cup.
The memory of Blackpool's monumental triumph is still fresh, and the sight of Jose Mourinho gracefully accepting the adulation of the traveling Inter fans on Saturday night was a poignant reminder of the man's sense of timing and ability to mould his destiny to his will. Which other manager would have aced the job interview that was the Champions League final at Bernabeu so perfectly as Mourinho? Who else could have masterminded his life such?
Read the complete article: Soccerlens Review: The 09/10 Season.
With all the money and fame that being a superstar footballer brings, it is not exactly difficult for the modern player to find a woman. But as the following list of football's biggest playboys shows, sometimes one is not enough. Indeed, in some cases, sometimes 100 is not enough.
Read the complete article: Football's 10 Biggest Playboys.
Penalties are a unique experience in football simply because the kicker is expected to score. It is an intense psychological moment, offering a glimpse into the mind and personality of the kicker, particularly at important moments like the final of the World Cup or with elimination from the European Championships on the line. How will they handle the pressure? How will they choose to be remembered?
Read the complete article: 10 Great Penalties.
Accepting that there is no greater feeling in football than scoring a goal, it could be assumed that there is no worse feeling than having one chalked off. Just ask Sol Campbell.
Unlike Campbell's efforts against Argentina in 1998 and Portugal in 2004, which were correctly disallowed for respective fouls by Alan Shearer and John Terry, the following list of ten of the most outrageous disallowed goals features ones which should have stood.
Read the complete article: 10 Outrageous Disallowed Goals.
Football Eye Candy
With the World Cup just 20 odd days away we thought to ourselves what could we offer to our loyal community to pass the time until the kick off (twiddling your thumbs and having a pint down the local will only keep you busy for a limited period of time). And then it came to us – a list of WAGs and HABs websites.
Read the complete article: Football Eye Candy.
Bonus:
2010 Soccerlens Awards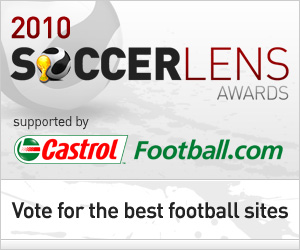 The Soccerlens Awards are all about celebrating the very best in football from around the web from those breaking the news to those making it.
After 3 weeks of campaigning and nearly 38,000 votes cast, we finally have 10 of the very best in football sites and writers as chosen by the voting public. Yes, the 2010 Soccerlens Awards winners have been announced.
We've also interviewed the 2010 nominees to get them to share their own success stories – as well as who they would have voted for.
Visit the Soccerlens Awards website.
3 Up Front
The Soccerlens Podcast makes it's long awaited comeback this week hitting the airwaves with a new name "3 Up Front" – and we have a feeling you're going to love it!
Award-nominated hosts Adrian Clarke and Iain Spragg return for the new campaign with renewed enthusiasm and will take their place alongside charismatic football writer and author Iain Macintosh in a beefed up, belter of a new-look show that will cover all the hottest debates and talking points every week.
3 Up Front is a Fans Forum show where YOUR questions and points are covered more than ever, while exciting new features such as 'Fact or Fiction', 'The Xaggerated Factor' and the 'Shoot Out' will also keep you hooked – along with regular special guest interviews of course.
If you enjoy football banter, debate, wit and insight, 3 Up Front is a must-listen podcast.
Listen to the 3 Up Front podcasts.
Point out more Soccerlens goodness from 2010 by going here.