Since Wayne Rooney scored that goal as a freshly faced 16 year old way back in October 2002 that ended Arsenal's 30 game unbeaten run and alert the world that a new superstar had been born, it's fair to say he's had his ups and his downs in the 8 years of playing professional football.
After scoring that fantastic goal, he would go on to shine at Euro 2004, join Manchester United for an astronomical fee of about 30 million pounds, score a hat trick on his Manchester United debut, be named PFA young player of the year in 2005 and 2006, have the nation's hopes resting on his shoulder before the 2006 World Cup before he would brake his metatarsal and get sent off against Portugal, play second fiddle to Cristiano Ronaldo between 2006 to 2009 for Manchester United, have his best season scoring 34 goals while also being named PFA player of the year and yet again suffer an injury which would end his purple patch and then with all the headlines about his private lives we have ended up with a very different Wayne Rooney to the one that broke through back in 2002.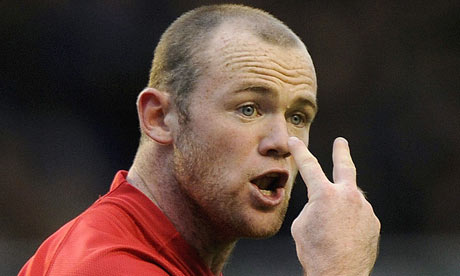 Now with his remarks the other night saying that he was completely fit for the last month and that he didn't know why Fergie said he was injured also paired with the rumours circulating that he is stalling on a new deal at United, things aren't right in Wayne's World. We all know that the Rooney we see today is a shadow of the player that was being called the second best player in the world behind Messi back in March, but do we really need to go overboard on all the small details?
Let's face it, if all of us went through the same stuff Rooney has in the last eight years would we fair that much better? Come on this guy was being hallmarked as the next best English talent, and people were expecting him to single handily bring home the World Cup both in 2006 and 2010. The weight of expectation is always on Rooney's head even back in the glory days of Ronaldo, Rooney was expected to be the diligent one and was forced to sacrifice his own attacking ability to suit those of Ronaldo. But when Ronaldo departed off to sunny Spain back in 2009 we all expected huge things of Rooney and if fairness he did deliver them, 34 goals is no mean feat yano!
Now I'm not saying that Wayne shouldn't be held responsible for his actions, but what I am saying is that he is only human and we all make mistakes. Just because he's a professional footballer doesn't mean that all his mistakes should only happen on the field.
Yes Wayne needs to cop on and realise what Fergie was doing for him saying he was 'injured', but come on let's stop with all this talk that his career is down the drain.
Paddy Crerand said a few days ago that United fans can play a big part in Rooney's revival as a footballer, and I completely agree!
We as United fans have to support our players through the good and bad, so I beg of you who are also travelling to the game tomorrow to cast your support for Wayne. When Alan Keegan announces: "number 10 Wayne Rooney" go nuts, whenever Rooney touches the ball cheer him, praise every shot taken, every pass attempted and every header won from Wayne, I know I will!
If we can get Wayne back to his best alongside a now inform Nani and Berbatov, then once again teams will tremble at the prospect of playing against United!