As Chelsea get ready to lift the Premier League trophy on Sunday, it will be most of their players' first taste of major success in England. This group of players has performed very well together all season, but are yet to win anything other than the Capital One Cup. There are only two survivors from the 2004/05 squad in the current contagion. One of them is Didier Drogba, who has played the fringe role of the third-striker after re-signing with the Blues in the summer. The other, of course, is captain John Terry, the man set to hold the trophy aloft, just like he did 10 years ago.
The story of Terry's revival over the last couple of seasons has been magnificent. In the 2012/13 season, he faced several injury problems and made only 14 league appearances, as Chelsea looked to the future with Gary Cahill and David Luiz. At 32, the Englishman was thought to be in his final years of his prime, and it was expected that he might even look for a move away from Stamford Bridge, his home since the age of 14.
Then, Jose Mourinho returned to the club. It was the Portuguese who had made Terry captain back in 2004, before playing an instrumental role in making him one of the top centre-backs in the country. He was a rock in the backline that only conceded 15 goals en route to Chelsea's first league title in 50 years, and was even better the following season as the Blues retained their crown.
Older and wiser
Following the 2013/14 season, in which Terry was a regular in the first-team and put in some very good displays, his contract with Chelsea expired. Even though he had shown he still had some years left in him, the club's policy with players over 30 meant that he only got a one-year extension. He knew he had to prove himself and with his long-time mates Ashley Cole and Frank Lampard leaving, his performances had to be top-notch for a prolonged stay.
What has followed has been incredible. Terry has had one of the best seasons of his entire career. Not only has he improved drastically since last season, statistics show that he is even better than he was in the 2004/05 campaign.
These numbers show that he has done much better this season in one-on-one situations and aerial duels. He has also been much less reckless, with a staggering low 0.18 fouls per game. As a result, he has picked up just one yellow card all season. Terry has played every minute of every game thus far, and even though Chelsea's defensive statistics are not as impressive as a decade ago (they have conceded 27 this year), he has undoubtedly been one of their players of the season. He has also scored 6 goals in all competitions. His strike against Leicester City on Wednesday made him joint-top with David Unsworth as the highest-scoring defender in the history of the Premier League. Eden Hazard, of course, has been mesmerising in attack and has walked away with most of the applause, but Terry's renaissance should not go unnoticed.
Expectedly enough, his contract with the club has been extended by one more season. If he continues in the same vein in the 2015/16 season as well, this will not be last contract he signs as a player with Chelsea.
The best ever
It is Terry's longevity and consistency that sets him apart from every other Premier League defender, past and present. Two weeks ago, away at Arsenal, he put in a performance that was described by Mourinho as his best ever. That day, he won both the aerial duels he entered into, made 2 interceptions and 14 clearances.
We have seen some great centre-backs grace this league over the last couple of decades. Rio Ferdinand, Nemanja Vidic, Tony Adams, Sol Campbell and Jamie Carragher are among the best. But even in this league of players, Terry stands out above everyone else. Most of the above-mentioned players faded in the latter part of their careers. As they lost their pace, they lost their way. Terry is nowhere near as quick as he was some time back, but he has adapted and made up for that with his first-class positioning. He featured in an advertisement for King of Shaves a few year back in which he said, "Be faster when you can, and smarter when you can't." That is exactly what he has done. He knows exactly where to be when the ball come into the box, and exactly how to take on a player who is quicker over a few yards.
Carragher put it perfectly in this interview with Sky Sports following the game against Arsenal.
Long way to go?
With the right kind of conditioning, Terry can still go on at the top level for two to three seasons. He has picked up numerous accolades, both for his team and for himself over the years. On Sunday, if Chelsea beat Crystal Palace, he will lift the Premier League trophy for the fourth time in his career.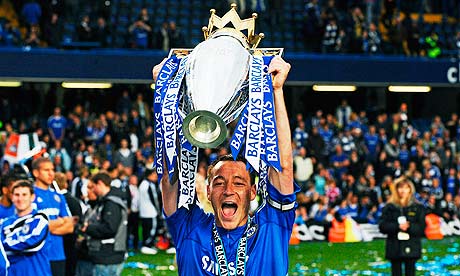 And with the long-term project the Blues are building under Jose Mourinho, it most certainly doesn't look like being the last piece of silverware of his career.