Jack Wilshere's comments on Wednesday on what it means to be an English footballer were blunt and hard hitting,
"We have to remember what we are.
"We are English. We tackle hard, are tough on the pitch and are hard to beat.
"We have great characters. You think of Spain and you think technical but you think of England and you think they are brave and they tackle hard. We have to remember that."
Patriotic to say the least, but Wilshere may have bitten off more than he can chew with his remarks. To cite cliché and stereotype is always a dangerous game, regardless of the subject matter. Young Jack has inadvertently  highlighted the England national side's core problem once more, and with his proud pigeon-holing, the Arsenal man seems worryingly blind to it.
There is rarely another team such as England that can be so easily classified with an all-encompassing footballing platitude, much to the detriment of the national side. Stunted, predictable, and often dull; England have relied strongly over the years on the small number of players who do not succumb to Jack's profiling.
What England is clearly in need of is a little more diversity, that is, a diversity of styles. The English have a tendency to churn out very similar players, in terms of what they can provide on the pitch. Wilshere is right in that sense, and the aforementioned stereotype has been quite obviously earned, and rarely challenged.
England have a solid footballing identity, and according to Wilshere, it is something to be proud of and 'remember'. But why should there be no room for change?
Many of England's international rivals have a plethora of differing talents coursing through the team, not only giving them more tactically tuned formations, but also options in the face of adversity.
Much has been said of England's problems with nurturing at grass roots level, and this is clear to see in that the pool of talent is severely limited in terms of variety. The 'Plan B' is something so crucial now in modern football; and countless footballing nations thrive on alternate styles and disciplines.
When bravery and tough tackling are mentioned, England are not the only obvious subject, as Italy are known for their blockbuster defences, and passionately aggressive playing style. The 'Catenaccio', or 'Door-bolt', is an Italian-born philosophy of defensive solidarity.
But playmaking is by no means a new concept for the Europeans, and the term 'Trequartista' is one very well known in the world of football. Diminutive attacking midfielders have a tendency to appear at regular intervals, providing the Italians with a source of pure footballing grace to pair with their well-drilled defensive attitude.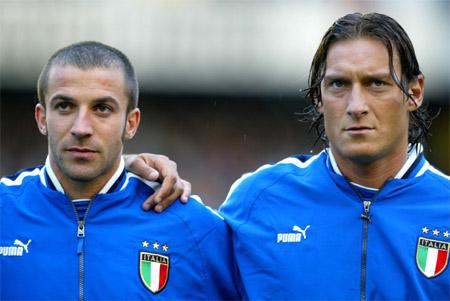 Alessandro Del Piero and Francesco Totti are just two of a vast number of Italian 'number 10s' that blossom behind the striker, and their natural flamboyancy provides an invaluable service to the team as a whole.
Napoli's Lorenzo Insigne is one of the latest to join the number of beautifully gifted Italian attackers, adding his talent to that of Marco Verratti and Sebastian Giovinco in the current Italy squad.
The English comparisons arguably begin and end with Joe Cole.
The aging West Ham man is the closest England have had to a 'Trequartista' for many a year, and his was a rare creative talent, correctly identified and utilised to the benefit of the national side. Cole gave England a different edge in midfield, and does not fit Wilshere's bill.
The now 31-year-old was famously substituted at the 26 minute mark for Chelsea in the 1-0 defeat to Fulham back in 2006, as his 'bravery and tough tackling' was not up to scratch. Yet he was one of England's best players at the 2006 World Cup, scoring a breath-taking, 35-yard lobbed volley against Sweden that lives long in the memory.
http://www.youtube.com/watch?v=isuqe8IbYnQ
Wayne Rooney is an interesting case, especially in terms of Wilshere's argument. Rooney is about as English as they come; bullish, aggressive, hard, and unabashed, 'Wazza' has all the hallmarks of a true English warrior.
Crucially however, Rooney has qualities that set him aside from the pack; a natural footballing elegance that makes a mockery of his physical and outwardly obvious mental attributes. His poise, subtly and sheer artistry with the ball is so bewilderingly uncommon on the face of it, and it proves that English players can be so much more than the obvious.
Rooney is a swashbuckling hypocrisy of the English playing style; a wondrous hybrid that makes him so important to the national side's cause.
Another fine example of having more than just the stereotype is the new German revolution of skill, speed and vision. The likes of Mesut Ozil, Marco Reus, Mario Gotze, Julian Draxler, and Thomas Mueller have gone a long way in diluting the tradition of the  'German Tank', regardless of the need for it.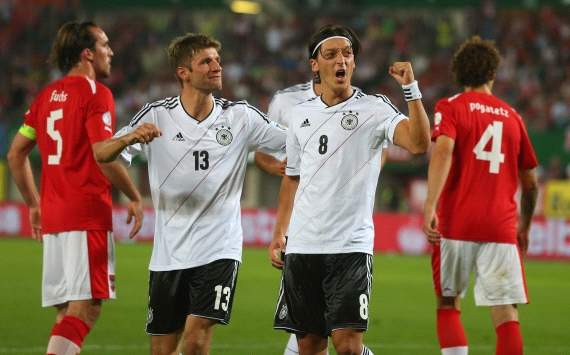 Spain are known as a 'technically gifted' nation due to their unparalleled success over the last decade, both domestically and on the international stage. To be technically gifted is arguably footballing jargon for 'excellent footballing ability'.
England are known as a physical, tough tackling nation. Translation? 'Stoic adherence to the label, in the face of a bland brick wall'.
For more from me, follow me on Twitter: @tragatehouse or check out my Blog: http://goodbadribery.blogspot.hk