Ok Jose, I'll bite.
The outspoken Chelsea boss has hit the headlines recently with his ill-advised attack on Arsenal boss Arsene Wenger, and now he has stoked the fires ahead of Barcelona's Champions League second round tie against Manchester City by claiming the Spanish giants are currently at their weakest point for 'many years',
"Of course by history Barcelona is the favourite, but this Barcelona, this season, is showing that it is not the same in previous years," Mourinho told ITV,
"Of course, they have [Lionel] Messi – he is special – and they have more than him. But I think this is the worst Barcelona of many, many years."
Read more – Mourinho vs Wenger: Are both managers in the wrong?
While it's true to say that Barcelona have been outshone of late by Bayern Munich in Europe, and have faced increased La Liga competition in the form of a resurgent Atletico Madrid, but is the state of affairs in Catalonia really as dire as Mourinho says?
Soccerlens have mocked up a combined first XI of Chelsea and Barcelona players in a bid to prove whether Jose is entitled to stick his neck out this far: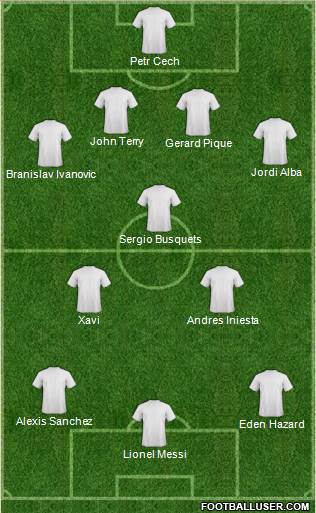 …………………………………………………………………………………………………………………………………………….
Defence:
Petr Cech earns the first spot up for grabs, but its a tight one, with Victor Valdes matching Cech for clean sheets this season as well as putting in a number of impressive displays.
Jordi Alba's recent absence from the Barca side through injury doesn't stop him from securing the left back role. Such is the brilliance of the former Valencia man, it would be wrong to overlook him. Cesar Azpilicueta has performed well this season, ousting the ever-present Ashley Cole, but the Chelsea man has some way to go yet to reach Alba's level.
Gerard Pique and John Terry slide into the heart of the defence, with the duo exceptional so far this season.
Branislav Ivanovic's recent heroics for Chelsea sees him snatch the right-back slot away from Dani Alves.
Midfield:
All three of Barcelona's midfield trio make it into the combined XI, with Chelsea still in the beta stage of forming their own central partnerships.
Xavi, Andres Iniesta and Sergio Busquets have been superb over the years, and this campaign holds no exceptions. Cesc Fabregas comes the closest to claiming a spot, such has been the form of the former Arsenal captain, but the tried and tested triumvirate remain.
Attack:
Eden Hazard's stunning form sees him comfortably come in on the left, while Chilean attacker Alexis Sanchez has an excellent 17 goals and 11 assists from 35 games so far, and takes up his position on the right. It is tough to leave our Neymar however…
Who else but Lionel Messi up top, despite the injuries sustained this year. No argument from Chelsea's misfiring strike-force? Thought not.
…………………………………………………………………………………………………………………………………………….
While Barcelona have lost some of their fear factor in light of Bayern's omnipotence, it is clear that they are still a force to be reckoned with. Premier League leaders Chelsea manage only four players in the above eleven, while Barca roll in with seven.
Perhaps all that Tata Martino's side need is one more colossal performance on the biggest stage.
Bring on Manchester City!
Read more – Possible Manchester City starting lineup against Barcelona
What do you think? Agree with my lineup? Let me know in the comments below…