Join our Telegram channel to stay up to date on the latest in marketing
Chelsea have been hit with a severe injury crisis in the striker department, after it was confirmed that the only option they had left – Didier Drogba, has now been sidelined with an ankle problem.
The Ivorian was the only first-team striker fit in Jose Mourinho's squad for the last two games against Queens Park Rangers and Manchester United. Diego Costa and Loic Remy are out with hamstring and calf injuries respectively and it is unclear whether either will be fit in time to face Arsenal are the Emirates Stadium on Sunday.
The problem has probably come at the right time for Chelsea, with the Premier League title all but sealed in their favour. Had they faced a similar problem midway through the campaign, it would have been a much bigger deal.
Mourinho has a few options with him to try and tackle this issue. We take a look at three solutions that the Portuguese could look to for the Arsenal game:
1) Risk Remy
Remy's injury a day before Chelsea travelled to Loftus Road to take on QPR a couple of weeks back was not expected to be too serious. He was, in fact, expected to be fit to face United, but didn't even feature on the bench. The Frenchman has delivered whenever called upon and scored the winner in both the games he last played for Chelsea. Risking a 60-70% fit Remy is something Mourinho may be forced to do against Arsenal. It remains to be seen whether the striker can get to that level.
2) Young Talent
Mourinho does, of course, have a couple of very talented youngsters at his disposal. The only problem is that their Premier League experience is absolutely zero. Dominic Solanke, 17, has scored an incredible 35 goals for the U-18's this season and has featured on the bench a couple of times for the first-team. He was an unused substitute against United, but may go a step further against the Gunners if Costa, Remy and Drogba are all declared unfit. His U-18 teammate and captain Izzy Brown is an option too.
Mourinho stated at the start of the season that he would do everything he could to promote Chelsea's young players. Patrick Bamford, on loan at Middlesbrough, recently won the nPower Championship Player of the Season Award. The striker is expected to be back at Chelsea next season, and this weekend will provide an insight into the manager's outlook on giving the young players an opportunity to prove themselves at the top level.
3) False 9
What do you do when you don't have a striker? That's right, you don't play a striker. Chelsea are expected to squeeze the game at the Emirates anyway, looking to contain rather than entertain. For this, not having a target man up front is important but it's not the worst thing in the world. Cesc Fabregas, on his return to Arsenal for the first time since he left the club in 2011, could be used as a false 9 up front. Oh, how he would love to score against his former employers.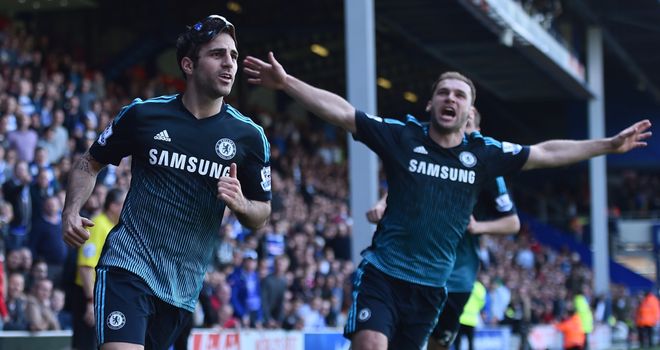 Eden Hazard has also played in that position in the past for Belgium, while Oscar could be given a run-out as a forward as well.
In the past, Mourinho has always had an ace up his sleeve in this situations. It will be refreshing to see him give a chance to one of the youngsters in a game as big as Arsenal, but the pragmatic Portuguese will do what's best for Chelsea.