Join our Telegram channel to stay up to date on the latest in marketing
Chelsea seem to be digging themselves deeper and deeper into a hole that will soon be hard to get out of. Chelsea's Capital One Cup loss to Stoke City is adding to the pressure on manager Jose Mourinho. Chelsea, despite having more chances, found themselves losing up until a goal in the 91st minute by Loic Remy. Chelsea seemed the likely favourites to win the game in extra time with Phil Bardsley receiving a red card just after the Chelsea goal. Stoke City managed to fend off all of Chelsea's attacks in extra time and won the penalty shootout 5-4 after Eden Hazard's penalty was blocked by Jack Butland.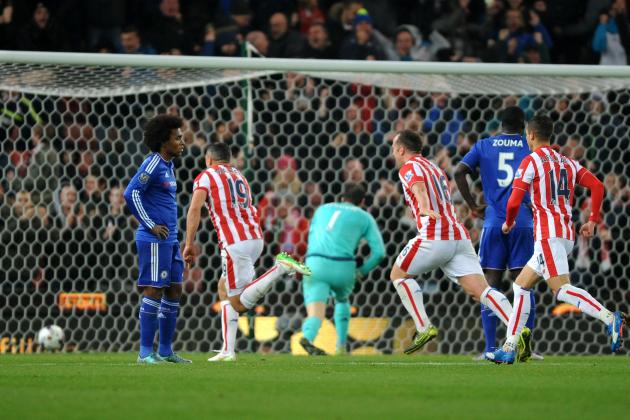 Chelsea's Capital One Cup defeat could actually be a blessing in disguise for Jose Mourinho. Chelsea can now focus on the Premier League and get themselves into a top 5 position. The reigning champions are currently in 15th position after 10 games and need to improve immediately. Chelsea will now have fewer games to play, meaning that the players will get a longer break in between games. Also, Jose Mourinho will not have to worry about rotating players as much, besides every once in a while for the Champions League.
It is clear, now that Chelsea are out of the Capital One Cup, that they need to focus on winning their upcoming games and get back into the top half and ultimately the top 4 or 5. Chelsea's next fixture is against Liverpool at Stanford Bridge. The good news for Chelsea, is that Liverpool are yet to win a game under their new manager, Jurgen Klopp. Jurgen Klopp has managed four games for Liverpool, drawing three of them and winning one. This is a must win game for Chelsea who desperately need momentum after poor performances.
After the encounter with Liverpool, Chelsea will face Dynamo Kiev in the Champions League. This game, also at Stamford Bridge, will be a chance for Chelsea to gain confidence and momentum before two Premier League games against bottom half clubs. After the Champions League game, Chelsea face Stoke City in a rematch at the Brittania and then play Norwich at Stamford Bridge. These games are huge for Chelsea as they need to pick up points in the Premier League and start winning games on a more consistent basis, if they are to finish in a top 4 position. These fixtures also provide an opportunity for last year's stars, such as Eden Hazard and Diego Costa, to get in a good run of form and build confidence for the rest of the season.
Jose Mourinho certainly has his work cut out for him for the remainder of the season, but Chelsea can now focus on the Premier League. Chelsea have a run of must win games that can give the team momentum. If Jose Mourinho has any hope of staying at Chelsea through Christmas, he needs to pick up a full head of steam in these Premier League games and start progressing his way up the table.