Arsenal's season has been full ups and downs. Like every campaign, they have lost games they shouldn't have lost. But, surprisingly enough, they have also managed to win some games they weren't expected to win. Last night's victory at Old Trafford, their first at the Theatre of Dreams in 9 years, signalled a further ascent in what has been a breakthrough unlike anything seen in recent seasons with Arsenal.
The Gunners also beat Manchester City away earlier on in the season, playing a completely different brand of football and convincingly winning 2-0. Arsene Wenger's sides have always prided themselves on possession football, and a lack of Plan B has been the cause for the downfall in many games against the bigger sides. But now, finally, the Frenchman seems to have learnt his lesson.
In both the above-mentioned games, Arsenal had lesser of the ball than their opposition. While not having even 40% of the possession in the game at the Etihad, they only had 42% of it last night. But even then, they dominated proceedings by being in complete control with a disciplined setup. They even had more chances and shots than United, and would have won by a more convincing scoreline were it not for a fantastic performance by David De Gea. The numbers from last night reveal a lot:
Different story at home:
While they have learnt how to approach a big game away from home, Arsenal are still incredibly vulnerable while playing at the Emirates. In the first leg of their Champions League last 16 tie against Monaco, all their frailties were once again exposed as the French side ran out 3-1 winners. The Ligue 1 outfit had scored just 4 times in the entirety of the group stages, but played a simple, counter-attacking style of football which Arsenal just could not deal with.
They are effective against the lesser sides of the league who lack the ability to hurt them. In Alexis Sanchez, Mesut Ozil, Theo Walcott, Santi Cazorla and Alex Oxlade-Chamberlain, Arsenal have some of the best technical players in the Premier League. But they have not been able to replicate the fight and heart shown on a couple of occasions away from home in front of their own fans.
Successful end to the season beckons:
With last night's victory, Arsenal are in the semi-finals of the FA Cup, and will face either Reading or Bradford City for a place in the final. Liverpool, who face a replay in their quarter-final tie against Blackburn Rovers, are the only legitimate threat remaining who can stop the Gunners from defending the trophy they won last year. That victory in May 2014 was the first piece of silverware Arsenal had won since the FA Cup in 2005. Winning it again this season will be a huge step forward in their quest to re-establish themselves as Premier League contenders.
In the league, Arsenal are well on course for a top 4 finish again. They are currently 3rd in the table, and even though a whole host of clubs are in the hunt for a Champions League place, the Gunners' recent form is second to none. They are only 4 points behind Man City in 2nd, and with the defending champions in very shaky form of late, Wenger's men may even have a sniff at that runners-up spot.
All in all, Arsenal are on course for a successful end to a season that has certainly thrown up more positives than negatives for them.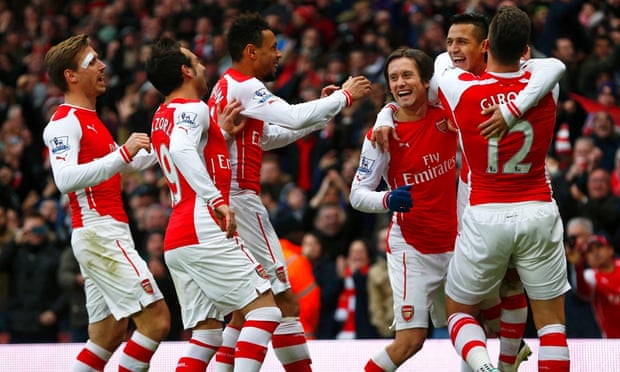 Arsenal have yet not found every missing piece in their puzzle, but are certainly getting there. This season has been revolutionary in a way, as they have played a brand of football that certainly doesn't align with their comfort zone. But the results are there for all to see. Last year, the only thing that stopped the Gunners from winning the league was their showing against the bigger sides away from home. This season, they seem to have addressed that. If Wenger can get his side to do it with more consistency both home and away, they will be challenging for the title soon.