Love stories, albeit beautiful, can go horribly wrong at times. Heartbreak is followed by indifference, before hatred comes along. Just like so many different aspects of life, love and hate are seen in football as well.
Cesc Fabregas joined Arsenal in 2003 at the age of 16 from Barcelona. Even at that tender age, you could see that he was going to be a world-class midfielder one day. He had great vision, a wide passing range and the ability to control the tempo of the game. He was soon a regular starter at the Emirates, and was made club captain at 21. The fans loved him and he was clearly manager Arsene Wenger's go-to man.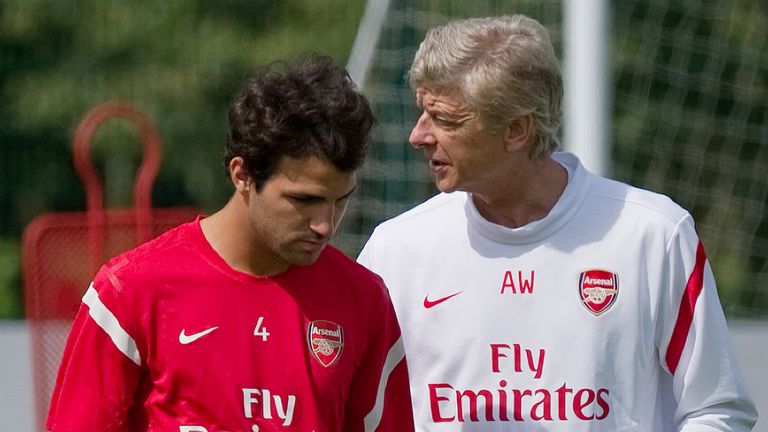 After making over 300 appearances, scoring over 50 goals and assisting several more, he took the decision to re-join his boyhood club in Spain in 2011. While there were sections of fans who blamed him for betrayal, there can hardly be anything wrong with wanting to go back home, while also having a better chance to win silverware. Despite the contribution he made to the Gunners, they were unable to win any trophies in the period in which Fabregas was a regular part of the first-team.
Home away from home
Despite winning 6 trophies in 3 seasons with the Catalan giants though, Fabregas soon found out that his style-of-play was best-suited to the Premier League. Having spent his formative years here, he realised he was much better adapted to the pace and physical style in England than to the more artistic style in Spain. He performed very well for Barcelona, and was the second-highest scorer and third-highest assist-maker during his time there. But he was deployed in an attacking midfield position where he never felt at home.
So, the decision was made to return to the Premier League last summer. Arsenal had the right to first-refusal, and the player clearly wanted a move back to the Emirates. It seemed a no-brainer. Wenger needed a leader, a midfielder who had experience and also suited his style of play. There was no chance in hell he would refuse to re-sign Fabregas, right? Bafflingly enough, that's exactly what he did.
On the other side of London, Jose Mourinho sensed an opportunity. Chelsea lacked a creative midfielder last year and the Portuguese was not going to miss out on the chance to sign Fabregas. As the story goes, he missed his son's football match, met the Spaniard personally, told him about the project he was building at Stamford Bridge, and convinced him to be a part of it.
The Return
On Sunday, Fabregas makes his much-awaited return to the Emirates. It's not how Arsenal fans would have imagined it a few years back, and seeing him in the blue of Chelsea is not going to be easy to take. Even though Mourinho said that the player should be given a warm reception, it's hardly likely. The Gooners on Twitter have made it clear what they're going to do:
I will boo Fabregas on Sunday not because I hate him in any way but because he is mentally weak and it will affect his performance

— Arsenal View (@jdal3) April 23, 2015
For the record, I can't wait to boo Cesc.

— Letty (@Le77y64) April 23, 2015

But the question I am asking here is – "What has Fabregas done to deserve this hostility?". He wanted to return to Arsenal, and asked Wenger to give him the opportunity to do so. When he felt unwanted, he went to the next best option. And it was clear, even in his first few weeks as a Chelsea player, that he still loved the Gunners. He mentioned them in nearly every interview, and had only good things to say. And as far leaving Arsenal in 2011 goes, he's not the first one to have left North London in search for trophies. And at the rate Wenger is going, he most certainly won't be the last.
The manager obviously feels betrayed by Fabregas' decision to leave, as this report from The Telegraph clearly shows. But it is time that he realised that it is a problem of his own making. Samir Nasri, Robin Van Persie, Gael Clichy and of course, Fabregas himself are part of the list of players that left the Emirates in search of success, and found it at their new clubs too. These players aren't local London lads who have grown up supporting the club. There is no way can the fans expect them to stick with Arsenal throughout, with the club failing to challenge for any major trophies in a decade.
While the Emirates may boo the life out of Fabregas on Sunday, it will be the player who has the last laugh. Chelsea are 10 points clear at the top of the table and irrespective of the result against Arsenal, will almost certainly go on to lift the title.
For Wenger and the fans though, it will be a sweet victory if they manage put one over their once-beloved hero.