Arsene Wenger may not be the most popular manager among the Arsenal supporters, but one proud record of his remains unblemished to date. Since the Frenchman joined the club in 1996, he has never finished outside the top 4 places in the Premier League i.e. the Gunners have qualified for the Champions League without fail (except in his first season, when Arsenal finished 3rd but only the top 2 qualified).
There have been some near misses, but Arsenal have always managed to get their act together at the appropriate juncture in the season to pull through in the top 4. In the recent past, the players have come under criticism for celebrating this fact, as the majority of the supporters believe that going for the title is what they should be aiming for.
The times are a-changing
In the few years after Wenger came to Highbury, Arsenal and Manchester United were embroiled in a fierce race to the top. They traded titles until 2004, when Chelsea joined the picture. For the next 3-4 years, these three clubs along with Liverpool formed the so-called "Big 4". Arsenal didn't win the title, but dropping out of the top 4 wasn't really a threat.
City then came in, with Liverpool dropping out. Sir Alex Ferguson's retirement in 2013 has seen United slip, and Spurs have become more legitimate top 4 contenders. Leicester City's league victory last season highlighted the unpredictability surrounding the English top-flight at the moment. Amidst all this, Arsenal should have won the league at least once. They somehow always let their chances slip, but managed to stay in the Champions League places.
This season though, things are very different. Arsenal are currently in 5th place with 20 games played, and the teams ahead of them all have genuine title hopes. Chelsea, Liverpool, Spurs and Man City comprise the current top 4 (in that order), with Arsenal just a point behind. United are only a couple further back, and the uncertainty of the future is really enticing.
Everyone is in good form
Chelsea were the team to beat over the last few months, winning 13 in a row and opening up a gap at the summit. Their loss to Spurs last week came as a welcome relief for everyone else. Liverpool are looking really strong under Jurgen Klopp, while Tottenham have proved on multiple occasions that they can beat anyone on their day. City aren't quite the fluid and entertaining team we expected they would be under Pep Guardiola, but their quality is unquestionable. Man United have hit form, winning 6 in a row in the league. Jose Mourinho has found the right formula at the club, and there is real reason for everyone else to be concerned of the Red Devils.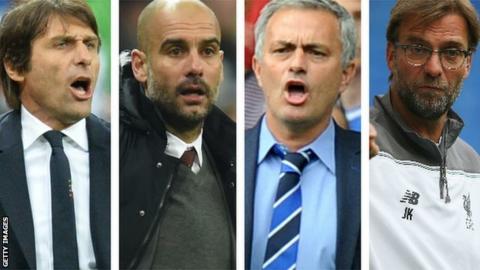 Arsenal, as always, have been really unpredictable. They looked like a team ready to be champions just a month ago, reaching the top of the table following a win over Stoke City. They were showing fight, character and grit, qualities that have been absent in this side of supremely talented and skilled individuals. A week later though, they'd let leads slip against Everton and Man City to lose both games, and found themselves down in 4th.
This season, any slip-up is going to be severely punished and capitalised upon. Arsenal cannot afford to rest on their laurels and assume that a top 4 place is guaranteed, because no one else is looking like giving too many points away for free. 
For the first time in 20 years, Arsenal could be looking at a season without Champions League football under Wenger. The Frenchman's contract at the club expires in the summer. If they do happen to miss out, one would have to think that his time in North London will be well and truly up.