There is a variety of ways in which a footballer can lose his place in a team. His form may dip, for one. Otherwise, he may get injured and replaced by someone who plays well enough to retain his spot. He may also get into a tiff with the manager, causing a fallout.
In some rare occasions though, players lose their place in the side purely because they are victims of circumstance.
What's happened with Cesc Fabregas at Chelsea this season is really difficult to explain. In the first few games, Antonio Conte stuck with a 4-2-3-1 system, and it was baffling to see why he wasn't playing. With N'Golo Kante in the team to provide cover for the back 4, Chelsea were clearly missing that creative outlet from midfield with Nemanja Matic in the side. Fabregas earned his first and only start against his former club, Arsenal, by scoring twice against Leicester City in the EFL Cup 3rd round. A calamitous collapse at the Emirates though, forced Conte to rethink his tactics.
Fabregas was taken off early on in the second half, and Chelsea went 3 at the back. In the three games hence, they've stuck with that system. An injury has kept the Spaniard out of any sort of involvement, but it is hard to see him getting back into contention any time soon. The Blues have won all three of those games, and kept clean sheets in all of them, as well.
Matic-Kante working a treat in central midfield
With Chelsea using a 3-4-3 formation, it is important that the two central midfielders maintain their discipline and are always available to help out the defenders. Kante has been brilliant ever since joining in the summer. Matic's form dipped extraordinarily last season, but has picked up this time around. Both the players earned a lot of praise for their performance in the 4-0 thrashing of Manchester United during the weekend.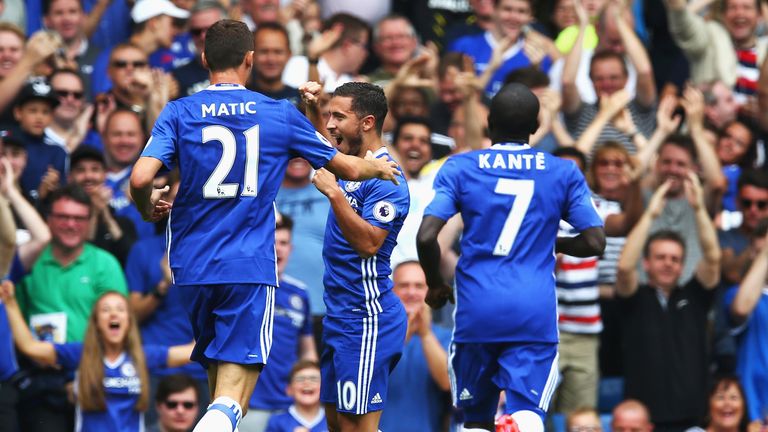 Having two defensive-minded players in the centre of the park though, hasn't hampered Chelsea's attacking threat. Eden Hazard has been giving more of a free role and can float in centrally whenever he wants. The two wing-backs, Marcos Alonso and Victor Moses, step in to make that extra man in attack. Diego Costa has been superb, scoring 7 goals thus far in the Premier League. All in all, everything seems to be ticking along nicely.
Fabregas has done literally nothing wrong. It's just that his style of play doesn't seem to suit Conte's system. The Italian has always had a deep-lying playmaker in his sides, the likes of Andrea Pirlo and Claudio Marchisio. While Fabregas doesn't lack in creativity, he is certainly not as robust as either of those players. The Spaniard has never been at his best when playing as a box-to-box midfielder, but has always thrived when given the license to impact games with his vision and forward-looking passes. The current system doesn't allow that exclusivity.
It will be interesting to see how things pan out in the coming months. Fabregas has said that he is happy at the club, and Conte has also had nothing but praise for him. But the lack of playing time is bound to get to him at some point. Changing his style of play may be difficult at this stage, and he can only hope that the manager makes tactical adjustments to fit him in. The way things are going at the moment though, that certainly seems unlikely.