With Aston Villa looking for 30 million pounds for James Milner, Manchester city paying 20+ million for Joleon Lescott and Manchester City paying 25 million pounds for Adebayor in recent few years, it shows that the days of paying 3.6 million pounds for players the quality of Roy Keane and 1.2 million pounds for Eric Cantona are long gone.
Now with the huge vast of money clubs can call upon players values have sky rocketed in recent years, examples 60 million for Kaka and 80 million for Ronaldo.
However some people just love a Bargain.
Here I'll be mentioning a few signings which have cost next to nothing considering how well the players have played for their clubs in recent years.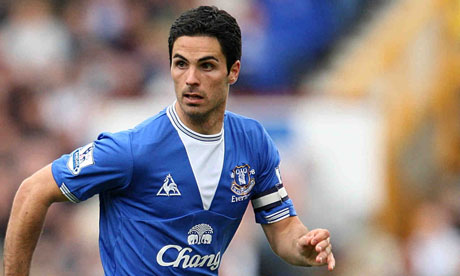 Mikel Arteta – 2 Million Pounds
After failing to make his way into the team after a 5.2 million pounds move to Real Sociedad, David Moyes saw something in the lad and signed him in January 2005 on loan, after helping Everton qualify for the Champions League he signed permanently for Everton in July 2005 for a fee around 2 million pounds. Since than he has gone on leaps and bounds and made himself an established name in the Premiership, along with making himself a cult hero among the Everton faithful.
The fact that he has never earned a cap for Spain tells more about the quality of the Spanish midfield then it does about Mikel. Having today signed a new five year deal for Everton, to warn off any possible suitors for the gifted Spaniard, it looks like he's going to big player for Everton in years to come. With 30 goals and 37 assists for Everton he is surely one of David Moyes best buys.
Niko Kranjcar – 2.5 Million Pounds
The Croatian play maker made himself a fans favorite down at the south coast team, under the stewardship of Harry Redknapp we saw a player introduced into the premiership who had an eye for a goal, could score free kicks and a player who could pick out a pass. However when Harry Redknapp left for Tottenham he signed a few of his old boys, one of them was Niko and on deadline day he signed for 2.5 million pounds, which Harry Redknapp then had the cheek to say, "Portsmouth got a good deal".
Niko then went on to play 24 leagues games last season scoring 6 goals.
Patrice Evra – 5.5 Million Pounds
After a difficult start to his United career where he made his debut in 3-1 defeat to Manchester City, Patrice has forced the once ever popular Gabriel Heinze out of the club, along with becoming one of the best left-backs the world has to offer, all for 5.5 million pounds nearly half of what Manchester City paid for Wayne Bridge.
Patrice has made himself a fans favorite with consistent displays, with many people liking him to Denis Irwin, he was rewarded with the captains armband in the 2010 Carling cup final against Aston Villa and is one of the leaders in the United camp.
Nemanja Vidic – 7 million pounds
Along with Patrice, SAF also signed a Serbian center back by the name of Nemanja Vidic. Named in the PFA team of the year from 2007 to 2009, also named player of the season for Manchester United in 2009, Nemanja has proved himself as one of the best center-backs in the modern game forming a defense nearly as strong as the Great Wall with Rio Ferdinand, Nemanja has been pivotal to United's success in the last few seasons.
For the fee of 7 million you could buy Nemanja four times for the price of his center back partner Rio Ferdinand. Nemanja also featured in every game in the famous record 14 games without conceding a goal which took place between November 2008 until February 2009. To the joy of every United fan across the country, Vidic silenced all transfer speculation by agreeing a new contract this summer.
Tim Cahill – 1.5 million pounds
Since signing for David's Moyes team Tim Cahill has been a massive player for Everton. Best from coming from midfield to score goals in times of crisis Tim has been used to play as emergency striker and to good effect. One of the most underrated players in the Premier League Tim would be a very great addition to any team in the premiership.
Richard Dunne – 5 Million Pounds
After the huge spending on defenders like Kolo Toure and Jolean Lescott, the Republic of Ireland international decided his services were better suited elsewhere. Martin O' Neill snapped up the defender who went on to make 35 appearances and score 3 goals in the process.
He formed a great partnership at the heart of the Villa defense along with James Collins in a defense which only conceded 39 goals in 38 games in the Premier League last season. A player who won four player of the year awards at Manchester City, how they must wish they kept on to the Irish defender.
Robin Van Persie – 2.5 Million Pounds
Signed as a left winger in 2004 from Feyenoord Arsene Wenger saw him better as a center forward, and boy did he get it right. In the last few season Robin Van Persie has become a big player for both Arsenal and Holland by scoring or creating goals. The talented forward has an eye for the spectacular, and can score from any situation.
However his career at Arsenal has been in and out of the Arsenal team due to injuries, which leaves one to question how good could he be if he had a whole season without injuries? With 73 goals and 36 assists in 197 appearances  Arsenal fans will be hoping this season will be that season.
Shay Given – 5.9 Million Pounds
After his long association with Newcastle, Shay Given wanted a new challenge and was snapped up by Manchester City in January 2009, and after making great saves in his debut against Middlesborough he has gone on to prove he is one of the best keepers in the Premier League if not the world. With this man in between the sticks for City next season then anything is possible.
Roque Santa Cruz – 3.5 Million Pounds
Before he moved to Manchester City to warm the bench, Roque moved from Bayern Munich to Blackburn and proved to be a pivotal player for Blackburn. In his first season he scored 23 goals in 43 games for Blackburn, and was the 4th top scorer in the 07/08 season after forming a great partnership with David Bentley.
However in his next season he was ravaged by injuries and only managed six goals, however Manchester City signed him for a fee of 17.5 million, a profit 14 million, shrewd business indeed.
Damien Duff – 2.5 Million Pounds
After a dismal few seasons at Newcastle, the Duffman made off to Fulham to try relive his glory days. He was back to his best last season helping Fulham reach the Europa League final in May, making 49 appearances and scoring 9 goals the Irish winger has proved a key player for Fulham this season, and will be hoping for repeat performances this season.
These are some of the best bargain buys in recent years. All these buys are after 2004, if you can think of more please write them down in the comments section. Do you agree these players were good buys? If so, which one was the best signing?