What is in the news today, may surprise some, but hardly anyone who hasn't been in Rio de Janeiro. Well, maybe if you came to Rio with French League director Redha Chibani, who said he feels perfectly safe in the city. Clashes between police and drug cartels are going on for five days now, with more than 50 burnt cars, 39 dead (including a 14 year-old girl) and a city in complete despair. You don't have anything to do with it? Sorry: this is where you are supposed to see your National Squad to play in the next World Cup (other than the Olympic Games two years after).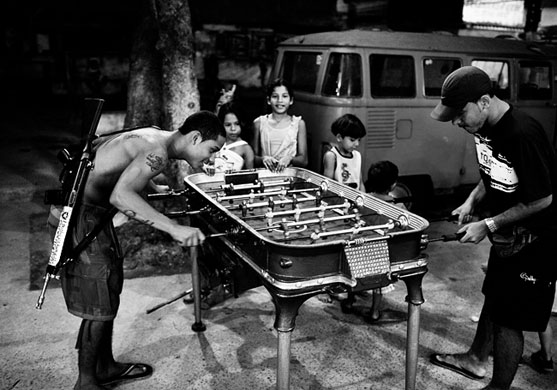 Violence in Rio has been widely accepted in the last 20 years as something to live on with. When the city is about to host some major event (like the Panamerican Games in 2007), there is a tacit agreement between society and drug dealers to avoid trouble and to benefit everyone, so there is a sort of cease-fire during these periods. But in regular days, violence rules. Last August, an armed group invaded a fancy hotel and shot a person on site.
The confrontation between police and criminals intensified in the last week as an organized retaliation from the drug dealers against initiatives from local administration to install police units to occupy areas controlled by traficantes (the drug dealers). The measure has proven to be successful and now, the crime lords, concerned about losing their territories, set up a campaign to spread terror around the city. Brazilian navy and army are being mobilized to help in the confrontations, with the world famous police elite troops from Rio, BOPE, taking the lead part and shooting to kill. Click here to see a map of the activity of criminals and the combats in Rio.
This post could have been done on a different blog if Brazil was not set to be the next World Cup Host. One of the worst war scenarios in Rio is Vila Cruzeiro, famous by being the native neighbourhood of Roma striker Adriano. The area is few miles away from the legendary Maracanã Stadium , who will host the final match in 2014, after being revamped on a US$500 million refurbishment (with this value likely to increase). Of course, unless football establishment is able to recover some of its sanity and realise Rio de Janeiro has absolutely any condition to host a major tournament without the blessings of the drug lords.
Rio de Janeiro mayor and governor are adamant they will win the war against the drug lords and soon the city will be able to rest in peace all the time without being subected to the criminal's will. All football related matters are being held according to the desires of Brazilian football supremo Ricardo Teixeira, who wants to follow the footsteps of his father-in-law, João Havelange, and extend his power over Fifa after 2014. WC hosts were chosen following his map of political alliances and even governors bow down to his orders fearing to lose a couple of WC matches.
The situation in the other host cities is definitively better than in Rio regarding violence, but in terms of airport, football and hotel structure, are far worse. Manaus will host a 45.000 seating stadium thousands of miles within Amazon for two WC matches. After that, attendances are likely to be around 800. Cuiabá follows the same pattern and both do not have proper professional clubs in the first division at least since Ian Rush was a major star for Liverpool.
The lack of responsability by the football authorities (in Brazil and within Fifa) by allowing the World Cup to happen in Rio with the actual state of things is no secret for those who follow their acitivities. Brazil will have to build or go through major revamp in all its stadiums for the WC spending billions of dollars and this is the reason why the country was chosen for it. It is unlikely for us to see Wayne Rooney to miss a WC semifinal after being shot in Rio, as until 2014, some sort of balance with have be met (by violence, killing of the drug dealers of diplomacy with them). However, it sounds like something to be asked: why can't a coutry be chosen to host a major tournament of this sort AFTER it has improved living conditions for its people?
Cassiano Gobbet 90 Minutos
Twitter