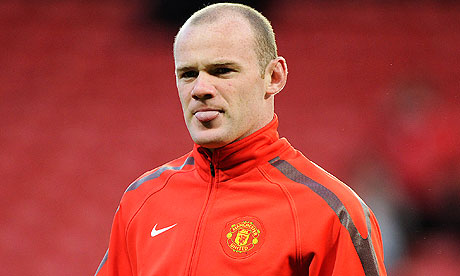 What a difference six months make. Only last March Rooney was being cited as the second best footballer in the world and the only hope of England winning the World Cup on. Until that night in Munich where more misery was heaped on United after they went down 2-1 in the Allianz Arena. However, the defeat was only a short-term problem as Wayne Rooney went down clutching his ankle no one could have imagined what that night has done to Rooney's career.
Since then Rooney hasn't scored from open play for United, and he is a shadow of his former self. Now with the stories about his private live, the whole mess of whether or not he has been injured the last few weeks and him being dropped from the side it seems that Rooney wants out. Reports are saying that Wayne wants out of United after numerous bust ups with Sir Alex, and is refusing to sign a new deal.
The other day I posted about how we needed to stick behind Wayne and I still believe that. Yes Wayne is being an ass, but he is on the verge of making a horrible decision. There is not many places you can go to after United that isn't a step down. Only Barcelona and Real Madrid are on par with United's stature as a club. However, with David Villa being the spearhead for Barcelona it's fair to say Rooney wouldn't get into the Spanish champions side. The other option is Real Madrid. However, Real Madrid's recent record should be a warning signal to Wayne. He only has to ask Michael Owen about the 'Galatico' experience.
Why would Rooney want to leave United? We all love him. Anyone who was at Old Trafford on Saturday could see that. The minute he started warming up the crowd went berserk. The largest cheer in the whole game was when Rooney was brought on. We support him no matter what form he's in. Real Madrid won't. However, Rooney is single handily destroying his image. Why can't he see that he's at the best club in the world under the best manager in the world. Ferguson has been through this so many times before there is no one better to deal with this. Look what Fergie did for Cantona, Beckham (before he got too big for his boots), Keane (before he attacked his teammates publicly) and Ronaldo.
No one is bigger than the club, and if Rooney wants out by the end of the season then fine, leave him go. United will move on like they always do, no player is bigger than the club.
Until then let's support him because he's still a Manchester United player and we as fans have a duty to support our players. Let's just hope Rooney grows up!