Arsenal have given their opposition as much to cheer as much as they have to their own fans. They always falter in big games, and sometimes also lose when you least expect them to. A decade with only 2 FA Cups to show for is a clear indication that the Gunners are not the force they once were.
At the helm during this barren period has been Arsene Wenger, who has stood by his players no matter how poorly they have performed. The Frenchman has though, blamed a whole lot of other factors for his side's failures.
In this piece, we take a look at 5 hilarious and in some cases, outrageous, excuses Wenger has come up with after falling short in a game.
1) The pitch
Now this one is quite incredible. When Arsenal lost to Manchester United at Old Trafford in 2010, Wenger went on to blame the pitch for the mistakes his side made. "The intensity was high but it was a very bad pitch", he said. One of the biggest criticisms the Frenchman has faced in his career is his failure to adapt to changing conditions, and factors that are not in his favour. His opponent in the above-mentioned match, Sir Alex Ferguson, was a champion at doing just that. And after all, it's not like United were playing on a different pitch!
2) Opponents' style of play
This once again brings to light how difficult Wenger finds it to win games when he is forced out of his comfort zone. His sides are based on moving the ball quickly and playing attacking football. Other teams though, will play to their respective strengths. Wenger has been vocal about his disapproval of a more direct and physical style of play, famously with his 'rugby team' rant on Stoke City in 2010. The Potters have always played well against the Gunners and have an outstanding record against them at home in recent years. When Rory Delap and Co. were in full flow in the Tony Pulis years, Arsenal always struggled.
After a goalless draw against Aston Villa in the same year, he also aimed a 'long-ball team' jibe at Martin O'Neill's men.
If only he had taken a bit more time to prepare his players better for these games, he wouldn't have had too many reasons to complain later on.
3) Other clubs' spending power
Arsenal and Manchester United dominated the Premier League at the turn of the millenium, before Chelsea came along after the Roman Abramovich takeover. The Blues spent big and established themselves as a real force, winning back-to-back titles between 2004 and 2006. United kept pace though, adapting to the changing footballing world by splashing the cash. Wenger and Arsenal though, were adamant to stick to their roots. Even after ample proof that this wasn't going to work, they have kept their stinginess intact. After last season's 2-0 defeat at Stamford Bridge, the Gunners' manager said – "At the end of the day, they have a financial power and they used it in a very efficient way when they had the chances — the individual players they had made the difference, Eden Hazard and Diego Costa."
For a guy who failed to spend on reinforcements despite his club having cash reserves of £193 million, that's rich.
4) The referees
This is one factor which many managers turn to after losing, and Wenger is no different. Most recently, he blamed the referee after losing to Dinamo Zagreb in the Champions League. Olivier Giroud had a terrible night – missing a couple of sitters before throwing a fit and getting himself booked. He was sent off after 40 minutes after a late challenge; the ref didn't really have too much of an option. Arsenal went on to lose 2-1, becoming the first side Dinamo Zagreb have beaten this century. Yeah, that's how poor their opponents were.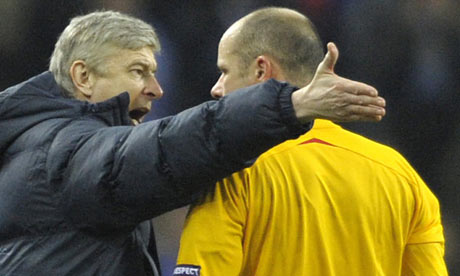 5) His own players
Nope, we haven't heard that one either. We'll be the first ones to tell you though, if it does happen some day.