In a precursor to the FA Cup final, Arsenal travel to the KC Stadium tomorrow to meet Steve Bruce's overachieving Hull City.
This match should see Arsenal's fist choice midfield of Aaron Ramsey, Mikel Arteta and Mesut Ozil reunited for the first time since the Boxing Day match against West Ham. Whilst most of the ire of Arsenal fans has recently been directed at Olivier Giroud and the misfiring attack, the absence of their first choice midfield has been under-appreciated by some.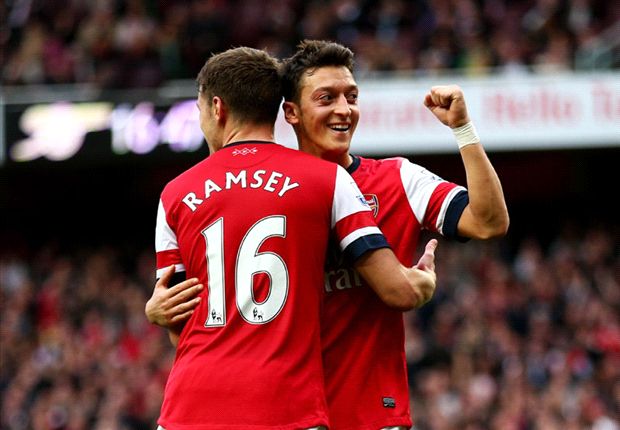 This is partly because of Arsenal's wealth of midfield options. Midfield is the only part of the park where the Gunners seem adequately stocked. Even with the absence of Ozil and Ramsey, Arsene Wenger has had (at varying times) the likes of Tomas Rosicky, Santi Cazorla, Jack Wilshere, Matheiu Flamini and Kim Kallstrom to call on to deputise for the absent stars.
However, the first choice midfield is first choice for a reason. With Ramsey in the team, working box to box and contributing offensively and defensively, Arteta is free to focus on defensive positioning which is crucial given his lack of pace. It is no coincidence that Arteta has often looked off the pace in the absence of his Welsh counterpart.
The Ramsey-Ozil partnership is equally important. Arsenal fans that have bemoaned the teams recent attacking malaise, complete with lateral passing and a lack of chances created, should be happy to welcome back the team's leading two assists providers who also happen to combine extremely well together, as the video below shows.
https://www.youtube.com/watch?v=rjmh3tNLYG4
That being said, the most important thing for Arsene Wenger's team to gain from this match is not the return of beautiful football, but the three points.
With Everton losing to Crystal Palace midweek, Arsenal's quest for Champions League football next season is in their own hands. Three points here will heap the pressure on Everton before some crucial fixtures in their run in. Whether through a free flowing or gritty performance, Arsenal simply cannot afford anything less than a win from this game.
A victory over Bruce's team would have additional significance given that the Gunners will be facing them in next month's FA Cup final. Whilst each game represents a different challenge, a victory here would give the players confidence heading into Arsenal's best chance to end the nine year trophy drought since the Birmingham City debacle.
Tactics-wise, I'm not sure that Arsene Wenger has the players available, or the personal willingness to change things too drastically. Expect to see a similar line up to the team that started against West Ham midweek, except with Ramsey replacing Kim Kallstrom and Nacho Monreal stepping in for Thomas Vermaelen at left back.
There is no reason that Arsenal should not pick up maximum points in this game. The squad is more than talented enough and has all the incentive to win compared to Hull who sit comfortably in mid table. Lets hope the lads have their eyes on the prize and dispatch Hull as they are expected to.
Prediction: 1-3 (Giroud, Giroud, Ramsey)
Read more from GoonerDev at www.thegoonerdownunder.com 
Follow GoonerDev on Twitter at @Gooner_Dev