With Remembrance Sunday having just occurred a few days ago, we reflect on the men who gave their lives to their countries as well as giving their all on the football pitch. Their bravery on the field of play has been superseded by their courage and character on the field of battle even though some of them had little to no military education.
Here we commemorate and honour football's top 20 war heroes in this list:
1. Bert Trautmann
The list starts with a goalkeeper as this shot-stopper enjoyed a very interesting career in England, particularly since he was WW II German soldier and he played there immediately after the Second World War. He joined the Luftwaffe in 1941 and he quickly gained promotion, firstly as corporal and then as sergeant of his unit. He earned 5 army badges for his superb work to the Germanic cause. However he was imprisoned by the British for his role against them in the war and he most of his sentence in Cheshire.
On his release, he farmed and played football part-time before eventually turning professional with St. Helens for a season. He then transferred to Manchester City in 1949, where he got a very mixed welcome  due to his role in the war. However 15 years later after leaving the Citizens, he etched his name into their history books as one of their finest 'keepers ever.
He won both the FA Cup and FWA for Player of the year in 1956 on his way to making more than 500 appearances for the Manchester club. He also enjoyed spells in charge of Stockport County, Liberia and Pakistan before retiring from all footballing activities in 1983.
2. Alexander "Sandy" Turnbull
This Scottish striker etched his name into the hearts of the fans of both Manchester clubs in the early 20th century with his goalscoring skill. Having netted 143 goals in 230 Football League appearances, he had a sensational goal to game ratio.
Having won the FA Cup with Manchester City, he crossed the metropolis to join arch-rivals Manchester United where he enjoyed a golden period of success winning two First Division titles, but notably scoring the winner in the 1909 FA Cup final. However his career was cut short by the First World War as his last game came against Sheffield Wednesday in 1915.
He was also later found guilty of match-fixing and received a life-long football ban before joining the armed forces. Having risen to the ranks of Lance Sergeant in the Eight Battalion of the East Surrey regiment in the British Amry, he was killed on 3rd May 1917 in a battle in Arras, France. He was 32 but as a result of his heroic effort overseas, his ban was rescinded in 1919 after the war ended.
3. Eddie Latheron
Affectionately nicknamed "Pinkie" on the terraces due his red hair and pale complexion, Latheron is remembered as a legend to Blackburn Rovers and a martyr for his country. The inside forward scored 94 goals in 258 appearances for his hometown club and it was this, coupled with his unselfish play that made him a firm fan favourite among the Lancashire faithful. The one-club man helped the Rovers conquer England twice during the 1911-12 and 1913-14 seasons as those First Division titles are his only silverware.
However the outbreak of the war in 1914 compelled him to enlist and within a week after his final game for Blackburn, he was a gunner on the front for the Royal Field Artillery. At 29 years of age, he was killed on 14th October 1917 at the Battle of Passenchendaele. Such is his legendary status, a group of Belgian Blackburn Rovers fans commemorated the striker on the 90th anniversary of his death at his grave located nears Ypres.
4. Vivian Woodward
Woodward was the Lionel Messi of his day when organised soccer began to gain prominence in Britain. Spells with Tottenham Hotspur and Chelsea proved fruitful as he yielded 93 goals in 238 appearances. Having also appeared for the English nation side, it was his participation with the Great Britain team in the 1908 and 1912 which garnered him great fame. He captained the team to the gold medal on each occasion.
Woodward enlisted in the army and missed a huge portion of Chelsea's 1914-15 season. However he was given special leave to attend his team's FA Cup final but unfortunately Sheffield United beat the Pensioners 3-0 on the day. Having returned to the front for a second spell, his leg was badly injured by a stray grenade in 1916 and thus had to return home for the final time, with his footballing careers also in tatters. Despite being maimed, Vivian lived on until he was 74 years of age in 1954 and he will always be remembered as one of the pioneers of the beautiful game.
5. Walter Tull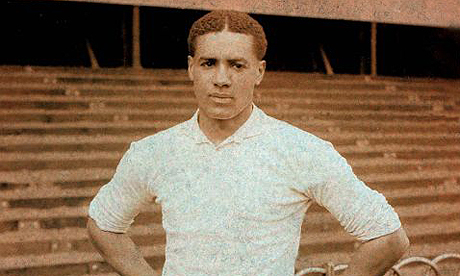 Tull was the inaugural man who broke so much new ground up until his premature death in 1918 at the age of 29. The second ever mixed-heritage football player to ply his trade professionally in the English First Division, after signing with Tottenham Hotspur. However he has a short and unhappy time there as racial abuse seriously affected him and thus he moved to Northampton Town for a "substantial fee." In 3 years, he accumulated 110 games with the Cobblers, scoring 9 goals in that time-span.
When war broke out in 1914, he was the first Northampton player to enlist in the armed forces. Despite even more racial problems in the British army, he was promoted to Second Lieutenant, the first mixed-race men to do so. Having heroically fought through the Battle of the Somme, he met his end on 25th March 1918. He was gunned down in the Pas-de-Calais but his body was never recovered from that gruesome scene. Tull was recognised for his outstanding efforts to his country as he was posthumously awarded the military cross for his bravery on the front.
6. Fritz Walter
For anyone who thinks football's a waste of time, tell them it saved this man's life. Walter was enjoying a brilliant career with Kaiserslautern in the Bundesliga before having been conscripted to join the Nazi forces in 1942, where the forward was to fight for Germany.
However near the end of the war, he ended up being a POW after being captured by Hungarian soldiers. He wowed the guards with his exceptional skill but the time then came for him to be moved to another camp in the Soviet Union, where life expectancy was just 5 years and the guards would be more brutal.
However a football-loving Hungarian guard intervened at the last second and saved his life by aiding him in getting him out of the transfer to the Union and thus being fortuitously released from prison.
On his return to football, he restarted his career with Kaiserslautern and he retired from them in 1959 having scored a mind-boggling 380 goals in 411 appearances. Walter also won the German championship twice with his hometown club.  He also captained West Germany to their first World Cup victory in 1954, ironically over Hungary, the same nation where the guards came from who let him free.
7. Harry Goslin
A folklore legend for Bolton Wanderers, Goslin was also a sensational patriot to his country when he gave his life to the Allies during the Second World War. On turning professional in 1930, he joined the northern club for just £25 and he enjoyed nine years with the club scoring 23 goals in 306 appearances despite playing as a defender all his life. Before war broke out in 1939, he announced Bolton's entire team would be joining the army.
When it did, Goslin led his team-mates in the fight against the Germans and their allies.  Within three years, his leadership qualities on the pitch transferred onto the battle field as he became sergeant in 1942. He also played a pivotal role in the withdrawal of troops from Dunkirk in that same year. However while traversing through Italy, he was seriously wounded by a mortar explosion under a tree. He bravely battled to live on four days after suffering the injury but lost his life on 18th December 1943.
8. Fred Griffiths
This Welsh goalkeeper enjoyed a long and varied career having been on the books of 12 clubs as well as earning 2 caps for his country. Having the honour of playing for big London clubs such as Tottenham Hotspur and West Ham United, he was renowned for being a reliable man to have between the sticks but unfortunately this never translated into any major trophies.
After his retirement, he spent his time training local teams near his home in Presteigne, Wales. And despite being one year above the conscription age, (41 was the conscription age at the time) he felt compelled to fight for his country's future when he enlisted with the British army in 1915.
He became sergeant within his rank, the 15th Battalion of Sherwood Foresters, before dying at the Battle of Passchendaele in 1917 at the age of 44.
9. Lev Yashin
Widely regarded as the best goalkeeper all-time, Yashin made his name Dynamo Moscow and the old Soviet Union during a trophy-laden 20 year career with each team. At just 12 years of age, in 1941, he began helping the Soviet Union in the only way he could in the war effort. Too young to fight on the front, the teenager went to work in the factories manufacturing arms, vehicle parts and more.
Yashin was finally able to begin his professional footballing career as a 21-year-old with Dynamo Msocow in 1950. With them he won the Soviet Top League 5 times and the Soviet Cup 3 times. He also helped him national team to continental glory by winning the 1964 European Championship with them as well capturing gold at the Olympics.
He made 324 appearances at club level, 78 at international level and was known as the "Black Spider" around the world due to his amazing ability to save virtually goal-bound shots. His death came prematurely in 1990 when during relatively simple surgery on his knee went wrong and he passed away due to complications.
10. Ferenc Puskas
The Real Madrid and Hungary legend was remembered as a goalscoring phenomenon during his footballing career. However due to Hungarian law, he was conscripted to join their army and although never participating in infantry work, he rose through the ranks to become major. It was a combination of his rank and his footballing prowess while playing in the armed forces that earned him his lifelong nickname "The Galloping Major."
Puskas is revered around the world for scoring an incredible 157 goals in just 182 appearances for Los Blancos, where he additionally won 4 Pichichi awards during his Spanish stay. And he also netted 84 strikes in 85 games for the Hungarian national team in a truly remarkable playing career.
Having taken various coaching positions ranging from North America, Asia, Europe and even Australia, he briefly coached his nation during a four game spell. Puskas died on 17th November 2006 at the age of 79.
11. Ted Drake
The diminutive English striker's playing career began with Southampton but blossomed with Arsenal during his 14 years in football. Scoring a handsome sum of 47 goals in 71 games for the Saints, he captured the eye of the Londoners, who signed the forward in 1934. He scored 124 goals in 167 games while at Highbury, with his finest game coming against Aston Villa. Drake netted 7 times in that single match, which is a record that still stands today in England's top flight.
As well as winning two First Division titles with the north London side, he added a FA Cup medal to his collection. After periods in management at the helm of Hendon and Reading, he took charge of Chelsea Football club and guided them to their first ever championship in 1956. The end of his time at Arsenal was severely disrupted due to his participation with the Royal Air Force which restricted him to a handful of games during the war years. His playing career was prematurely ended in 1945 due to a spinal injury.
12. Stan Mortenson
Although this particular striker managed to only garner one trophy in his 21 year career, he was the man who led his country during a very difficult post-war era as well as being ridiculously lucky to have been able to play the game once you learn his story. Before he became the prolific striker that he is famous for, he began his wartime efforts in 1939 as a wireless operator.
Mortenson was involved in a disastrous air crash that same year when every single passenger onboard was killed except Stan. However even despite the injuries he sustained, he managed to carve himself a career out of professional football in the post-war era. Stints at Southport, Bath City and Lancaster City followed a golden spell that he enjoyed with Blackpool.
He scored 197 goals in 317 games for the side in a 14 year period (the first four of those being slightly disrupted by war commitments.) He also netted a remarkable 23 goals in 25 appearance for England as he helped put a smile back on his nation's face after a long, depressing war.
13. Willie Thornton
Considered to be one of the greatest Scottish players of all time, Thornton was a prolific striker for Rangers during his 18 year career at the club, which book-ended his involvement in World War II. Debuting for the Glaswegian giants in 1936 at just 16 years of age, the striker enjoyed adulation from fans for his lethal touch in front of goal.  However his fledgling career was brought to a temporary end in 1939 due to outbreak of the war.
He joined the Scottish Horse regiment and as a result of his "acts of gallantry and devotion to duty under fire," he was awarded a Military Medal for helping to defeat Germany on the battlefield. By the time of his retirement in 1954, he was well-known throughout Britain and he finished his career with 138 goals in a mere 219 appearances. He then became a manager of Dundee United and Partick Thistle for 5 and 9 years respectively where he had modest success.
14. Wilf Mannion
"The Golden Boy" as he was known as in his native Middlesbrough due to his streak of blond hair, endured a mixed time on Teeside but nothing negative can be said about his commitment to the British cause during the Second World War.  The inside forward played more than 350 times for Boro, scoring 99 times in his long career there but went on strike and retired in a bid to finally leave the club.
Although the reasons for his discontent are unknown, his dedication while playing was second to none, as he was with England, netting 11 times in his 26 appearances for his nation. He joined the war effort in 1940 and he was a key solider in the Siege of Sicily that occurred in 1943. Shortly after that he was allowed to return home and continue his footballing career. After the war, he joined Hull City and Cambridge United and perhaps his finest moment was being a member of the English squad for the 1950 World Cup in a career particularly special due to it's amazing 24 year longevity.
15. Frank Buckley
Buckley took a more unusual route as he created a unique career in the game. Having joined the army as a teenager, he left by the time he was 20 in order to forge a football life for himself. He played for Manchester United, Manchester City and Aston Villa before the outbreak of World War I. He was commander of the Football Battalion for a large of the war and thanks to his previous stint in the armed forces, he rose through the ranks rapidly and eventually became a major.
However he was badly injured in the Battle of the Somme and returned to restart his football career. With the war finished, he managed many football clubs including Leeds United where he introduced the legendary Jack Charlton to his first taste of professional action. Overall, he spent nearly 50 years in his long and distinguished life in football.
16. William Angus
The word hero was conjured up exactly for this incredible man. With his footballing career cut short due to the declaration of war in Europe in 1914, Angus wasted no time in signing up and he was immediately mobilised out to the action. Before his war efforts, he played once for Celtic but left them for lack of first team opportunities. He was the captain Wilshaw Thistle when war was announced and within weeks, he had joined the 8th Royal Scots regiment.
His finest hour came a year after joining when he saw a comrade lying in a trench within the range of their enemies. Angus fearlessly went to save his fellow soldier and received 40 wounds for his courageous act, losing his left eye and part of his foot being his most serious injuries. Two months later as he was recovering, he was awarded the Victoria Cross, the highest award possible for a British solider.
17. Bernard Vann
Another man who was equally brave in the face of danger, Vann was also a recipient of the prestigious Victoria Cross for his valiant accomplishments while defending his nation. His football career was all over by 1907 at the tender age of 20 but he made appearances for Burton United and Derby County in his brief time on the football field. He then ordained to become a minister from the famous-named Jesus College but his chaplaincy was cut short due to be called upon for the war effort.
Having become a Lieutenant General, he earned his Victoria Cross by leading his subordinate troops into the face of death as his leadership qualities shone through impeccably. Rushing up to the line of fire, he surprised several German soldiers and disarmed three of them as he led his regiment on a crucial advance on enemy territory. However Vann missed the end of the war by a mere 4 weeks as he was shot by a sniper rifle in France on 3rd October 1918.
18. Billy Gerrish
William "Billy" Gerrish was yet another tragic story which began on the football field and ended when he was fighting the front. An extremely promising young striker for Aston Villa, he scored on his debut against Arsenal and added to that with an even more impressive achievement by claiming a hat-trick against Chelsea. In his first season with the club, he helped them to win the First Division.
However he failed to live up to his full potential when World War I broke out and he was to join the British army. Having enlisted in the Footballers Battaltion Middlesex regiment, he lasted less than two years abroad. He was killed on 8th August 1916. In all, there were 40 other Aston Villa players who died as a result of their participation in that war, one of the highest of all the clubs in Britain.
19. Charlie Buchan
This beanpole striker was another goalscoring phenomenon who had his magnificent career due to his country's involvement in keeping the peace abroad. Despite missing a fair chunk of his 14 years on the books at Sunderland, he racked up an impressive 209 goals in 370 appearances with the Black Cats.
He enlisted in the war effort as soon as it began in 1914 and by the time of Britain's victory in 1918, he had been promoted to second lieutenant in the Sherwood Foresters regiment. He was also a recipient of the Military Medal. On his return to football, he rejoined Sunderland until 1925 when he transferred to Arsenal.
With them, he was equally prolific, scoring 49 times during the 102 games that he donned the famous red shirt. He wrote one of the first football manual's, was a distinguished journalist and commentated on matches for the BBC for the remainder of his life up until his peaceful death in 1960.
20. Nikita Simonyan
This legendary Russian football man was too young to actively take part in World War II. However when the soldiers rolled into his town, he helped ease the pressure and stress of war life by organising football matches. The military personnel thoroughly enjoyed these breaks from the endless killings and Simonyan then realised football would become a focal point for the remainder of his life.
He has become one of the most successful Russian footballers of all-time by winning the golden boot in the Soviet Top League on three occasions.  He won the Soviet Top League seven times in total as a player and manager of clubs as well as on the victorious side of the Soviet Cup six times. His career reached its pinnacle when he was part of the Soviet Union team which won the 1956 Olympic gold medal in football. And just earlier this year, his efforts of nullifying tension between Russians and Armenians were rewarded by the President of Armenia during a ceremony.
You can contribute to this list in the comments below or by emailing us. If you like this list, you will find more football lists here.